Joe Budden has been a household name for a variety of reasons over the past two decades. In addition to his many media appearances, his time spent rapping with the group Slaughterhouse solidified his status as a bona fide pop culture icon. There is no denying Joe's influence on today's music industry.
New Jersey-bred rapper Joe Budden was born on August 31, 1980, in Spanish Harlem. Even though his best work has been found on the internet mixtape circuit, in recent years he has risen to popularity as one of the most skilled and sought-after rappers in the game.
In 2002, his music was a hit on the mixtape circuit that was centered in New York City. Although the upbeat "Pump It Up" from 2003 was his biggest commercial success to date, Budden is recognised for his contemplative and often nervous lyrics. Thanks in large part to his many appearances on mixtapes by DJs like DJ Clue, Clinton Sparks, DJ On Point, and DJ Envy, he is widely regarded as one of the hip-most hop's gifted lyricists.
However much Joe's fans and listeners may know about his career and his opinions on a variety of topics, one thing that isn't always discussed is his dating history. This is despite the fact that fans and listeners may know a lot about Joe.
Also Read: All About Jesse Palmer's Wife Emely Fardo! Why Netizens Are Annoyed With Him?
Who exactly has Joe dated, and what else do we know about the scope of his romantic life?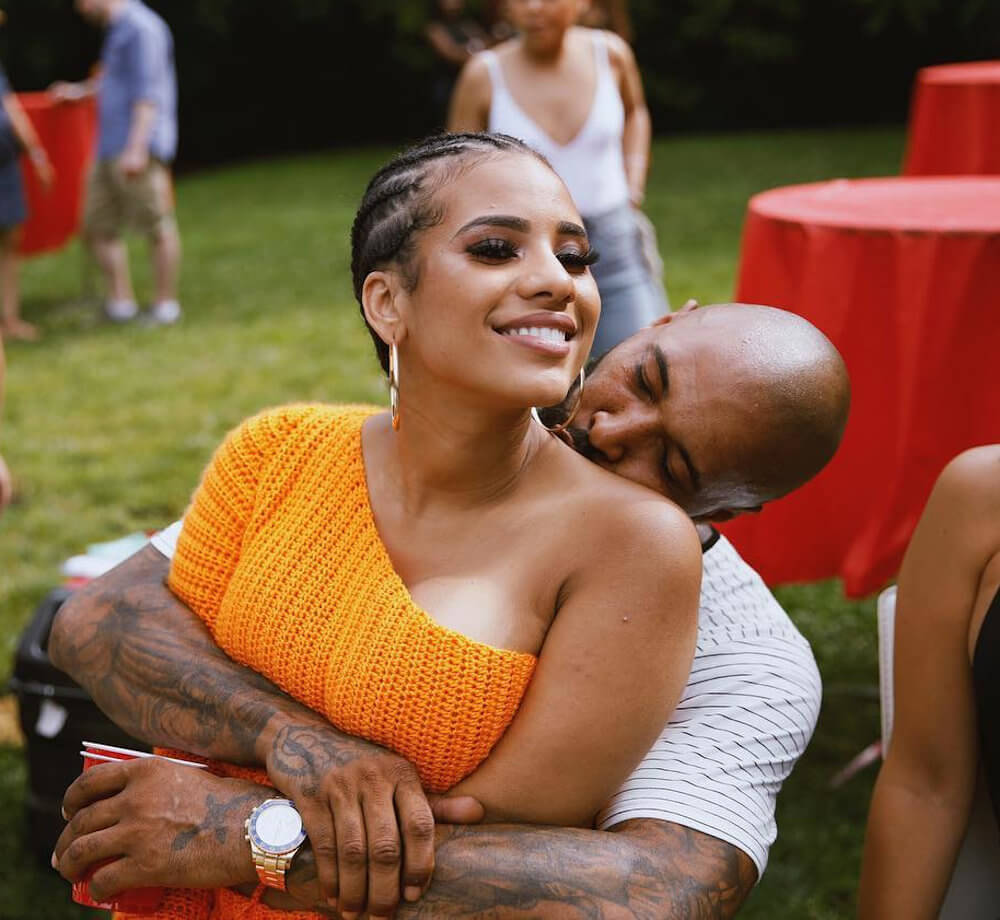 Currently, joe Budden's girlfriend is Shadee Monique. For past relationships, continue reading to find out.
Who Is Shadee Monique, Joe Budden's Girlfriend
According to her Instagram account, @therealcateyes, she is an entrepreneur, who runs an boutique. Her boutique sells Instagram models' items of clothing. She is much popular on Instagram. Her follower count is 646K. In her bio, she wrote
Shadée Monique
Entrepreneur
Just a sports mom who sometimes takes pics🙃
‼️‼️MY ONLY PAGE!‼️‼️
Recently, Joe and Shadee shared pictures of their 3rd Anniversary. Here is the loving post which was shared by Shadee.
Joe Budden's Girlfriends: Dating History
As far back as we have any records, Joe was dating a woman named Angie when he was 20 years old. Joe and she had a kid on May 11, 2001, and he gave him the nickname Trey.
Joe's next high-profile girlfriend was Tahiry Jose, a former star of Love & Hip Hop: New York. In 2005, she began dating Joe, but since then, they've gone through many difficult times together. When the couple eventually broke up for the second time, Tahiry told Hollywood Unlocked that Joe had broken her rib and nose throughout their relationship.
Also Read: Is Danka Kovinic Married? Here's What We Know About Her Personal And Professional Life!
Joe started seeing the next female that caught his eye in 2012. her name was Kaylin Garcia. Kaylin is a model and reality TV star who has been featured on Love & Hip Hop: New York. His romance with Kaylin, like his previous one, was not without its share of difficulties. According to reports, Joe's inability to move on from his relationship with Tahiry was a major source of tension in his and Kaylin's relationship. A session of Couples Therapy With Dr. Jenn didn't help the couple any, but they gave it a go.
In 2016, just a few years later, Joe got into another committed relationship. He dated Cyn Santana, an actress, this time around. Their son, Lexington, was born on December 15, 2017, and less than a year later, on December 14, 2018, Joe proposed to Cyn. According to BET, Cyn called off their engagement after only four months. A leaked phone conversation from September 2020 reveals Cyn accusing Joe of being a bad parent and physically abusing them. According to HotNewHipHop, she also claimed that Joe shouldn't have custody of their child since he had allegedly engaged in inappropriate behavior toward their daughter, including kissing her on the lips, verbally abusing Lexington's babysitter, and doing drugs.