When Beyonce was pregnant with her daughter Blue Ivy Carter, rumors started to spread that she faked her pregnancy with a fake belly and she used a surrogate to carry the baby
People on the internet who had too much time on their hands spread rumors that Beyonce faked her first pregnancy by using a body pillow and that Blue was actually being carried by a secret surrogate.
"That was crazy. It wasn't hurtful, it was just crazy," the 16-time Grammy winner told a magazine in an interview. "Where did they get this idea?"
Let's discuss what led to Beyonce's fake pregnancy rumors and what the reality was.
Why Did People Think Beyonce Was Faking Her Pregnancy?
Beyonce shocked everyone when she told the crowd at the MTV Video Music Awards that she was having her first child. Then, some news stories said that Beyonce is only about 8 weeks pregnant and that the star was just wearing a fake baby bump.
An insider is said to have told MediaTakeOut.com, "She wanted the announcement to be dramatic, so she made sure she had a baby bump."
And then, a video surfaced online which apparently showed that 'maybe' Beyonce was indeed wearing a fake baby bump. Read on to know more.
Beyonce's Stomach Folding Video Sparks Pregnancy Controversy
Beyonce was on an Australian TV show called "Sunday Night," where she showed off her baby bump in a tight red dress.
But when B sits down in her chair, her bump seems to collapse inward. This made many people think that it's not really B's bump, but a fake one made to trick people.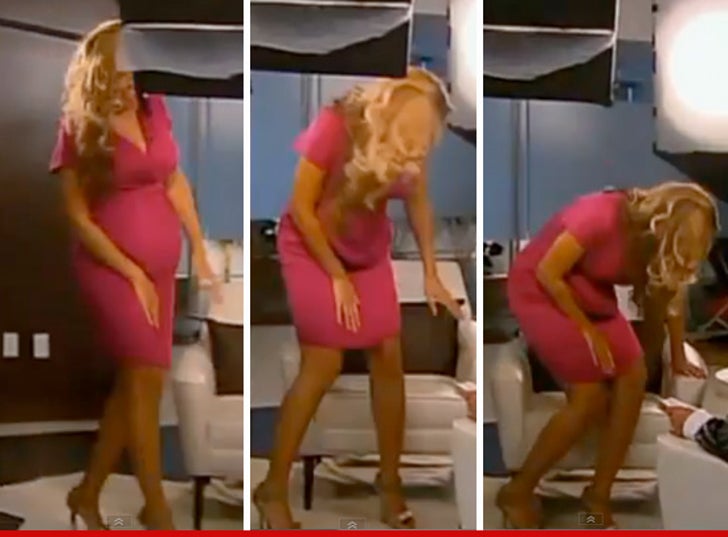 Why would B pretend to be pregnant? There are rumors that she hired a surrogate mother to carry the baby so she wouldn't have to go through the pains of pregnancy.
But the video wasn't proof of anything because the month before, Bey bared all during a trip to Croatia with Jay-Z and showed what looks like a very real baby bump.
Also read: Meet Aaron Patrick's Girlfriend Leah Elson!
Beyonce Shot Down Rumors That She Wore A Fake Pregnancy Bump
Beyonce's publicist said that the rumors were "stupid, ridiculous, and false" after a video of her interview with the Australian talk show Sunday Night HD sparked fake-bump rumors because her stomach appeared to deflate on camera.
"It was a piece of fabric that folded. Doesn't fabric fold? "Oh my god, that's so dumb!" she said.
Also read: Who Is Glozell Green's Husband? Know About Her Relationship Status!
Tina Knowles, her mother, took what was said to heart.
Tina said, "I thought it was very unfair and cruel that someone would think someone would be that evil to keep up a lie like that for nine months." "It hurt me as a mother to hear the wild rumors. And people even asked me, which was so stupid."
Beyonce and Jay-daughter Z's Blue Ivy was born on January 7. Since then, Beyonce has managed to be a mother and a successful artist.