Christine Michelle Metz, who goes by the stage name Chrissy Metz, is an American singer and actress who became famous for her role as Kate Pearson in the NBC TV show "This Is Us."
People were moved by Chrissy's performance and many cried when they watched "This Is Us". In the show, her relationship with her father is awe-inspiring and makes people feel emotions that they never thought they had.
She is also known for small roles in movies like Sierra Burgess is a Loser, Breakthrough, and others. She was up for several awards, including the Primetime Emmy and the Golden Globe.
Fans of Chrissy Metz have always liked the work she does. Now, in 2022, people are talking about how much weight Chrissy Metz has lost. After she lost weight, Chrissy Metz has become a symbol of body positivity and health for her fans.
Chrissy Metz's story about how she lost weight has been an inspiration for many people of all ages and sizes. Dan Fogelman, who made the show, has also helped her on her journey to lose weight. She lost weight at her own pace, made a lot of money, and was finally nominated for a bunch of Emmys.
Let's find out how Chrissy Metz started to lose weight and what keeps her going in the next section. Her story is sure to make you want to be healthy and fit.
Chrissy Metz Weight Loss Journey
Metz has always thought that everyone is "exceptionally beautiful in their own way" and spread that idea. Since her first appearance on NBC's This Is Us, she has been promoting the "love your body" idea.
But she hasn't always been happy with how much she weighs. Chrissy had problems with her weight gain just like everyone else. She was picked on a lot because she was overweight when she was young. But she fought both big and small battles. She overcame every problem, and now she is much healthier and more successful than she was before. But Chrissy Metz's journey to lose weight was not an easy one.
Chrissy Metz's Weight Loss Struggles Began Right From Her Childhood
Chrissy Metz has been struggling with her weight since she was young, just like many of us. Chrissy told The Hollywood Reporter, "I was born chubby, and as I got older, I went through phases where I was thinner, more active, or playing sports, but I was always a chubbier kid. My friends could eat whatever they wanted, but I knew as a kid that I would definitely gain weight if I ate certain things. I had to pay close attention to what I ate."
She also talked about what life was like for her as a child. Chrissy's mom loved her, but she always felt like her mom liked shopping and trying on clothes with her two younger, thinner sisters more than with her. It must have broken your heart. And this is why she feels like she is Kate Pearsons.
She said, "I went to Weight Watchers when I was about 11 years old." I was the youngest person in the room, which was uncomfortable. My mom was working on it, but it takes time. Kate wants her mother to like her… Rebecca, whose on-screen mother is played by Mandy Moore, just wants her daughter to be happy, not be laughed at, and live a normal life. Someone will always pick on you for something, no matter what. It's a complicated situation, and it breaks my heart."
Chrissy Metz's Career And Weight Struggles
Chrissy Metz started working as her agent's assistant after she moved to Los Angeles and went on several auditions. It paid her bills, but she told Marie Claire magazine, "I was like, 'This isn't fair, I didn't come here for that.'" But she had to work as an agent for a while, which was too bad.
Metz told Harper's Bazaar in an honest interview that it was more than painful to set up auditions for other actresses. She said, "Setting up auditions for the talent show was like having to watch your boyfriend go out with another girl every day."
Before she got the famous role in This Is Us, her agent told her to lose 50 pounds. She did, but then she gained 100 pounds back. Chrissy said that she was depressed and that she felt like she was "eating her feelings," which means that she felt like she was chained by emotional eating. Which made him gain a lot of weight. She had a panic attack on her 30th birthday and had to be rushed to the hospital. Chrissy Metz had to take a step back and change how she was going to lose weight.
How Did Chrissy Metz Lose 100 Pounds?
Chrissy Metz's journey to lose weight has never been easy. It took a lot of patience and letting go of any wants that came up along the way.
Before she got her big break on "This Is Us," many people told her she needed to lose weight in order to get work in the glamour world. She was working for her agent and making plans for other actresses to try out. Chrissy always felt like she was in the wrong place when she worked for her agent. She wanted to act, not set up auditions for other people.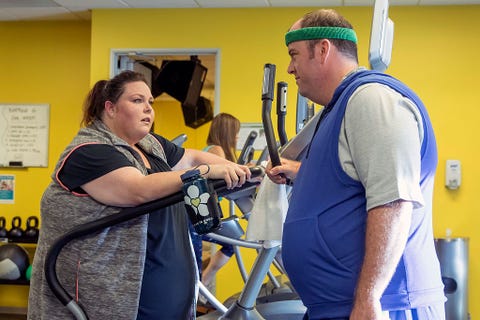 All of this was going on in her life, and it made her sad. On her 30th birthday, she had a panic attack out of the blue. She was taken right away to the hospital. After what happened, Chrissy was so careful about her health. She started taking care of herself and her health. Chrissy's priorities changed because of what happened. After being in the hospital, she began to worry more about her health.
She started to be more serious and responsible about what she did. She just went on a diet of 2000 calories. She stopped eating most of the bad foods and started walking every day for 20 minutes. And this changed her physical and mental health in a big way. In 5 months, she lost 100 pounds. It took her longer to lose the weight this time, but she was in a much better mental state than before.
Soon after that, she got a part in American Horror Story where she has to wear a fat suit. And this was her second "aha!" moment. Metz said, "It was a wake-up call… I thought, "What if I gain so much weight that I can't walk or get stuck in the doorframe?" I told her, "I don't want this."
Also read: Who Is Lele Pons' Boyfriend? Guaynaa Proposed To Lele Pons At Tomorrowland
Chrissy Metz Took Small Steps For Losing Weight
The actress lost weight by making simple, easy-to-follow changes to her life. She started making healthy habits by going for walks. Chrissy made sure she walks for at least 20 minutes every day. She stopped eating all foods that are unhealthy and have no nutritional value, or she tried to avoid them as much as possible. Chrissy stopped eating more than 2000 calories a day after she took charge of her eating habits.
First, try to eat less junk food. Take off her menu all the foods that don't provide much or any nutrition. Second, she ate more protein, vegetables, and healthy carbs. Third, she didn't eat more than 2000 calories a day. Not in any way more than that. A very strict diet of only 200 calories a day. Fourth, take a walk every day for at least 20 minutes. When she started to do these simple things, her body changed in big, good ways. These changes to her way of life helped her body and mind. Chrissy lost about 100 pounds in the first 5 months by doing these easy-to-do healthy things.
Many people will think that 5 months is a long time to lose weight, but this is the only way to do it in a healthy way. Quick ways to lose weight don't work in the long run. Find a healthy way to lose weight at all times. Chrissy Metz is still healthy after losing 100 pounds because she did it in a healthy way.