According to a recent story, Sylvester Stallone's passion for large, intimidating dogs has recently caused him issues, including starting an "extremely heated fight" with his wife Jennifer Flavin that resulted in her filing for divorce after 25 years of marriage.
In order to protect their family, the "Rocky" star wanted to buy a Rottweiler, according to sources close to the marriage, but Jennifer did not want another dog. The dog was the source of dispute between the two, and each adamantly maintained their position.
Sources say they had a very heated argument that brought up other problems, but none of those problems seemed to be big enough to end their marriage. Read on to find out the truth behind the speculations that Sly is getting a divorce due to his dog.
Sylvester Stallone Talks About Rumors That A dog Ended His Marriage
Sylvester Stallone is denying that his dog caused the end of his 25-year marriage.
On Wednesday, it was said that Stallone's wife, Jennifer Flavin, filed for divorce because they fought over a new Rottweiler named Dwight.
Flavin didn't want another pet, but Stallone said he needed the dog for "protection." This is said to have led to an "extremely heated argument" that brought up other problems.
TMZ said that neither person was willing to give in on the dog. The "Rocky" star may have made things worse by posting photos and videos of himself with his new Rottweiler, whom he named Dwight. He wrote on Instagram that he named his dog Dwight after the crime boss he plays in the new TV show "Tulsa King." Stallone wrote in another post, "DWIGHT. Certainly a real friend! KeepPunching And Keep barking!"
Also read: Brittany Bell Pregnant! All You Need To Know About Her 3rd Child!
But Stallone says that the dog accusations are false.
"We didn't break up over such a small thing," the 76-year-old "Rocky" star told TMZ, but he did say that the couple disagreed about "how to care for the dog" because they travel a lot and have two homes.
Stallone said that the couple was just going "in different directions" when they broke up.
"I have the highest respect for Jennifer," he added. "I will always love her. She's an amazing woman. She's the nicest human being I've ever met."
Also read: Who Is Joy Williams Dating After Divorce From Husband Nate?
Did Sylvester Stallone Cover A Tattoo Of Wife Jennifer With A Tattoo Of The Rottweiler?
He also set the record straight about a tattoo of Flavin that was hidden by a picture of Dwight.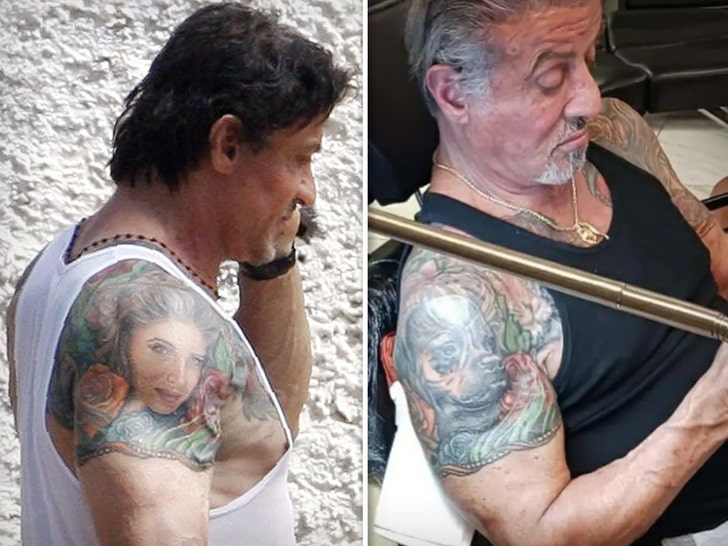 The star of "The Expendables" said he wanted to "freshen up" his Flavin tattoo, but "it got messed up and the dog was just a fix with no bad intentions." He also said that he still has a tattoo of his ex-wife on his back.
Stallone Was Suprised When His Wife Flavin Filed For Divorce
Stallone was "caught off guard" when Flavin filed for divorce last week. He was in Oklahoma City filming the Paramount+ show "Tulsa King" when he heard the news. He was "shocked."
Flavin told People, "I'm sad to announce that after 25 years of marriage to Sylvester Stallone, I've filed for a divorce." "Even though we won't be married anymore, I'll always remember the more than 30 years we spent together, and I know we're both committed to our beautiful daughters."
In 1988, when Flavin was 19 and Stallone was 42 and had been divorced twice, they started going out. After going out on and off, they got married in 1997. They have three daughters together: Sophia, Sistine, and Scarlet.