Instagram has started introducing new features that give users more control over the look of their profiles. Instagram announced that users will be able to pin up to three posts to the top of their profile grid, including photos and Reels. While many people were extremely happy to know about this new feature, some were unsure what pinning a post on Instagram meant and how to use this feature.
The addition of the pinning option to Instagram isn't the only recent modification to one of Meta's platforms. One of the most noticeable modifications was to Reels itself, which now accepts films of up to 90 seconds in length, rather than the prior maximum of 60 seconds. They also unveiled a slew of new audio and visual elements aimed at making Reels a more inviting place to share content.
What exactly is Instagram's pin to profile feature?
When a user clicks on a post that you've pinned, it will show at the top of your profile. Instagram presently allows users to pin up to three posts, which are supposed to serve as a kind of first impression for users who are looking to learn more about you through your profile. The feature was first given out in a testing capacity in April, and it can be used to publish images or Reels.
Also Read: "ION" Means On Snapchat – Complete Info!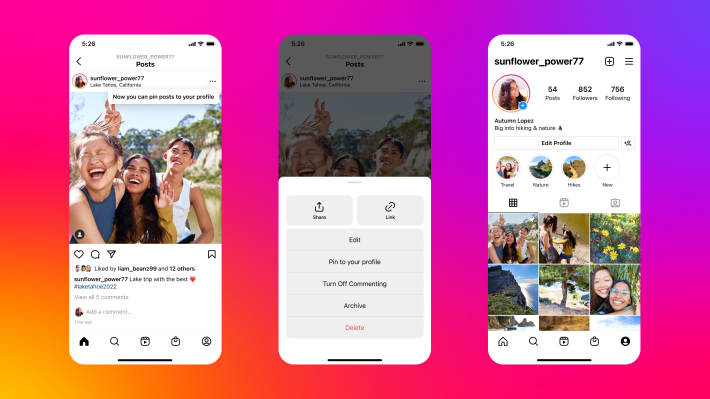 In a video outlining the new feature, Instagram CEO Adam Mosseri said, "Your profile is your space, so we're looking for more ways to offer you control over that experience." For Instagram users who are used to comparable functionality from sites like Twitter, the ability to pin posts may be a welcome addition. This way, even if your favourite posts are buried chronologically, you may highlight them.
How to pin posts to your profile?
The procedure of pinning your own posts is actually quite simple.
Users must follow some few basic steps in order to pin posts, which include:
Choose the post you'd like to pin.
In the top right corner, click the three circles.
Choose "pin to profile" from the drop-down menu.
Users just pick "unpin from profile" when unpinning photos, which follows the same three processes.
The ability to pin posts is just an extension of the platform's existing pinning capability. You could always pin stories, but now you can also pin Reels and posts.
This functionality also simplifies the pinning process and is similar to what TikTok and Twitter users can do with past posts they've made.
Also Read: TikTok Ads Can't Be Turned Off, But Data Can Be Made Private
What are users views about this feature?
Many users rushed to Twitter shortly after the feature was introduced to express their views.
One user said, "being able to pin posts on Instagram profile is actually kinda cool."
"I may have lost an hour this morning trying to decide what posts to pin…" another user wrote.
"You can pin posts to your Instagram profile… they want to be tiktok so bad," a third user added.