Marcus Freeman is an American football coach who was born on January 10, 1986. He used to play linebacker and is now the head coach at the University of Notre Dame. In 2021, he was the defensive coordinator and coach of the linebackers at Notre Dame.
Freeman has also worked as an assistant coach at Purdue University, Kent State University, Ohio State University, and the University of Cincinnati.
Freeman played college football at Ohio State. In the fifth round of the 2009 NFL Draft, the Chicago Bears picked him up. He has also played for the Houston Texans and the Buffalo Bills.
Who Is Marcus Freeman's Wife?
Marcus is married to his college-time girlfriend Joanna. They tied knot on 20 February, 2010. The couple is caring parents to six children: Vinny, Siena, Gino, Nico, Capri and Rocco. The couple is living happily. There is no much information about Joanna as she keeps her private life out of spotlight.
Marcus's Instagram account is stuffed of his family photos. The couple has celebrated their 10th anniversary in 2020, Couch shared heartwarming message for his better half, which says, "Celebrating 10 years of being married to the love of my life and the glue to the Freeman family. Happy anniversary Jo!".
Also Read: Who Is Lauren Davis' Boyfriend? Know About Lauren's Age And Latest Match!
The duo love each other very much.
Marcus's Wife Supported Him To Join Notre Dame
Marcus's first chance to join Notre Dame was when the team picked him up after high school. Marcus liked a lot of things about Notre Dame, but he chose Ohio State to play for beloved coach Tyrone Willingham.
Nearly two decades later, Notre Dame offered him a job as defensive coordinator. Like the last time, Marcus had two options: Louisiana or Notre Dame. Marcus wrote on The Players' Tribune that he and Joanna were leaning toward Notre Dame: "I can't tell you exactly what it was that told us to come to Notre Dame, but there was something. We all know that there's something different about Notre Dame. We all know it is something special. And I just thank God I didn't make the wrong choice twice."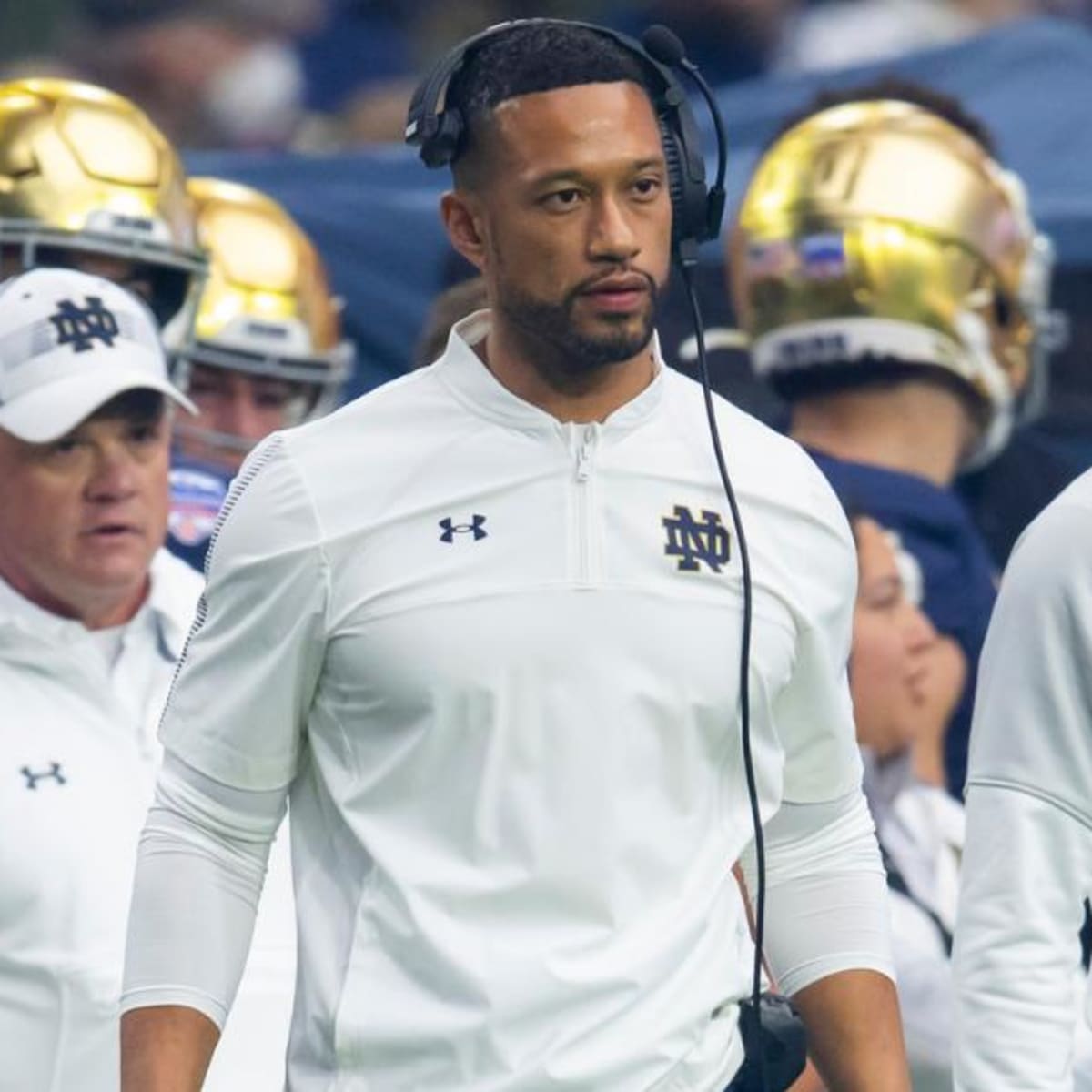 When Brian Kelly left for LSU, he asked Marcus to join him as defensive coordinator. "I told them, 'I need a job, but can I talk to my wife?'" Marcus told ND Insider so. "That's all I asked, 'Can I talk to my wife?'"
Joanna and Marcus talked about what would happen to the players in Notre Dame if he took the job at LSU. The couple decided that it would be selfish to leave the team. So, Marcus decided to stay and fight for the top job. Joanna told the ND Insider:
Also Read: Scott Frost Divorce Rumors With Wife Ashley – All You Need To Know!
"(Marcus said), 'We have this bowl game coming up, we can't.' I don't want to leave these kids,'" said Marcus. So that's the first time I really looked at him and thought, "He really loves Notre Dame. He really likes these kids. He is excited to be here because he loves Notre Dame. So I just took a deep breath, and I knew he was going to go after this job. But for these guys."