Matthew Patrick LaFleur is an American football coach who is in charge of the Green Bay Packers of the National Football League. He has been the quarterback coach for the Washington Redskins, Notre Dame, and the Atlanta Falcons. He has also been the offensive coordinator for the Los Angeles Rams and the Tennessee Titans.
Matt LaFleur is one of the young coaches to lead an NFL team.
When it comes to his personal life, LaFleur is a married man. At his first press conference as the head coach of the Packers, LaFleur got emotional when talking about his family, according to reporter Andrew Siciliano. He said that his wife was the "rock" of the family and said, "I'm all about family."
Now fans are very curious to know about who is Matt LaFleur's wife. Here's everything you need to all the details about his wife.
Meet Matt LaFleur's Wife, BreAnne Maak
Matt LaFleur is happily married to BreAnne Maak. She's very supportive and an important member of their family.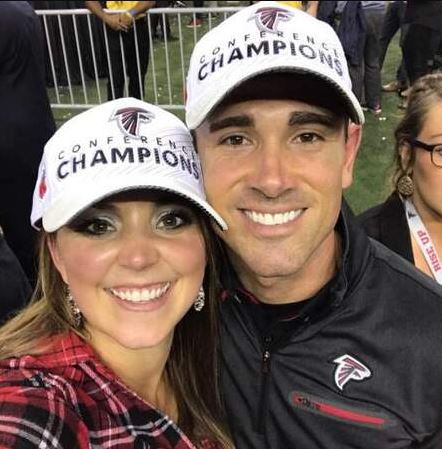 In 2007, BreAnne LaFleur was working in Ohio as a pharmaceutical seller when her husband was offered a job coaching at Northern Michigan. According to the reports, she quit her job at that time and they moved so that he could pursue his ambitions of coaching.
Also read: Who Is Becky Hammon's Spouse? Meet Brenda Milano!
As per BreAnne's Facebook, she went to Marcellus High School in Marcellus, Michigan. It also shows where she and her husband have lived, like Houston, Texas, Ashland, Ohio, and Marquette, Michigan.
In 2010, BreAnne told MLive about the trouble of moving for Matt's job with the Washington Redskins. "There is a lot of work to be done. As a pharmaceutical representative, I don't have a lot of job options. I'm hoping to find a job where I can transfer. Then we have to hire a moving company… It will be one of the easier moves we've made since I won't have to do everything."
BreAnne is quite active on Facebook, where she keep posting about her family. She also uploaded a father's day post and captioned it, "Happy Father's Day to the main men in my life!! I am beyond blessed because of the impact you have all made on me… We love you Daddy, Big Papa, and Papa D!!!"
Not much is known about relationship of Matt and his wife BreAnne that how the two met each other and when they got married.
Also read: All You Need To Know About Chelsea Gray's Wife, Tipesa Mercedes!
Do The Couple Have Any Children?
The couple have two children Luke, who is six, and Ty, who is four. Matt loves them so much. He brings them to all of his games if he can, and they also go to some of his press conferences. His youngest son Ty started to cry when he saw his father get emotional speaking about his family during one of his press conferences.