McDonald & Dodds is a British crime drama that has been taking viewers to the city of Bath since early 2020. It was made by Robert Murphy. We met ex-London police officer McDonald, and soon after, we saw her move to Bath and team up with the shy and quiet Dodds.
After one exciting season, this TV odd couple became a must-see. Since then, Tala Gouveia and Jason Watkins have returned to their roles as the title characters for two more seasons.
But now is the time to think about what will happen to this popular title. Now that we know more, let's consider about whether McDonald and Dodds has been picked up for a fourth season.
McDonald & Dodds Season 4 – Release Date
ITV hasn't said anything about McDonald & Dodds season 4, so we don't know when it will come out. 
Even so, the instance is still very much open. Since season three just ended last month (July 10), there is still plenty of time for that all-important renewal.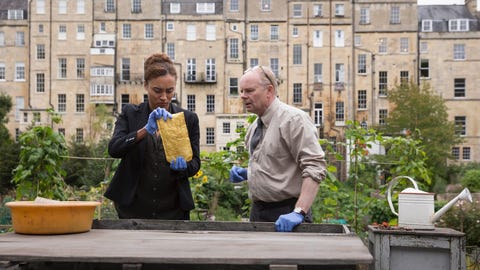 So far, the crime drama has had a pretty steady release schedule. The first season came out in 2020, and the second and third seasons came out around the same time in 2021 and 2022, respectively.
Since we are good detectives, we think that if the show gets a fourth season, it would come out sometime in early 2023.
Also Read: It's Official, There Won't Be Any New Characters In 'Stranger Things' Season 5
McDonald & Dodds Season 4 – Expected Cast
There is no official cast list for season 4 of McDonald & Dodds, but Gouveia and Watkins would definitely be back as the show's main detectives.
After all, McDonald & Dodds wouldn't exist without McDonald and Dodds.
We also think that Claire Skinner (Chief Superintendent Ormond), Lily Sacofsky (DC Milena Paciorkowski), Danyal Ismail (DC Martin Malik), and Charlie Chambers (DC Goldie) will all be back.
In season three, Paul McGann and Louise Jameson from Doctor Who, Kelvin Fletcher from Emmerdale, Will Buxton from F1TV, Alan Davis from Jonathan Creek, and Sarah Parish from Industry all made cameos.
So it's always possible that some other well-known TV characters will also show up in season four.
McDonald & Dodds Season 4 – Plot
A new season will probably bring a lot of new cases for the mismatched duo to solve, but Gouveia has said that she and co-star Watkins want to move from their office in Bath to the Canary Islands for a big-screen adventure.
She told Radio Times, "Sometimes we come up with ideas for plots. Jason and I are both very interested in a holiday movie."
"McDonald loves Tenerife, so we think it would be great to set a movie there, especially since we film in the winter. Dodds is wearing Bermuda shorts. I think it would be a great chance to make a lot of funny jokes. That's what I'll say."
Also Read: Art Of The Zoo – Tiktok Viral Trend Explained
Gouveia also teased about what might be next for her character, saying, "It's strange because when you play a character, you start to care about them, so you want good things to happen to them.
"But actually, good things are often boring for the show. You want problems, breakups, people getting in trouble, and all that drama, so I'm probably hoping for more tension and challenges for her, which is fun to play… but I do hope the best for her."