Meagan Good and her ex-husband DeVon Franklin are no longer married.
The 40-year-old Harlem star and the 44-year-old producer got married in June 2012. They split up in August 2021. It becomes clear that Franklin filed for divorce in December of that year from court documents. Thursday, June 2, was the last day of their marriage, and they settled privately. Neither Good nor Franklin will have to pay money to their ex-spouses.
Here is all the information you need about Meagan Good's divorce.
Meagan Good's And DeVon Franklin's Divorce – All You Need To Know
In December 2021, Meagan and DeVon said in a joint statement that they were breaking up. They said, "After much prayer and thought, we have decided to go into our futures separately but forever connected."
We celebrate almost a decade of marriage together and a love that is eternal. There's no one at fault, we believe this is the next best chapter in the evolution of our love."
Also read: The Little Couple's Jen Arnold And Bill Klein Divorce – Here's The Truth!
The divorce decision came a month before Franklin, who is also a preacher and self-help author, will appear on Married at First Sight as a new expert. "Moment of Truth: I was asked to be on Married at First Sight last year. I said I would do it… "Then the divorce happened," the author of, "Live Free," wrote on Instagram in May. He said he was at first tempted to say no because he felt "shame" about the end of his marriage.
Franklin went on to say that everything he had done in his life had helped him become an expert. "I was able to use everything I've been through to help a couple work through their problems," he wrote at the time. "I was trying to get through life perfectly and without making mistakes. Now I'm just trying to get through it honestly, and if what I've learned about love and relationships can help someone, I'm all for it."
DeVon Franklin has a history of using his own life to help other couples. He and Good wrote the self-help book The Wait together in February 2016. In it, they used their own love story to show how waiting until marriage can help you find "The One."
The Stomp the Yard actress told Essence in October 2020 that she chose to stay single because she learned how to control herself and love herself more deeply. "If I can give God one of the most tempting things in life, I can give him anything else."
Also read: Anthony Fantano Divorce From Wife Dominique Boxley – All You Need To Know
Meagan Good Aspires To Build A Family And Become A Mother
In the new Netflix movie Day Shift, Meagan Good plays a mother. She may also want to be a mother in real life.
"I want to find my perfect house and maybe have a child," the actress told Francesca Amiker of E! News at the Los Angeles premiere of the movie on August 10.
What else does she want to do in the next few months? She said, "I want to go places, direct more, and do more action." "I want to make ways for little Black girls to see themselves in a different way, and I want to support and encourage that."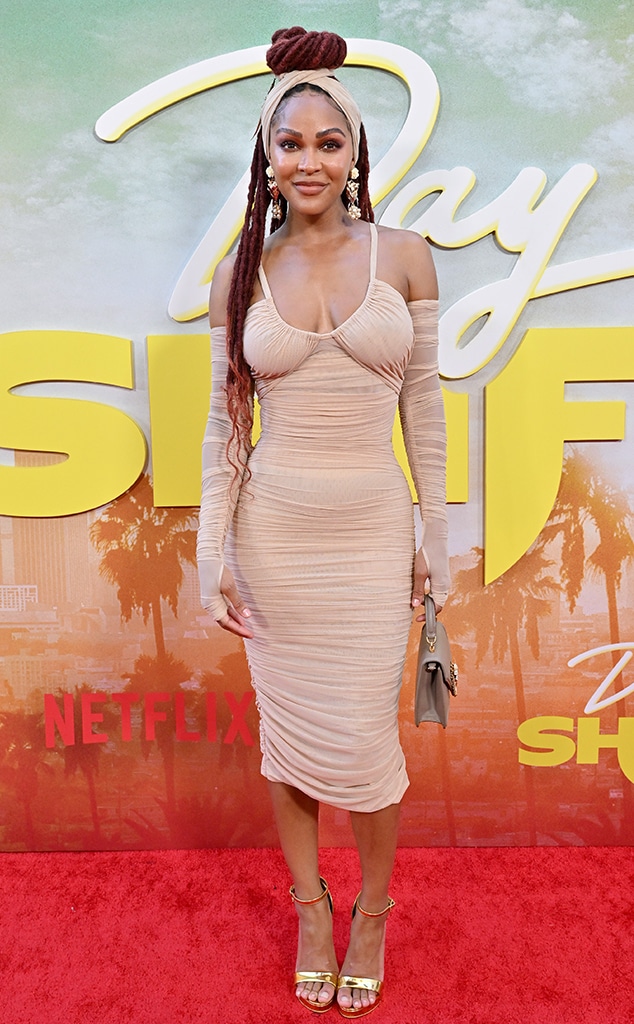 Fans can see her in Day Shift, which comes out on August 12 and stars Jamie Foxx, Snoop Dogg, and Dave Franco. The 41-year-old actress who played Jocelyn, the wife of Foxx's vampire hunter character Bud Jablonski, said that the Django Unchained star was a "ball of light and positive energy" on set.
During a Twitter Spaces conversation with xoNecole and the cast of Amazon Prime Video's Harlem, the 40-year-old actress talked about how she was dealing with her divorce and getting over what she calls the "most painful" experience of her life.
"I've always gone into relationships knowing that they're going to end at some point," she said. "I've always been like, "Okay, let's move on to the next chapter. We'll see what happens next," and being okay with that, as well as appreciating what you give to someone and what they give to you, and sharing a moment in time and life that you can never get back, no matter how it ends. Right now, my situation is a little different because I thought that was the last time I would do that and that I would always do that with that person."