Rachel Vindman is the wife of retired Lieutenant Colonel Alexander Vindman and the host of the podcast titled "Suburban Women Problem."
Rachel Vindman was born in the USA as Rachel Cartmill. She is the daughter of Mike Cartmill and Janet Faline Cartmill. Her dad was the head football coach at Oklahoma City's Santa Fe South High School. Her mom worked at a high school like the one she went to. Rachel is the only girl of three kids.
She has two siblings – Pat and J.J. Cartmill.
Rachel Vindman and her husband Alexander Vindman appeared together in a promotional video in favor of Joe Biden's presidential mission. This advertisement was produced by The Lincoln Project. She eventually placed the blame on Trump for presenting a significant threat to her life. Stick to this article to know more about Rachel's Husband.
Who Is Rachel Vindman's Husband, Alexander Vindman?
Rachel is married to Alexander Vindman. Alexander is a retired Lieutenant Colonel in the U.S. Army and a former Director for European Affairs at the National Security Council. He is a doctoral student at the Johns Hopkins School of Advanced International Studies, a Pritzker Military Fellow at the Lawfare Institute, and the author of the upcoming book Here, Right Matters: An American Story.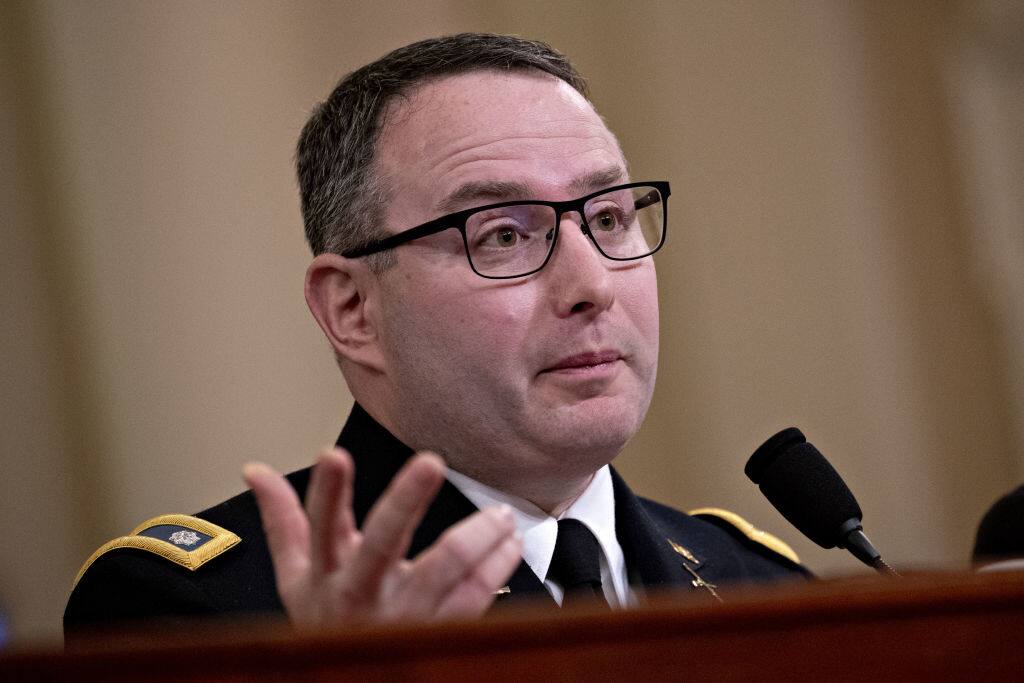 Before he retired from the U.S. Army, he worked as a Foreign Area Officer in Moscow, Russia, and as a Political-Military Affairs Officer for the Chairman of the Joint Chiefs of Staff. While on the Joint Staff, he helped write the National Military Strategy Russia Annex and was the main author of the Global Campaign for Russia.
Also Read: Who Is Joan Collins Husband? Know About Her Five Marriages!
His ideas are especially interesting because he spent three years in Russia and had regular contact with Russian military leaders and access to their defense and security systems. Lt. Col. Vindman knows how both the military and the White House work, which makes him a unique expert on Putin's obsession with controlling Ukraine.
Lt. Col. Vindman is a well-known expert who testified at the impeachment trial of former President Donald Trump. He travels the world to talk about the ongoing war in Ukraine and Putin's misguided attempts to make Russia a superpower again. The couple has a little girl together who was born in 2011. Her full name is Eleanor Vindman.
Rachel and Alexander Vindman got married on May 18, 2006, in Oklahoma, USA. It's not clear where they met or how long they dated.
The couple has a little girl together who was born in 2011. Her full name is Eleanor Vindman.
Meet Rachel And Alexander On Social Media
Rachel is very active on Twitter. She runs her account under the handle @natsechobbyist and has a huge fan following. She has 369.6K Followers there. In her bio, she wrote, " Co-host @theswppod Opinions are my own and not necessarily the views of my husband…but obviously if our views are different, mine is correct." Her latest tweet is about 10 hours ago, in which she says, "Guys, I'm in Michigan and I've found my people: All the women I'm talking to right now have been suspended from Twitter at least once."
On the other hand, she had kept her Instagram account private.
Also Read: Meet Andre Agassi Wife, Steffi Graf – Andre Talks About His Secret For Happy Marriage!
Alexander is also present on Twitter as @AVindman. In his bio he wrote, "Husband to @natsechobbyist. Vet. NYT Best-selling Author. Ex NSC/ WH Staffer. Advisor @votevets. Pritzker Fellow, Lawfare. Doctorate JHU 22′. #HereRightMatters". He also boasts a huge fan following of 848.2K Followers.