Famous basketball player Rajon Ronda is dating Latoia Fitzgerald.
Rondo had recently been in the news for all the wrong reasons. According to TMZ, the 36-year-old basketball player has been charged with threatening his ex-partner and the mother of his children with a gun earlier this year. The same source claimed that Rondo has not been identified by law enforcement as a suspect in any crime and has not been detained, despite the fact that his ex-girlfriend has been given temporary custody of their children.
Rondo is no longer with his ex-girlfriend Ashley Bachelor and is now dating Latoia Fitzgerald. In this article, we will cover their current relationship status as well as everything you need to know about Rajon Rondo's girlfriend, Latoia Fitzgerald.
Rajon Rondo proposed his girlfriend at NYFW — and she said "yes!!!"
Rajon Rondo didn't have to wait for the NBA season to try to win another ring… Because the two-time champion just asked his girlfriend to marry him, and she said "yes!"
The four-time All-Star got down on one knee Thursday night and asked his girlfriend Latoia Fitzgerald to marry him… It was one of the best nights of her life, and she was also hosting a huge NYFW event for her clothing brand, "Lionne."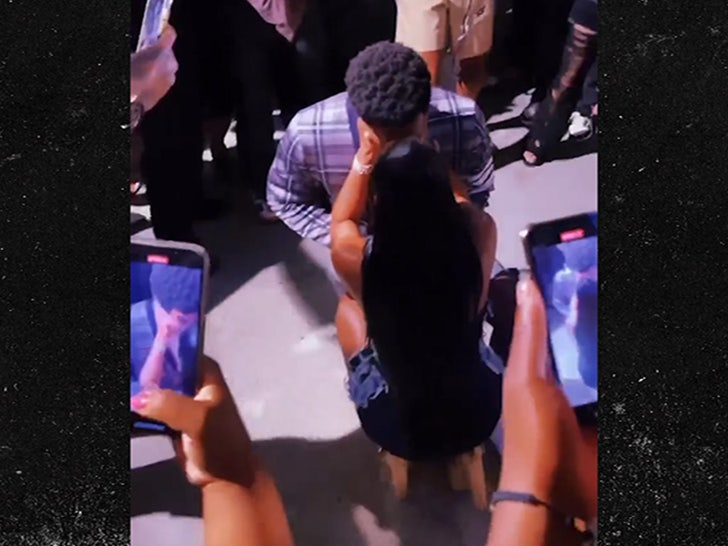 As soon as the show was over, Rondo jumped up on the runway while Latoia was looking away… When she turned around and saw him, he saw his chance to ask her to marry him.
Latoia and the other guests seemed very surprised by Rondo's move. They crowded around the couple and cheered when she said yes.
Rondo wasn't the only well-known person in the building. A lot of famous people were there, including Draya Michelle, Fivio Foreign, and Flo Milli.
Rondo has been going out with Latoia for a while. She is a Philadelphia-based fashion designer… and now she will have a whole new name, a new last name.
Sounds like a memorable night… We extend our congratulations to the couple who just got engaged!
Also read: Deshazor Everett's Girlfriend Was Killed In Crash – Ex-NFL player Pleads Guilty Of Reckless Driving
And if you want to know more, here's everything we know about Rajon Rondo's current girlfriend.
Everything you need to know about Rajon Rondo's current girlfriend Latoia Fitzgerald
Latoia Fitzgerald is the girlfriend of NBA star Rajon Rondo right now. She is a fashion designer, and her line Lionne is her most well-known work.
In 2018, Fitzgerald released the Lionne collection, which quickly became well-known among fashion fans. "There was a lot of good press about Lionne. As a business owned by a black woman, I'm glad that a lot more people now know about my brand," she said.
The 35-year-old told Essence that she was raised in a creative home, which led to her love of fashion. "My mom made clothes and decorations for the homes of everyone in the area. As a child, I remember going to a fabric store and an arts and crafts store. When I was 12, I fell in love with making clothes."
As a fashion designer, her mother was only the person who drove her. The fashion designer also said that she wouldn't be able to stand on her own as a fashion designer without her mother.
Meaww says that Fitzgerald told the public about her relationship with Rajon Rondo for the first time in 2020, when pictures of the two of them went viral.
Since then, the fashion designer has posted a few pictures of Rondo on Instagram, where she has more than 241k followers.
Also read: Simona Halep Divorces Toni Iuruc, All You Need To Know
Rajon Rondo had pulled a gun on ex wife Ashley Bachelor who filed for an emergency protective order
TMZ Sports said that Ashley Bachelor, Rondo's ex-girlfriend and the mother of his two children, filed for an emergency protective order in Louisville in May to protect herself, her son, and her daughter. Bachelor, who is 36 years old, is the mother of Rondo's two children.
Bachelor says that on May 11, Rajon, a two-time NBA champion and four-time All-Star, was playing video games with his son. when Ashley asked the boy to sort the laundry. Bachelor says that Rajon got angry and pulled the game console out of the wall in front of the kid.
Bachelor says that the kids were upset because they had seen their dad lose it, so she tried to "calm things down." But she says that Rajon's response was a death threat. He is said to have said, "You're dead."
Ashley says that Rondo left the house for a short time but came back about 15 minutes later when he walked up to the back door and started banging on the window with his gun.
Bachelor says that Rondo, who was still holding his gun, was yelling at Pierre and asking him why he was afraid of his father.
Bachelor says that in the end, Rajon told their daughter to come out as well.
Ashley says that Rajon's mom and dad both came to the house though they didn't have much luck calming Rajon down.
But now Bachelor says she's afraid for her and her kids' safety.
A judge in the area gave protection to Ashley Bachelor and her two children.