The US Open 2022, one of tennis' major tournaments and the year's final grand slam, began on Tuesday and features world-class tennis players such as World No. 1 Daniil Medvedev, 22-time major champion Rafael Nadal, and 23-grand slam winner Serena Williams. Garbine Muguruza of Spain, last year's winner Emma Raducanu, two-time ATP Masters 1000 champion Carlos Alcaraz, and Greek Stefanos Tsitsipas will all compete in the US Open 2022, adding to the tournament's star power.
However, while the presence of these stars ensures that the US Open an exciting Grand Slam, the absence of certain players dampens it somewhat. Novak Djokovic, winner of 21 Grand Slam titles, will not compete because he is unvaccinated against Covid, and another notable absentee is the great Roger Federer, who has been away from tennis.
Aside from the two, we've compiled a list of female players who will be missing the tournament.
Also Read: Everything You Need To Know About Travis Kelce's Girlfriend, Kayla Nicole!
1. Angelique Kerber
Angelique Kerber has withdrawn from the upcoming US Open due to a pregnancy. The 2016 New York champion has announced she will be out of the game for the "next few months."
Kerber, 34, last competed at Wimbledon, where she ended up losing in the third round to Belgium's Elise Mertens.
She won her first Grand Slam at the Australian Open in 2016, followed by the US Open the following year, propelling her to the top of the women's world rankings.
"I really wanted to play the @usopen, but I ultimately decided that two against one isn't a fair competition," Kerber said on Monday. "I'll be taking a break from travelling the world as a tennis player for the next few months, but I believe it's for the best! I will miss you all."
2. Sania Mirza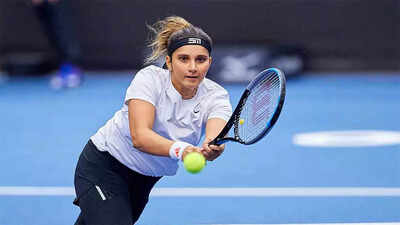 Sania Mirza, a six-time Grand Slam champion, has withdrawn from the US Open 2022 due to a forearm tendon injury. She was injured during her match at the Canadian Open and has now postponed her retirement plans. Mirza, who had previously stated that this would be her final season in professional tennis, took to social media to confirm that her retirement plans are likely to change. The athlete stated in her statement that she did not realise the seriousness of her injury until she received her scans.
"I have some not-so-great news," she said in an Instagram story. I hurt my forearm/elbow two weeks ago while playing in Canada and didn't realise how bad it was until I got my scans yesterday. I tore a small portion of my tendon. I'll be out for a few weeks and have withdrawn from the US Open." Sania described the timing as "terrible," adding, "It will change some of my retirement plans, but I will keep you all updated."
3. Marketa Vondrousova
The Czech Republic's star, Marketa Vondrousova, will miss the US Open this year due to a wrist injury. Vondrousova's withdrawal from the 2020 Tokyo Olympics is a major disappointment for her fans. Vondrousova came close to being the first Czech woman to win the French Open in 38 years in 2019, but was defeated in the final by Australia's Ash Barty.
4. Anastasia Pavlyuchenkova
Pavlyuchenkova, a Russian tennis player, will miss the US Open due to a knee injury. Anastasia, the 2021 French Open women's singles runner-up, had previously announced that she would miss the rest of the 2022 season due to the same injury.
Also Read: Is Danny DeVito Trying To Win Back Rhea Perlman Even Though Their Divorce Would Never Happen?
Pavlyuchenkova wrote on Twitter, "After rehabbing for months this year and only playing at three events, the last two competitions her showed me, that the pain was still there and I wasn't prepared, so I have decided to take more time and arrive back stronger next year!"