As the news is arriving from NASCAR 2022 playoffs," Erik Jones wins playoff opener at Darlington", People are interested in Eric's personal life. Before discussing his personal life, we want to make sure that you know something about Eric. So here we provide a brief introduction of Mr. Jones.
Erik Jones is a professional stock car racer who competes full-time in the NASCAR Cup Series. He rides the Petty GMS Motorsports No. 43 Chevrolet Camaro ZL1. The racer was born on May 30, 1996, in Byron, Michigan, to Carol and Dave.
He is also known by the names EJ, which are his initials, and That Jones Boy, which is what sportscaster Ken Squier called him.
Jones won the Lucas Oil 150 at Phoenix International Raceway in 2013. At the time, he was 17 years, 5 months, and 8 days old, making him the youngest driver to win a top-tier NASCAR race up to that point.
In 2015, the race car driver from Byron had a good start to the season, placing second at the Daytona International Speedway.
Also Read: Is Larsa Pippen Dating Micheal Jordan's Son Marcus-Spotted Together In Miami!
He has been seeing dirt track racer Holly Shelton since 2018.
Who Is Eric Jones's lady-love, Holly Shelton?
Erik Jones, who drives in the NASCAR XFINITY Series, is dating his long-time girlfriend Holly Shelton. Since 2018, they have been in a steady relationship. In 2022, Jones and Shelton will have been together for four years. Their love is still strong, and they hope to get married soon.
Holly, who is dating Erik, is a dirt track racer and a big sports fan. She plays tennis, runs on the track, and shoots hoops most of the time.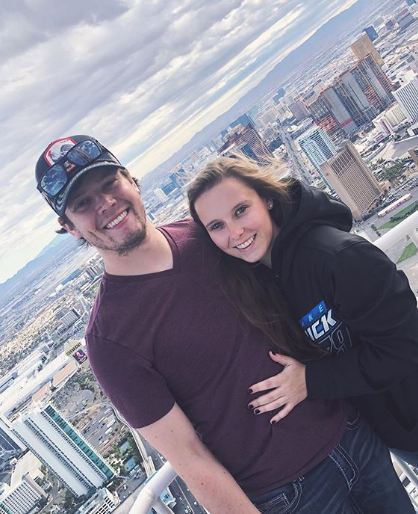 Holly comes from a family with a history of racing. Her dad was a crew chief for racers in Northern California who drove sprint cars. She switched to outlaw karts when she was 12, and when she was 16 she stopped doing other sports to focus on racing.
Shelton got a degree in Criminal Justice from California State University in Sacramento in 2018. In the same year, she finished second in the POWRi Lucas Oil National Midget League at Valley Speedway. This was the best result for a female driver on dirt.
As a Toyota Racing development driver, Shelton often races in the national midget series.
Holly Shared A Photograph With Her Beau
On 10 August, Holly shared a post on Instagram with her partner. The caption of the post reads, "Squad goals." In the photograph, we can see Holly and Erik showing affection to their pet dog, Oscar. The trio is looking awesome and the comment section is full of love for them.
User thomasmichael_photography exclaimed, "Coolest squad I know." The other user luvs7997 added, "Love it!!!".
Also Read: Larsa Pippen Divorce: Why Did She Split With Scottie Pippen?
Erik Jones' Net Worth
In the year 2022, Erik Jones is projected to have a net worth of more than 5 million dollars. As a result of his great racing career and endorsement deals, he has accumulated a considerable amount of fortune.
In 2014, he took part in three NASCAR Xfinity Series races and won $95,002. In 2015, he ran in three NASCAR Cup Series races and won $544,501. Jones also ran in 23 NASCAR Xfinity Series races that year and won a total of $1,399,408. Since 2015, NASCAR has stopped telling the public about the salaries and earnings of its drivers.