Katie Nolan is a well-known American sports figure and TV host. From 2015 to 2017, she was the host of the Fox Sports 1 show "Garbage Time with Katie Nolan." She now hosts "Always Late With Katie Nolan" on ESPN2 and "Sports? With Katie Nolan," a weekly podcast on ESPN.
Katie was born in January 1987 in Boston, Massachusetts. She won a gold medal at the Junior Olympics for rhythmic gymnastics in 1997. She wrote the blog B*tches Can't Hang and worked as a bartender. After that, she hosted and made the YouTube show Guyism Speed Round. In 2013, she joined Fox Sports 1.
Katie was hired by ESPN in October 2017 to be on many of their shows, both on TV and online. She started hosting the SportsCenter Snapchat channel in November 2017. She also hosts "Sports? With Katie Nolan," an ESPN podcast.
Recently, Katie tweeted, "Today, my boyfriend's middle school best friend is making his debut as a head coach in the NFL 🥹 and I hope he gets absolutely smoked, go pats." So, people are excited about her boyfriend and her relationship status. Take a deep dive into the article to learn about Katie Nolan's boyfriend.
Who Is Katie Dating Right Now?
Katie had kept her personal life out of the spotlight. She is an expert at keeping her personal life, including her love life, and other matters out of the public eye.
Also Read: Who Is Dak Prescott Dating In 2022? Meet Natalie Buffett!
However, 2020 marked the end of that. It was May 18, 2020, and the whole internet woke up to a story about Katie Nolan dating. Everyone's eyes were wide open! The only question was: Who is this person who stole Katie Nolan's heart!? Well, people were shocked when they found out it was Dan Soder.
Even though the news was all over the world, the couple still tried to keep everything to themselves. Katie Nolan did everything they could to keep the media from finding out about their relationship. Dan had confirmed their dating speculations after some time. But after that, the couple had never seen together. So, their fans thought that they broke up. However, again her dating rumors are circulating all over the internet.
There are speculations that Katie is still dating Dan Soder. As in the tweet, the person mentioned is Mike McDaniel. From Dan's Wikipedia page, we learned that Mike is Dan's best friend.
Also Read: Who Is Bubba Wallace's Girlfriend? Meet Amanda Carter
How Did Dan And Katie Meet?
They used to be friends, but now they are into each other and going out together. Katie Nolan used to host a top-rated show on Fox Sports called "Garbage Time with Katie Nolan." Dan Soder was a guest on that show. It happened again in 2017. Katie Nolan gave Dan Soder a picture after the show in early 2017. The exact date was January 4, 2017.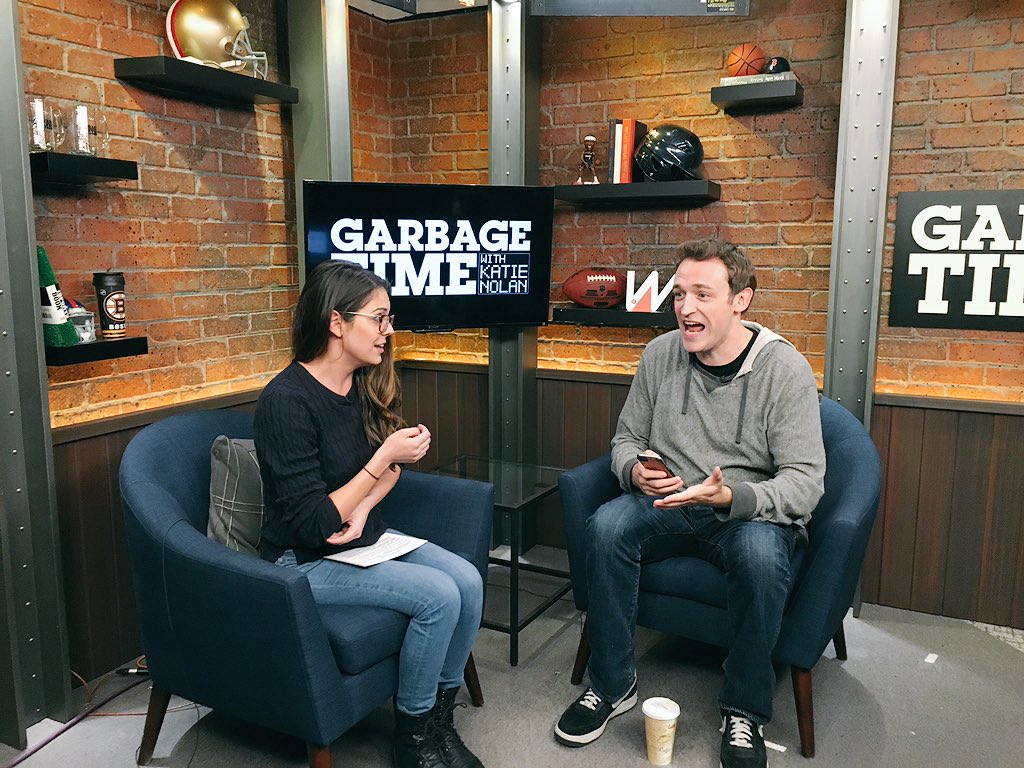 Katie has been on and led many shows. And Dan Soder has been on almost all of the shows. Like, Dan Soder was once on a show that Nolan ran. "Always late by Katie Nolan" was the title. Fans could sometimes hear him on Katie's sports podcast.
Dan admitted, When "Dan Soder is dating Katie Nolan" was all over the newspaper, it was a very strange and awkward situation for him. Soder was okay with the fact that he and Katie Nolan fell in love at work.