Daniel M. Keem, also known as Keemstar, was born on March 8, 1982, in Buffalo, New York, and is currently 40 years old.
He produces podcasts in addition to being active on YouTube and talking about numerous topics on his channel. Keemstar served as one of the co-hosts on the popular podcast show Baited! from 2016 until 2019. When he released the singles Keem Pop and Dolla in the Woods, he also became famous for trying to sing.
Controversy and drama are nothing new for Keemstar. His popular YouTube channel is all about influencer news, so he is used to it. Previously, In 2021, He came under fire for dating Christine, a 20-year-old. Their age difference of 39 years has drawn attention. However, Keemstar posted a video on August 24, 2021, announcing that he had broken up with his 20-year-old lover.
Also Read: Know All About Jimmy O. Yang's Girlfriend, Brianne Kimmel!
But after Christine, he met a new woman. Read on to learn more about his new love interest, Bratley.
Who Is Keemstar's New Love Interest?
Daniel Keem posted a series of pictures of him with a new woman online. and identified the woman as Brantley. He said, "said no so many times & but gave in. I'm now dating this girl @brantley_insta in the caption of a post Daniel and Brantley appear to have met a year ago.
Brantley posted a photo of the two of them on her Instagram on August 28, 2022, with the remark, "A year ago I went to NY and met you in person❤️you changed my life so fast, you made me a better person and the happiest I've ever been. You gave me a job and hustled your heart! We both said we felt like we've known each other for years as soon as we met🙂 I'm so in love with you and I can't wait to see what happens in the future 😇."
Meet Brantley On Instagram
Brantley runs her account under the name @brantley_insta, her bio reads, "
Brantley Brant Brant
21.
Bi baby🫣😮‍💨
Last account got banned."
Her account is stuffed with her modeling photographs. She frequently shares her pics with her beau.
Controversy On Keem's Relationship With Christine
In 2021, it was revealed that Daniel "Keemstar" Keem is in a relationship with a woman who is 20 years old. The YouTube star mentioned in an episode of his podcast titled "Mom's Basement" that he first met his girlfriend at a meet-up that she went to with a buddy.
Also Read: Who Is Robert Pattinson Dating? Know About His Relationship Timeline With Suki Waterhouse!
The meet-up was organized by the YouTube star. He stated that she had no idea about his internet career when they first met each other.
Both Trisha Paytas and Ethan Klein made remarks about the age difference between the two of them in response to his public announcement. To provide some context, Keemstar is 39 years old.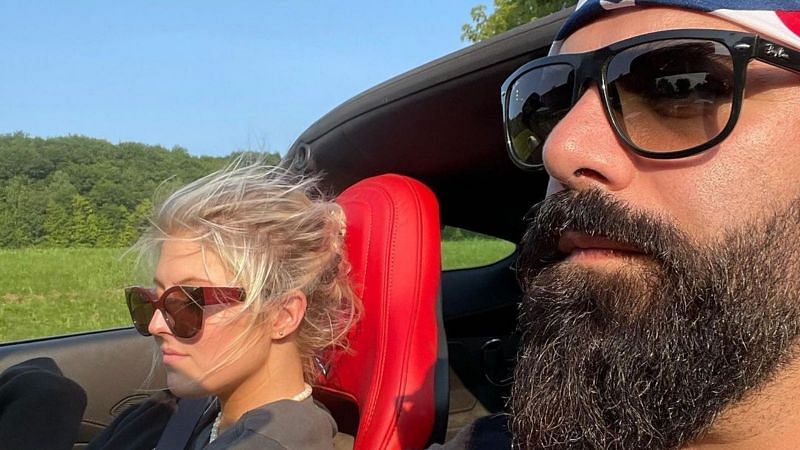 Paytas accused Keemstar of "grooming someone who was so much younger than him," and he called Keemstar out on it.
Klein also made a joke about the twenty-year-old coming into his podcast and made a comment about the size of the genitalia that the Drama Alert YouTuber possesses. As a result of the joke, Klein's podcast channel was taken offline, and he later claimed that Keemstar was the one who reported the video.
On August 28, 2021, Keem announced his breakup with Christine.