Lala Kent apparently has a new guy in her life.
Nearly a year after breaking up with film producer Randall Emmett, the "Vanderpump Rules" star is hanging out with a well-known former business partner with whom Emmett had a public fight.
50 Cent's 2019 Instagram campaign to smear Randall Emmett is what legends are made of. At the time, 50 didn't hesitate to bring Randall's fiancee, Lala Kent, into the mess either according to People. After saying that the failed movie producer owed him $1 million, 50 added fuel to the fire when he shared a clip from Vanderpump Rules in which Lala says, "I let [Rand] hit it on the first night and we were inseparable. He would just send me really expensive gifts." The day after our first night of making out, I bought a car. He was like 'Do you want a Range Rover?' and I was like 'Yeah.'"
Since Lala Kent and Randall Emmett broke up in a pretty bad way, we think he won't be happy to see her hanging out with his biggest rival, 50 Cent.
The beef between 50 Cent and Vanderpump Rules star Lala Kent seems to be over since TMZ reported that the two have been hanging out on the set of his upcoming horror movie. Read on to know all the details
Is Lala Kent Dating 50 Cent These Days? Lala Kent Gets A Hug From 50 Cent
Now that Vanderpump Rules' Lala Kent is no longer with Randall Emmett, many people are wondering who might be a good match for Lala. It appears that Lala may have found her match in 50 Cent.
Even though they had a fight before, Kent and 50 Cent seem to be getting along now. On August 3, 2022, TMZ published pictures of Kent and the rapper hanging out on the set of the rapper's new horror movie.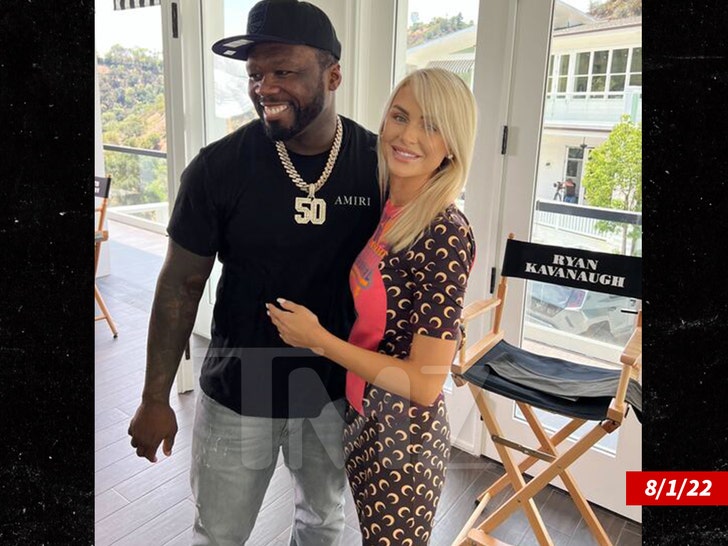 Witnesses on set say that Lala has been showing up "multiple times" to see 50 while he films "Skill House" at the Los Angeles content-creating space Sway House.
Last month, Vanderpump Rules' Lala Kent was seen hugging 50 Cent, three years after the rapper's very public fight with her ex-husband Randall Emmett.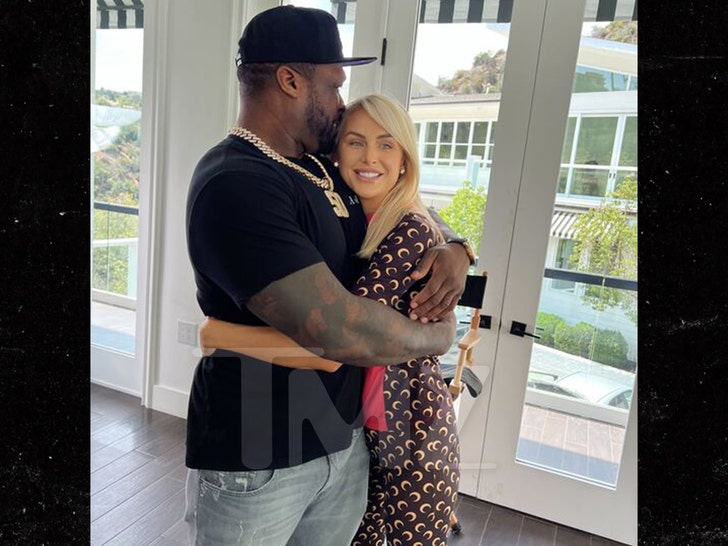 Even though 50 sent, 47, made fun of her during a social media fight with her then-boyfriend, Lala Kent, 31, embraced the Grammy winner as he kissed the top of her head on the set of his upcoming horror movie Skill House.
The father of two wrote in the captions of several photos of him and Kent at the mansion of TikTok collective Sway House in Los Angeles, "Randell, you need to stop texting people talking s**t because it makes me nervous, and you know what I'm like when I'm nervous."
Rumors that 50 Cent and Lala Kent are now dating have already started flooding the internet. Redditt user @jamer0658 asked, "Does anyone else think they're hooking up?". User @chill90ies said, "Of course they are. They are both ho*s. Can't blame lala I would f*ck 50 too!". CodePen3190 added, "I SURE HOPE SO!!!! 1: this a whole new level of a revenge hook up 2: dear god, hooking up with fofty is like 1738392 times better than blowies for Randall"
Many people are already convinced that the two may be a good match for each other as Lala Kent has already confessed in an interview that she would date 50 Cent.
Also read: Who Is Richard Gasquet's Girlfriend In 2022? Here's What We Know!
Lala Kent Says She Would Date 50 Cent
If you, like a lot of people, thought it would be cute if Lala and 50 Cent got together, she is all for it. Lala said that she would date the rapper on an episode of the Juicy Scoop podcast with Heather Mcdonald.
Heather asked Lala, as they talked about who she was seeing, "Some people are asking if you would date 50 Cent." Lala waited a moment before saying, "F–k yes… I don't think 50 Cent would date Lala." She then added, "Can I tell you when Fifty came out with his song "In Da Club" I had the biggest crush on him."
"How about the year?" Heather asked the person in real life. Lala thought, "I was so young then. I think I was in middle school at the time. I thought he was the best thing that had ever happened on Earth."
As we already mentioned, fans won't be surprised if it does turn out that 50 Cent and Lala Kent are dating each other. However, there has been neither confirmation nor denial from any of them so we would have to wait and watch as the story further develops.