Onika Tanya Maraj-Petty, was born on December 8, 1982, is a rapper, singer, and songwriter who goes by the stage name Nicki Minaj. She is known for her many different styles of music, her sharp lyrics, the way she moves when she raps, and her different voices and accents.
Nicki Minaj, who is known for her song "Super Freaky Girl," did double duty at the 2022 MTV VMAs on August 28. The Queens native not only co-hosted the Video Music Awards, but she also won the Michael Jackson Video Vanguard Award for her "outstanding contributions and profound impact on music video and pop culture."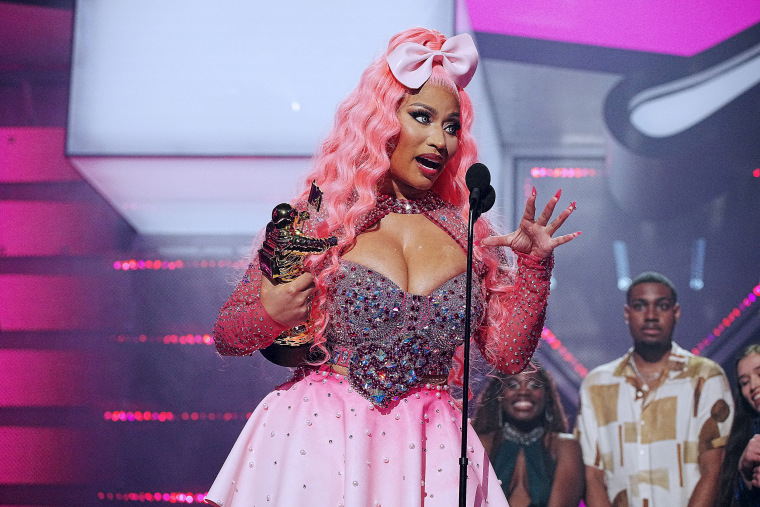 Her fans are interested in knowing all aspects of her life including her current relationship status. Remember the time when there were rumors that Nicki might be dating Eminem? We will cover all that and more in this article
Who Is Nicki Minaj Dating In 2022?
Nicki Minaj is living a happy married life with Kenneth Petty
Nicki first met Kenneth "Zoo" Petty when she was just a teenager. They are now married for almost three years.
The two first met when they were both in high school. They had lost touch for years before getting back together in 2018. This led to a quick romance, a wedding, and a baby over the next few years.
Also read: All About Batsheva Haart And Ben Weinstein Divorce!
The Grammy nominee first posted photos of her boyfriend on Instagram in December 2018 when she celebrated her 36th birthday with him. "Did you ever leave that place where nothing happens? … "It's no secret that both of us are running out of time," she wrote in the post's caption, using lyrics from Adele's song "Hello."
Derrick Milano, a musician and Minaj's acquaintance, described their special relationship to PEOPLE in October 2019 as "He understands her as a person, I think that's what the connection really is with them — it's that he really knows her. It's a different type of connection. He's not famous, he doesn't want to be on Instagram. Like, that's not his M.O. (modus operandi). He's really focused on her."
Petty doesn't use social media, but Minaj often gives fans updates about her and Petty's life with their son. Even though they had a low-key relationship, Petty's legal troubles have made headlines in recent years. He is a level two sex offender in New York, and he spent several years in jail for both attempted rape in the first degree and first-degree manslaughter.
Also read: Is Fergie Dating Anyone In 2022? Complete Details
Rumored Relationship Between Nicki Minaj And Eminem
When Nicki Minaj told a fan that she and Eminem were dating, people thought there would be a new love and hip-hop couple. But the two eventually confirmed that the whole thing was a joke.
Back in 2020, the rapper told a fan in her Instagram comments that she and the Detroit native were dating, and the news almost caused the music world to fall apart.
A source told E! that the rumored relationship was just a joke, but that didn't stop the Grammy and Oscar winner from trying to get his shot.
The star asked the crowd at the Boston Calling three-day music festival if they'd like to see him and the Queens native together.
He asked the crowd, "Hey, Boston! How many of you want me to date Nicki Minaj?" "So wait, let me check one more time so I can make this official. How many people want me to date Nicki Minaj?"
Eminem said, "Well, goddamnit, me too!" in response to the crowd's loud cheers.
But now that we know it was all a joke, we are happy to confirm that Nicki Minaj and Kenneth Petty are going strong in their relationship.