The WNBA Semi-Finals are starting tomorrow, and on the first day of the semifinals, we will see Las Vegas Aces and Seattle Storm facing each other at local time 1 PM. The match seems interesting as on one side there will be Kelsey Plum and on another side, there is Sue Bird, as Point Guards. They both also faced each other in their last match on 7th August in which Las Vegas Aces won the game by 89-81.
Las Vegas Aces Fans are eagerly waiting to see their favorite player Kelsey Plum, who is in extraordinary form this season, and will not disappoint them.
For the viewers who don't know about Kelsey Plum, here's her brief sketch:
Kelsey Plum's Family
Kelsey Plum was born on 24 August 1994 which means her age is 28 years now. Her full name is Kelsey Christine Plum. She is an American Professional Basketball Player, who plays for Las Vegas Aces in the WNBA (Women's National Basketball Association) since 2018.
Also Read: Who Is Yungblud Dating? Relationship Details With Jesse Jo Stark
She is also a Gold Medal winner in the 2020 Tokyo Summer Olympics in 3*3 Basketball.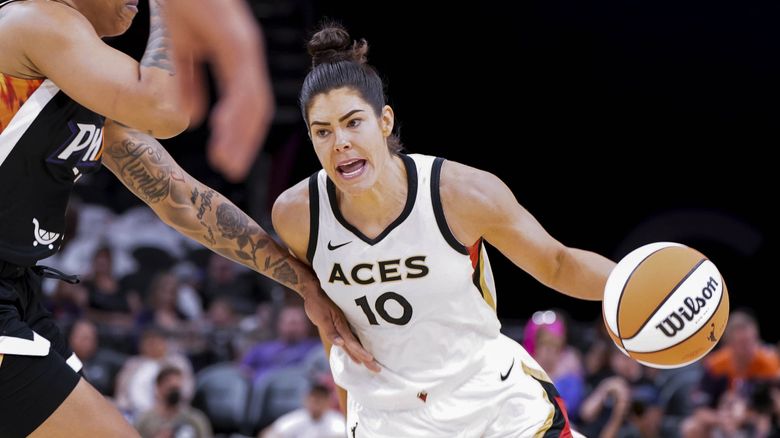 Kelsey Plum's parents are Katie Plum and Jim Plum. Her Mother, Katie Plum, Played Volleyball for the University of California, Davis. Her father, Jim Plum, was a football and also a baseball player. He had All- American football player honor at the high school level. After high school, he went to San Diego State University and played baseball and football.
According to sources, Kelsey is single. She is not dating anyone right now. There were rumors of her marriage to Josh but the player denied them.
Kelsey Plum: The Winner
Kelsey grew up as the youngest of the three Plum sisters and the second-last of the family's four children. Kaitlyn and Lauren, her older sisters, played volleyball like their mother, Katie. Dan, the older brother's younger brother, played football, just like their dad. Every family activity turned into a competition.
First, the family's car. The first person to fasten their seatbelt got gum. Who can finish washing the dishes the quickest? Left-handed dinner. Right-handed dinner.
Kelsey's older sister, Lauren, says, "My family is a little bit crazy." "It's all just a game. Kelsey took things very personally, and she used that to make her even angrier. Being the youngest girl is hard. Everyone is already two years ahead of you in terms of growth."
Kelsey wanted to go in her direction. She didn't play the same sport as her sisters or go to the same school. Kelsey didn't like her teacher when she switched schools in the fourth grade. Jim and Katie told Kelsey that she needed to talk to the principal if she wanted to switch classes. If nothing changed after that talk, they would step in and help.
Also Read: Who Is Justin Long's Girlfriend In 2022? All You Need To Know About Kate Bosworth!
So, Kelsey, who was in the fourth grade, went to the principal's office and requested a meeting. Kelsey said, "It's personal," when the receptionist asked why. Just like her dad told her to. Kelsey was taken to the principal's office, where she calmly told him that she wanted to switch classes. After hearing her, the principal put her in a different classroom.
She slowly became obsessed with winning, this winning spirit helped her win 19 major awards throughout her career. Most recently, she was named MVP of the WNBA All-Star Game In 2022.