Allyson Felix is a retired American track and field athlete, born on November 18, 1985. Her illustrious career spanned events such as the 100 meters, 200 meters, and 400 meters. A track superstar, she clinched numerous Olympic and World Championship medals, including a gold in the 200 meters at the 2012 Olympics. With an impressive ten-time U.S. national champion title, she cemented her place as one of the most successful athletes in history. Beyond her sporting prowess, Allyson's dedication, determination, and resilience continue to inspire countless individuals, leaving an enduring legacy in the world of athletics.
While her professional accomplishments are widely celebrated, Felix's personal life has remained relatively private. However, one constant presence in her life has been her husband, Kenneth Ferguson. In this article, we will explore the life of Kenneth Ferguson, the man who has been by Felix's side through thick and thin, offering unwavering support as she soared to athletic greatness.
Kenneth Ferguson: A Track And Field Star
Kenneth Ferguson, like his wife, is no stranger to the track and field world. He specialized in 400m sprints, 110m hurdles, and 400m hurdles during his athletic career. Hailing from Detroit, Ferguson made a name for himself by winning gold medals at the 2003 Pan American Junior Athletics Championships in the 110m hurdles, 400m hurdles, and 4x400m relay. He also claimed victory at the 2007 Adidas Classic, showcasing his prowess as a formidable athlete.
Despite his successes, Ferguson has maintained a low profile, shying away from the public eye and keeping details about his personal life under wraps.
Also Read: Know About Randy Arozarena's Wife And His Personal Life
Allyson Felix And Kenneth Ferguson Are High School Sweethearts
The love story between Allyson Felix and Kenneth Ferguson began during their high school years. Fate brought them together at a championship in Palo Alto, California, where they were both competing as junior athletes. Ferguson reminisced about the first time he laid eyes on Felix in a heartwarming birthday wish to her in 2019. He expressed, "In my eyes, you are exactly the way that you were when I saw you for the first time 18 years ago in Palo Alto… Beautiful and fine!"
As their paths continued to intertwine, Felix pursued her education at the University of Southern California (USC), while Ferguson became a student athlete for the South Carolina Gamecocks. Despite the distance, their bond only grew stronger, and they officially started dating in 2005.
Also Read: Who Is Ronde Barber's Wife? Inside Their Personal Life
A Journey Of Allyson Felix And Kenneth Ferguson's Love
The couple's love story has been a remarkable journey, filled with countless unforgettable moments. Felix fondly shared some throwback photos in a birthday wish to Ferguson, reflecting on their "young love" and how they have grown together over the years. It is evident that their bond has been a constant source of strength and joy for both of them.
While the exact date of their wedding remains undisclosed, they began referring to each other as husband and wife in the mid-2010s. In 2021, the couple renewed their vows in a beautiful ceremony held at The Ebell of Los Angeles. Surrounded by their loved ones, they reconfirmed their love and commitment to each other. Ferguson expressed his gratitude to family and friends for being part of this significant event, sharing moments of laughter and joy. The ceremony was a testament to their enduring love and the strength of their relationship.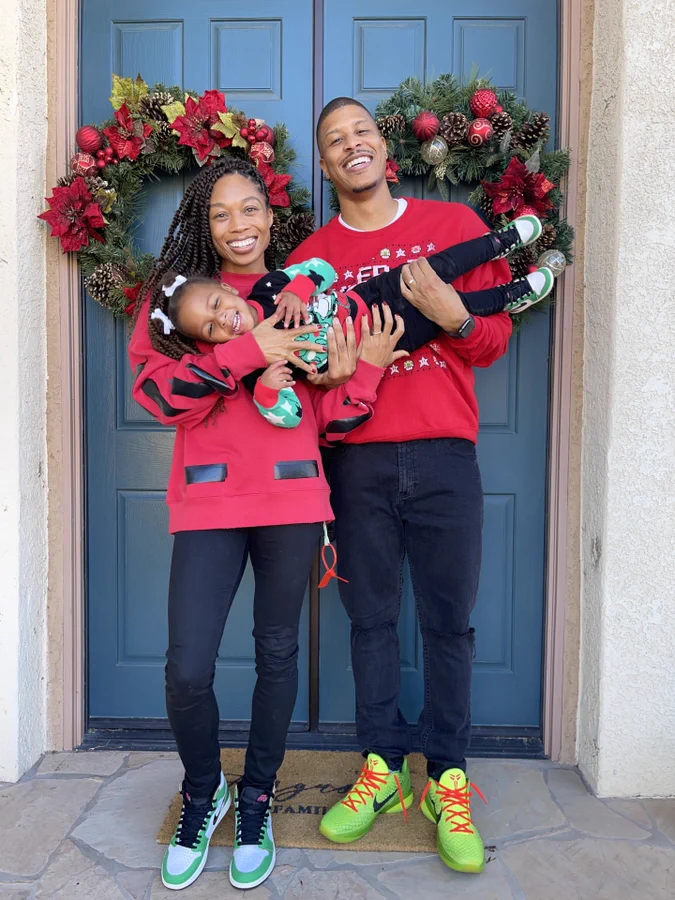 Maintaining a successful relationship can be challenging, especially when both partners have demanding careers. For Allyson Felix and Kenneth Ferguson, balancing their athletic pursuits with personal life required effort and support from their inner circle. Felix emphasized the importance of scheduling time for themselves and acknowledged the role of their strong support system in making it possible.
Know About Allyson And Kenneth's Kids
The couple welcomed their daughter, Camryn, into the world in 2018. As they continue on their life journey together, Felix and Ferguson have expressed their desire to expand their family. In an interview with People Magazine in 2020, Felix mentioned her hopes of having more children. While her focus at that time was on upcoming tournaments, she affirmed her desire to grow their family in the future. Their love, dedication, and commitment to each other lay the foundation for a nurturing and loving environment for their children.