Amaury Guichon, a pastry chef with dual French-Swiss nationality, has gained recognition for his exquisite pastry designs and intricate chocolate sculptures. He was born on March 15, 1991.
Amaury Guichon comes from a multicultural background, born to a Swiss mother and French father, and grew up in the region near Geneva that borders Haute-Savoie and Romandy. At the age of 14, he discovered his passion for the culinary arts and began his training at the École Hôtelière Savoie Leman in Thonon-les-Bains, where he participated in local competitions to hone his skills.
In the midst of growing curiosity about the influential pastry chef Amaury Guichon's personal life, people are eager to learn about his reliable support system. For those who aren't in the know, Amaury has been happily married to Fiona Bergson for some time. In this post, we'll delve into their relationship and explore Fiona's career path and achievements.
How Amaury Met His Wife Fiona And When They Got Married?
Amaury Guichon, the chef of Netflix's School of Chocolate, and his wife, Fiona Guichon, fell in love instantly after exchanging messages for a few months. Afterward, they met and quickly became friends and eventually began dating. Fiona said that she felt an instant attraction to Amaury, describing it as love at first sight.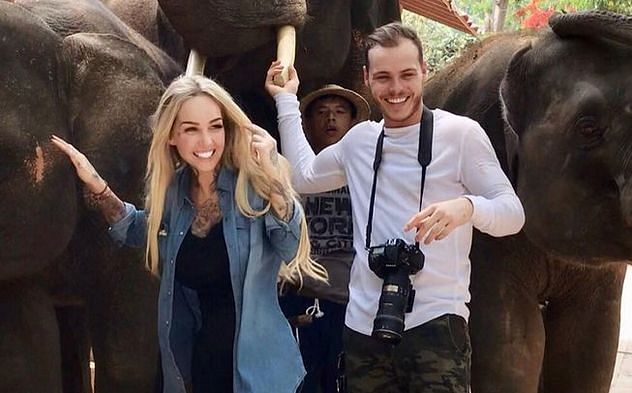 In December 2020, they had a small wedding ceremony, which Fiona referred to as a "COVID wedding." Nonetheless, they plan to celebrate more formally once the situation returns to normal.
Guichon considers Bergson's entry into his life as a crucial turning point because he had not achieved the level of success he has now. They currently reside together in Las Vegas and frequently showcase their escapades on social media.
Also read: Who Is Richard Marx's Wife? Know Everything About His Personal Life
Who Is Fiona Bergson?
Fiona, who is 27 years old, is a thriving tattoo artist with her own business located in Montreal, Canada as well as a skilled photographer. In addition to this, she is also a part of Amaury's professional life. With time, she has expanded her entrepreneurial pursuits and now co-manages companies with her husband.
Since her teenage years, Bergson has been employed and has grown into a highly successful businesswoman.
Fiona is quite active on social media. On the Instagram platform, she goes by the handle @fionabergson, where she has amassed a huge fan following of 62.2k followers as of now. In her IG bio, she also refers to herself as a freelance photographer. She exhibits her talents by sharing a plethora of stunning photos with her followers on Instagram. Her photos showcase various subjects such as the scrumptious dishes made by her chef husband, intricate tattoo art, and mesmerizing scenes from her travels around the world.
Also read: Who Is Brooke Bailey From 'Basketball Wives' Husband?
What Is Amaury Guichon's Net Worth?
Amaury Guichon is a pastry chef and internet celebrity of French-Swiss origin, whose net worth is reported to be around $5 million, as stated by Forbes. He has been estimated to earn an annual salary of more than $400k, based on media reports and calculations.
Guichon has gained worldwide recognition for his elaborate pastry designs and intricate chocolate sculptures, which have earned him a dedicated following on various social media platforms. He is particularly popular on TikTok and Instagram, where his stunning creations have captivated and inspired countless fans.