Amy Schumer is an American comedian and actress. She was born on June 1, 1981, in New York, New York, U.S. Her sharp, self-deprecating humor has made her popular on stage and screen. Relationships, body image, and the problems professional women face in the 21st century were probably the things she talked about most often in her often crude comedy.
Schumer was born on the Upper East Side of Manhattan, but when her father got multiple sclerosis and his business failed, her family moved to Long Island, New York. She used humor to deal with problems, and she improved her acting skills by getting a theater degree from Towson University in 2003.
Amy Schumer is very happy in her personal life as she is happily married to Chris Fischer. Since the beginning of her relationship with her husband, Chris Fischer, Amy Schumer has been very candid about their journey. Read on to know everything about their marriage proposal and more you need to know about Chris.
A Look Into Amy And Chris' Cute Love Story
During an interview with Howard Stern, Schumer revealed that she was introduced to her now-husband, Fischer, by her personal assistant, Molly, who happens to be his sister. When Fischer visited Schumer's vacation home to cook for them during a trip to Martha's Vineyard, they started getting to know each other better.
They became even closer while organizing a birthday party for Schumer's comedian friend, Rachel Feinstein, and with Molly's approval, they began a romantic relationship. Fischer proposed just a few months later.
Also read: Know About Tom Sizemore's Wife As He's In ICU After A Brain Aneurysm
Amy Schumer shared in the interview that her husband, Chris Fischer, proposed to her while she was asleep in bed, wearing earplugs and a night mask. Fischer woke her up, presented her with a ring, and said, "I got you this."
They then planned their wedding in just a few days, and Schumer sent a text message to invite their friends and family, informing them that the wedding was taking place on the following Tuesday. In February 2018, Amy and chef Chris Fischer got married in a secret ceremony in Malibu.
Who Is Chris Fischer, Amy Schumer's Husband?
Chris Fischer is best known as a chef on Martha's Vineyard. He has worked at several popular restaurants.
He also wrote The Beetlebung Farm Cookbook: A Year of Cooking on Martha's Vineyard, which is a book about food.
Fischer is not only a chef, but he has also been on several cooking shows, such as the Food Network's Amy Schumer Learns to Cook.
Also read: Know About Richard Belzer's Wife As The Law & Order Actor Dies As 78
Amy And Chris Shares A Son
Amy Schumer revealed her pregnancy in October 2018, with the assistance of journalist Jessica Yellin from News Not Noise. Yellin shared a list of political candidates recommended by Schumer and at the end, added, "I'm pregnant-Amy Schumer."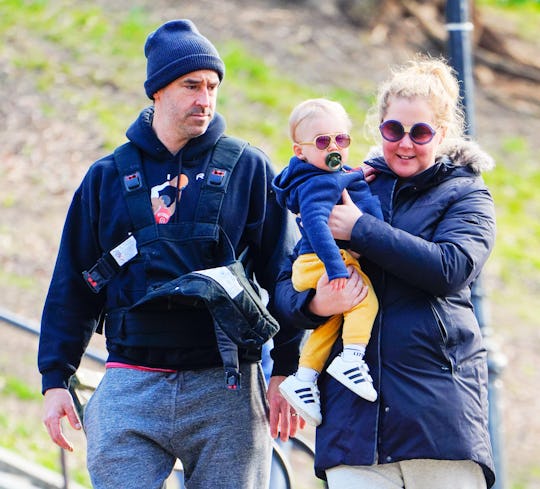 On May 5, 2019, Amy Schumer and Chris Fischer became parents for the first time with the arrival of their son, Gene David. Coincidentally, their baby was born just a day before the birth of Archie, the son of Prince Harry and Meghan Markle. Schumer jokingly referred to their son as "our royal baby.