Bob Myers is a former basketball executive who made a significant impact in the NBA. Serving as the president of basketball operations and general manager for the Golden State Warriors, Myers played a crucial role in building a championship-winning roster. Known for his dedication to family and privacy, Myers' decision to step away from his role raised questions about the future, leaving a legacy of success and a lasting impact on the Warriors organization.
Bob Myers is a well-known figure in the basketball world. However, little is known about his personal life, particularly his wife, Kristen Myers. In this article, we delve into the life of Kristen Myers, shedding light on their relationship, their family, and the tragic events that have shaped their lives.
Bob And Kristen Myers: Childhood Friends Turned Couple
Kristen Myers, formerly known as Kristen Dinsmore, was not just Bob's wife but also a childhood friend. Both hailing from the small town of Alamo, they grew up together and attended Monte Vista High School. Despite their shared upbringing, their romantic relationship only blossomed in adulthood. After graduating from high school, Kristen pursued her studies at the University of Southern California, where she earned her bachelor's degree.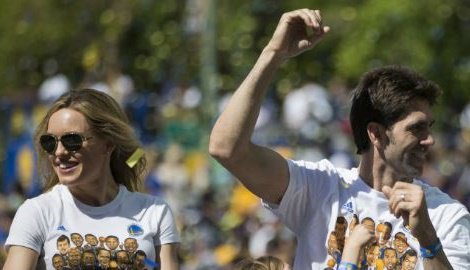 The couple's lives took a devastating turn when Kristen's brother, Scott Dinsmore, tragically passed away in a mountain climbing accident in 2015. Scott, a motivational speaker who had given a TED Talk in 2012, embarked on a global backpacking journey with his wife, Chelsea. However, their adventure took a tragic turn on Mount Kilimanjaro when Scott was crushed to death by falling boulders. The news shook Kristen and Bob to their core, occurring only three months after the Warriors' championship victory. Bob stood by his wife during this challenging time, offering support as she grappled with the loss of her beloved brother.
In memory of her brother, Kristen's parents, Bill and Janet Dinsmore, made a generous gift to UC Santa Barbara. This act of philanthropy stands as a testament to the impact Scott had on their lives and the desire to honor his memory. The legacy gift serves as a reminder of the importance of family and giving back in times of grief.
Also Read: A Peek Into Elina Svitolina's Husband And Their Relationship
Know About Bob And Kristen Myers' Kids
Bob and Kristen Myers are proud parents to three daughters: Kayla, Anabelle, and Rosie. Their oldest daughter, Kayla, is 12 years old, while the ages of the younger two daughters remain undisclosed. The couple's dedication to their family is evident, with Bob emphasizing the significance of spending time with his daughters. Unlike many, he does not adhere to a fixed schedule, choosing to prioritize his family above all else. Mornings are reserved solely for his daughters, ensuring he has precious moments with them before the demands of his professional life take over.
Bob and Kristen Myers prefer to keep their personal lives out of the public eye. They are rarely seen on camera, with victory parades being the exception. The couple's privacy is reflected in their absence from social media platforms. In an interview with GQ, Bob expressed his reluctance to spend valuable time on social media, as he believes it takes away from meaningful moments with his family. Kristen shares a similar mindset, choosing to maintain a low-profile presence on Facebook since 2016.
Also Read: Who Is Martin Truex Jr's Girlfriend? Know About Their Separation
The Future Of The Myers Family
With Bob Myers' departure from the Golden State Warriors, uncertainty looms over the future of both his professional career and the family's life in the Bay area. While his next job remains unknown, this transitional period offers an opportunity for Myers to prioritize quality time with his wife and children. Despite the challenges of balancing his demanding schedule with his family life, he remains dedicated to giving his family the utmost value and attention.
In conclusion, Bob Myers' wife, Kristen Myers, is a private and resilient woman who has faced personal tragedy with the support of her husband. Their enduring love and commitment to their family have remained steadfast throughout the ups and downs of life. As the Myers family embarks on a new chapter, the bond they share serves as a reminder of the importance of cherishing loved ones and finding strength in difficult times.