Coco Lee, the Hong Kong-born American singer, was a beloved figure in the music industry. With her soulful voice and captivating performances, she garnered international recognition and released numerous albums throughout her career. Coco's talent extended beyond music, as she also ventured into acting and made appearances in films and reality shows. Her groundbreaking performance at the Academy Awards as the first Chinese American to perform showcased her immense talent and cultural impact.
Tragically, Coco Lee passed away at the age of 48, leaving behind a legacy of musical achievements. Amidst the sorrow surrounding her untimely demise, it is important to shed light on the person who shared her life and supported her through thick and thin: her husband, Bruce Rockowitz. This article aims to delve into the life of Bruce Rockowitz, exploring his accomplishments, their relationship, and their journey together.
Who is Bruce Rockowitz?
Bruce Rockowitz is a Canadian businessman and former CEO of Hong Kong supply chain company Li&Fung, a position he held from 2011 to 2014. Born in 1958 and raised in Boston, Massachusetts, he eventually relocated to Hong Kong.
Rockowitz is not only recognized for his business acumen but also for his ventures in the media and fitness industries. He serves as the chairman of Rock Media International and co-founded the successful fitness and restaurant chain, Pure Group. Furthermore, Rockowitz has had a passion for tennis and even pursued it professionally, briefly interrupting his studies at the University of Vermont in 1979.
Also Read: Know About Roger Federer Wife, Children, And Net Worth
All About Coco Lee And Bruce Rockowitz's Relationship And Kids
Coco Lee and Bruce Rockowitz's love story blossomed over the years before they finally tied the knot in a grand ceremony in October 2011. The couple had been dating for eight years, and their wedding was nothing short of extraordinary. The lavish event featured performances from renowned artists such as Bruno Mars, Alicia Keys, The Black Eyed Peas, and Ne-Yo. Rumored to have cost around $12 million, the wedding was a testament to their love and commitment.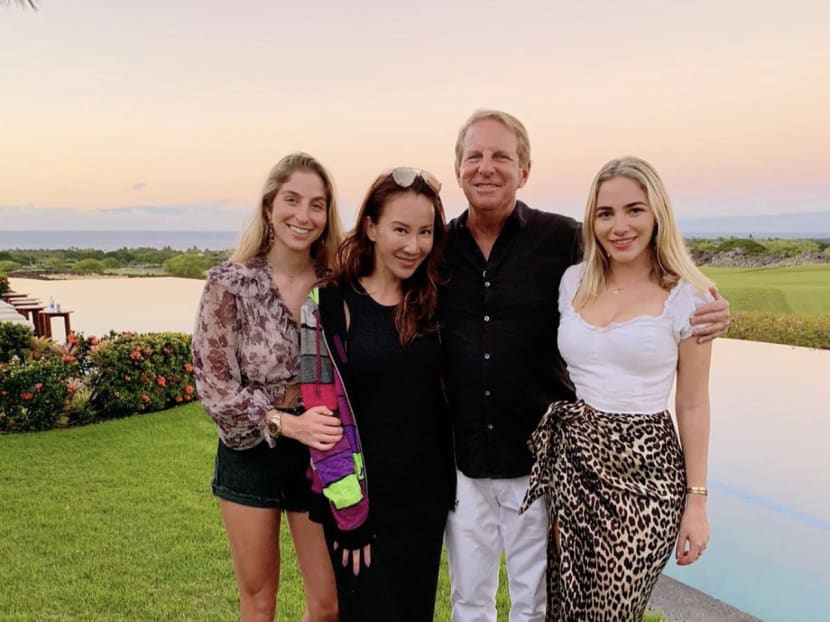 Bruce Rockowitz had two daughters from his previous marriage, and Coco Lee embraced the role of a stepmother to them. Although the couple did not have any biological children together, Coco Lee expressed her desire to have a child and underwent IVF treatment in New York in 2018. She believed that a child is a precious gift from God, emphasizing the importance of the journey rather than the outcome.
Know About Coco Lee's Death
The world mourns the tragic loss of Ferren "Coco" Lee, the Hong Kong-born American singer, who passed away at the age of 48. Coco's sisters, Carol Lee and Nancy Lee, took to social media to announce her death, revealing that she had succumbed to a suicide attempt at her Hong Kong home. They shared the devastating news of Coco's long battle with depression, which had worsened in recent months despite her seeking professional help and fighting against her inner demons.
Expressing their gratitude for the medical staff who cared for Coco during her hospitalization, her sisters paid tribute to her as an exceptional and outstanding sister and thanked God for blessing them with such a kind angel. Coco Lee's passing serves as a poignant reminder of the profound impact of mental health issues and the importance of seeking help and support. Her legacy as a talented artist and her courageous battle will forever be remembered.
Also Read: Who Is Zuri Hall's Boyfriend?
Coco Lee's Musical Journey and Accomplishments
Coco Lee's musical career was marked by numerous achievements. She released a total of 18 studio albums, including her chart-topping English album, "Just No Other Way," released in 1999. Lee's music resonated with fans in both Mandarin and English, and she gained international recognition for her soulful voice and captivating performances. Additionally, Coco Lee had the honor of performing "A Love Before Time" at the 73rd Academy Awards, making her the first Chinese American to grace the prestigious stage.
In addition to her music career, Coco Lee dabbled in the world of film and television. She made appearances in films such as "No Tobacco," "Master of Everything," and "Forever Young." Furthermore, she captivated audiences through her appearances on various reality shows, including "Chinese Idol," "Super Idol," "Talented Singer," "Come Sing with Me," and "Jungle Voice."