Florence Pugh is a rising star in the entertainment industry, known for her captivating performances in films like Little Women, Black Widow, and Midsommar. Pugh's talent has earned her a massive following, with many fans eagerly following her personal life, especially her romantic relationships.
In February 2023, Pugh sparked romance rumors with London-based photographer and filmmaker Charlie Gooch. This is the first time the two were spotted together, and they have been seen together several times since then, enjoying intimate dinners and casual walks around the city.
Who Is Charlie Gooch?
Charlie Gooch is a filmmaker and photographer based in London. He has worked with several fashion brands and magazines, including Vogue, Dior, and Burberry. Gooch is also known for his short films, which have been featured in several film festivals.
Gooch's work has been praised for its raw and intimate portrayal of his subjects, and he has developed a reputation as a rising talent in the film and photography industry. It's no surprise that he caught the eye of Pugh, who is known for her passion for art and creativity.
Also Read: Meet Isabella Jane Cruise's Husband As Tom Cruise's Daughter Debuts New Look
Inside Pugh And Gooch's Relationship
Pugh and Gooch's relationship seems to be going strong, and they have been spotted out and about together several times in the past few months. The first time they were seen together was on Valentine's Day in London, where they were photographed holding hands and enjoying each other's company.
Their relationship was further confirmed in March 2023, when they were spotted having an intimate dinner with Valentino creative director Pierpaolo Piccioli and friends at restaurant Pierluigi in Rome. The couple seemed to be enjoying each other's company, with Gooch gazing lovingly at Pugh as she chatted with friends outside the restaurant.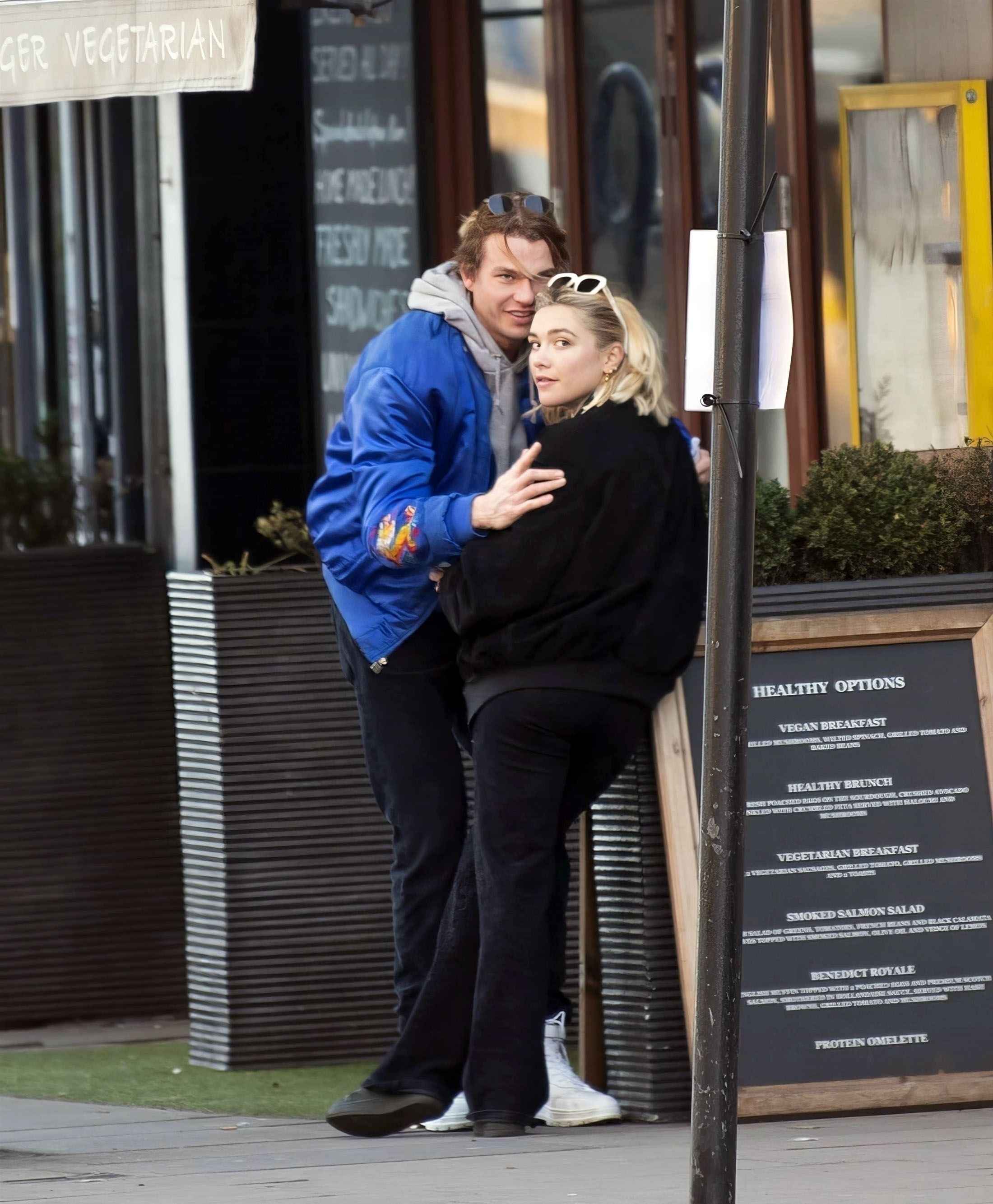 Pugh looked stunning in a breezy long white shirt dress, black sheer tights, and a leather jacket, which she accessorized with a pair of dazzling silver heart-shaped earrings and various silver rings. Her hair was slicked back, and she wore rosy makeup.
Gooch, on the other hand, looked casually cool in a white button-down, black jacket, and silver chain necklace. The couple looked very much in love, and fans are eagerly awaiting more news about their relationship.
Also Read: Monica Cannon Grant's Husband Killed In A Motorcycle Crash: Detailed Info
Know About Pugh's Previous Relationship
Before Gooch, Pugh was in a high-profile relationship with Scrubs actor Zach Braff. The couple first sparked dating rumors in April 2019 when they were spotted holding hands in New York City. They confirmed their relationship in December 2019, after months of speculation.
However, their relationship was not without controversy, with many people criticizing the age difference between the two. Pugh was 21 years Braff's junior, and many felt that their relationship was inappropriate.
Pugh defended their relationship, telling Elle UK in June 2020, "I have the right to hang out and be with and go out with anyone I want to. I've always found this part of what people do really bizarre. I'm an actor because I like acting, and I don't mind people watching my stuff, but people have no right to educate me on my private life."
Despite the criticism, Pugh and Braff seemed to be happy together, with the couple sharing several sweet moments on social media. However, in August 2022, Pugh confirmed that the couple had broken up, telling Harper's Bazaar, "We've been trying to do this separation without the world knowing because it's been a relationship that everybody has an opinion on. We just felt something like this would really do us the benefit of not having millions of people telling us how happy they are that we're not together. So we've done that. I automatically get a lumpy throat when I talk about it."