Gianluca Vialli, a former star for both Chelsea and Juventus, passed away at age 58 after a long fight against cancer.
A statement from his family on Friday said, "He died last night, surrounded by his family, after five years of illness that he faced with courage and dignity. We thank the many people who have loved him over the years and helped him. The memory of him and the example he set will live on forever in our hearts."
Vialli was part of the coaching staff that led Italy to win Euro 2020, but he quit his job with the national team in December to get more treatment.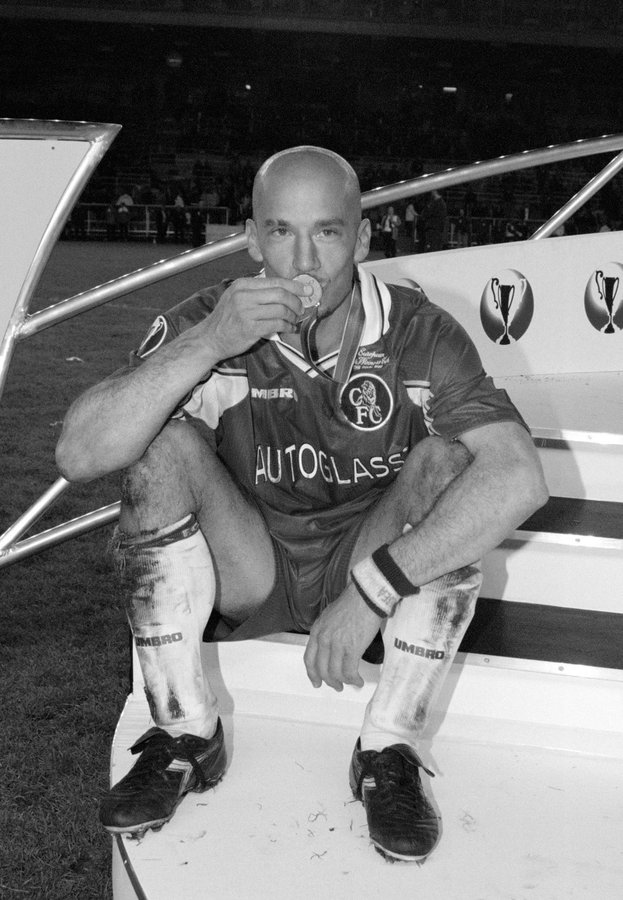 "I know I probably won't die of old age, and I hope to live as long as I can, but I feel much more fragile than I did before," Vialli said in a Netflix documentary that aired in March 2022. He said that cancer was "a travel companion" that he hoped would leave him alone after testing his strength. "Illness can teach you a lot about who you are and push you to go beyond the superficial way we live," he said.
Gabriele Gravina, president of the Italian Football Federation, said, "Gianluca was a wonderful person, and he leaves a hole in the national team and in the hearts of all those who appreciated his extraordinary human qualities."
Also read: Who Is Jeff Younger's Wife? Details About Anne Georgulas And Their Son
Vialli had a great career, and his wife, Cathryn White-Cooper, helped him. Read on to know everything about his wife as well as his net worth.
Who Is Gianluca Vialli Wife, Cathryn White-Cooper?
Gabriele was previously married to Cathryn White Cooper. During Vialli's time at Chelsea, they met, and their romance began to grow. His wife prefers to keep out of the spotlight and was proud of her husband as he led the Italian delegation to victory at Euro 2020.
White-Cooper, a South African native, wed Vialli in 2003, three years after he left Chelsea. Their private life was kept hidden from the public, so not much is known about his wife, who was rumored to be a former model and interior decorator.
Gianluca and White-Cooper have two daughters named Olivia and Sophie. Vialli said that his daughters were very supportive during his fight with cancer. In an interview with The Times, Vialli said, "My daughters helped me put my eyebrows back on."
The South African supermodel was also by his side during his painful cancer treatment. Vialli told The Times, "I got my wife to tell me which makeup looks better. We all laughed. You just have to laugh. You need to see the funny side if you can."
Also read: Who Is Eugene Lee Yang's Boyfriend? Meet Matthew McLean
What Was Gianluca Vialli's Net Worth?
Based on a number of online reports, Vialli had a net worth of about $30 million.
Vialli's first steps as a professional football player were with the local Italian club Cremonese. He joined Sampdoria in 1985 and helped them win the Serie A championship and the European Cup Winners' Cup during his eight years there. He left the team in 1992 and joined Juventus, where he won the Italian league in 1995 and the Champions League the following year. He reportedly made the transfer for £12.5 million, which is almost $15 million.
In 1996, he moved to Chelsea on a free transfer and took over as player-manager after Ruud Gullit left. Under his leadership, the team won the League Cup, Cup Winners' Cup, and FA Cup in 1998, 1999, and 2000, respectively.