Hailey Van Lith is an American basketball player for the Atlantic Coast Conference's Louisville Cardinals. ESPN thought she was a 5-star recruit and one of the best players in the class of 2020. On November 16, 2019, she chose to play college basketball for the Louisville Cardinals instead of Baylor, which had offered her a spot. Van Lith played softball in high school, and by the eighth grade, NCAA Division I softball teams had already reached out to him with offers.
Van Lith recently made headlines after a heated handshake with Texas guard Sonya Morris after a game. After the Cardinals beat the Longhorns 73–51 on Monday to move on to the Sweet 16 of the Women's NCAA Tournament, the players talked to each other. Van Lith said that what happened "wasn't a big deal" and that people were making too much of it.
While Van Lith's basketball skills have been the focus of attention, her personal life has also garnered interest. In particular, many people are curious about her boyfriend, Jalen Suggs, who is also a professional basketball player.
Who Is Hailey Van Lith's Boyfriend, Jalen Suggs?
Jalen Suggs is an American who plays pro basketball for the Orlando Magic of the NBA. He played college basketball for the Gonzaga Bulldogs. The Magic picked him with the fifth pick in the NBA draft 2021.
Suggs first played basketball when he was young. He played three varsity basketball games for Minnehaha Academy, a private Christian school in Minneapolis, before moving up to the varsity team in the seventh grade. Suggs played for the Gonzaga Bulldogs in the 2020–21 NCAA Division I men's basketball season. The Orlando Magic picked Suggs with the fifth pick in the NBA Draft of 2021. On August 9, he played his first game in the summer league against the Golden State Warriors. On October 20, he played his first game in the NBA.
Also Read: Who Is Sophie B. Hawkins' Husband? Is She Married To Anyone?
Know About Jalen Suggs And Hailey Van Lith's Relationship
It's unclear when Jalen Suggs and Hailey Van Lith got together, but they appeared to have gone public with the relationship in June. At the time, Van Lith and Suggs shared matching Instagram posts that featured PDA photos of the pair in Los Angeles.
Since then, the couple has been seen together on numerous occasions, both in person and on social media. Suggs even responded "Hey wife" to Van Lith's most recent Instagram photo in which she is sporting Lakers shorts.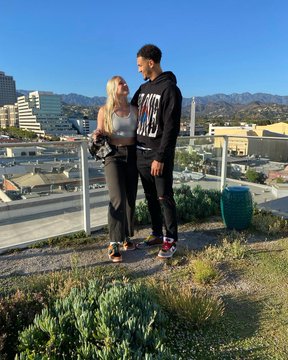 Van Lith and Suggs both love basketball, which is easy to see since she is already an experienced player at age 19. Van Lith is a top guard at the University of Louisville, where she studies business. Van Lith started 26 games for the Cardinals as a freshman in 2020-21. She averaged 11.2 points, 5.5 rebounds, 2.2 assists, and 1.2 steals per game, which helped her team get to the Elite Eight.
Also Read: Who Is Erik Griffin's Wife? Meet Rachel Sklar
Van Lith's Basketball Accomplishments
Van Lith's basketball resume is pretty long. She was an All-American in high school, among other things. She competed for USA Basketball with UConn standout Paige Bueckers and won four gold medals (2019 FIBA U19 World Cup, 2019 FIBA 33 U18 World Cup, 2018 Youth Olympic Games, and 2018 FIBA U17 World Cup). She played basketball at the Mamba Sports Academy in Thousand Oaks, California, which was run by the late Kobe Bryant.