Katie Boulter is a leading English tennis player and currently holds the title of British women's number one. She has achieved success with seven singles titles and four doubles titles on the ITF Women's Circuit. Boulter reached her highest singles ranking of world No. 77 on June 19, 2023, and peaked at No. 431 in the WTA doubles rankings on December 31, 2018. In March 2014, she was ranked the 10th best junior tennis player globally.
Katie Boulter, Britain's newly crowned number one, carries the legacy of tennis excellence within her family. Her remarkable journey towards stardom is rooted in her mother and grandmother, both of whom showcased their own remarkable talent on the tennis court.
As Katie Boulter emerges as Britain's new number one, there has been heightened interest in her personal life, particularly regarding her dating experiences. In the subsequent paragraphs of this article, we will delve into this topic to provide further insights.
Unveiling Katie Boulter's Accomplished Boyfriend: A Perfect Match Off The Court
Confirmed in 2021, Katie Boulter is currently in a relationship with fellow tennis player Alex de Minaur. Speculation surrounding their romantic involvement had been circulating for several months before De Minaur publicly confirmed their status in March 2021.
Although it appears that the couple has been in a relationship since the start of 2021, their connection goes back much further as they have been friends for an extended period of time.
Alex de Minaur, hailing from Australia, is a professional tennis player who reached impressive milestones in his career. On June 28, 2021, he achieved his highest ATP singles ranking, reaching No. 15, while on October 12, 2020, he attained a doubles ranking of No. 58.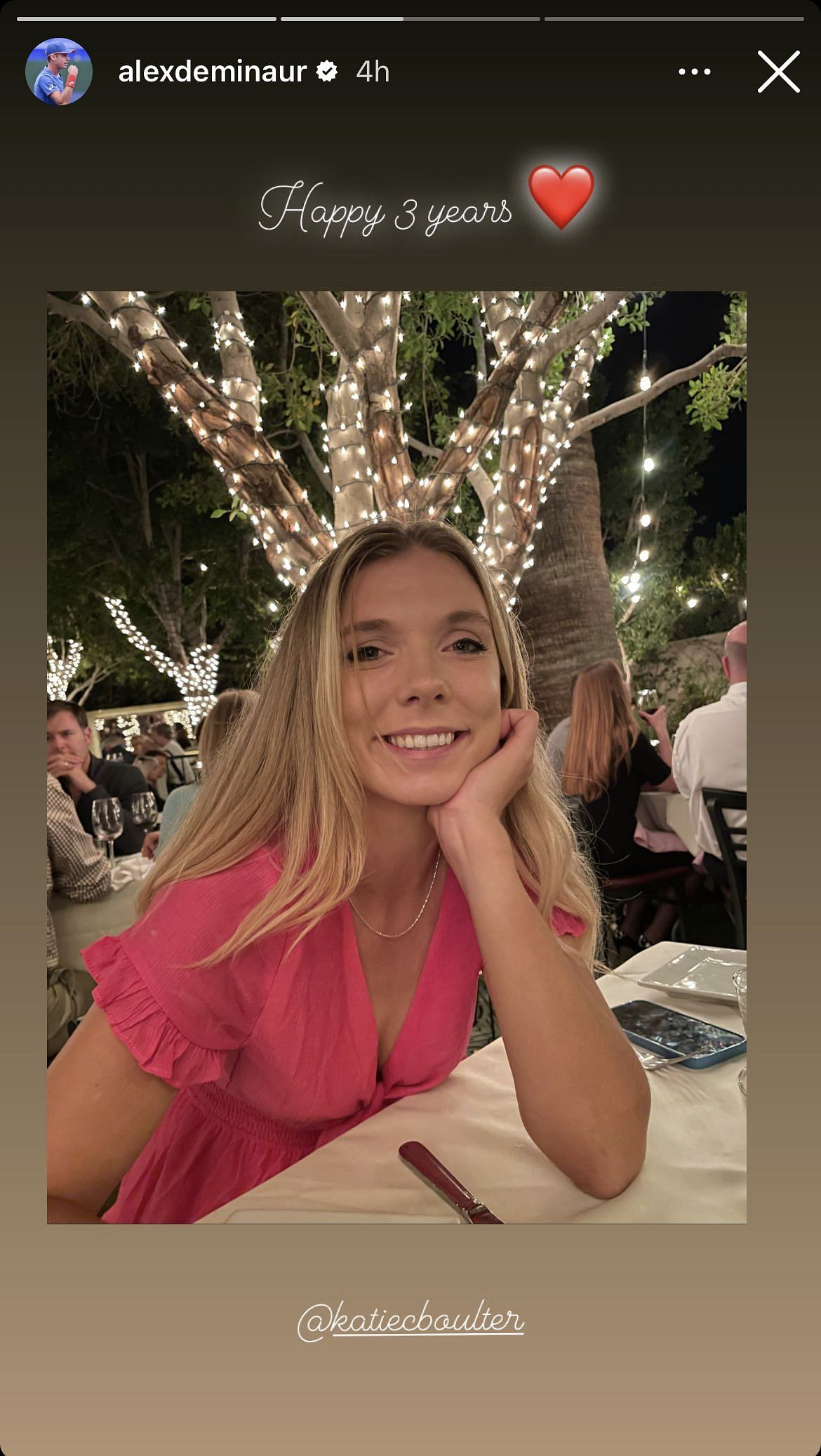 Also read: A Peek Into Jaden Hossler's Girlfriend And Their Relationship
Few months ago they commemorated their three-year anniversary in a delightful manner, indulging in a memorable and romantic date night. They celebrated the occasion by sharing a picture of Boulter on their night out."Happy 3 years," he posted with a heart emoji.
The Inspiration Behind Britain's New Female Tennis Champion, Katie Boulter
With her ascent to the top, all eyes are on Katie Boulter, the new British Number One, as she spearheads the hopes of British women in the upcoming Wimbledon tournament. Continuing a family legacy, Katie Boulter represents the third generation of tennis enthusiasts, following in the admirable footsteps of her mother Sue, aged 58, and her maternal grandmother Jill Gartshore, both accomplished players in their own respective careers.
Also read: Ross Lynch's Girlfriend: Busting The Truth About Their Breakup Rumors
Fueled by the inspiration of these two remarkable women, Ms. Boulter embarked on her tennis journey at the tender age of four, starting her tennis endeavors at her grandmother's tennis club in Leicestershire. Heartwarming pictures from the family album capture her infectious joy as a toddler, gripping a racket that dwarfed her small hands. Another precious snapshot depicts her being lovingly carried by her tennis coach mother while visiting a grass court, symbolizing the early roots of her passion for the sport.