Maria Sakkari, the Greek professional tennis player, has carved a remarkable path in the world of tennis with her aggressive and powerful playing style. Known for her strong serve and groundstrokes, Sakkari has achieved a career-high ranking of world No. 3, making her the highest-ranked Greek player in history. She has showcased her skills by defeating top-ranked opponents and reaching impressive milestones, including Grand Slam semifinals. Sakkari's determination, athleticism, and unwavering focus on the court have earned her international recognition.
Maria has not only made a name for herself in the tennis world but has also captured attention for her relationship with Konstantinos Mitsotakis. As the son of Greece's Prime Minister, Mitsotakis brings both political influence and unwavering support to Sakkari's life. Let's delve into their relationship, Mitsotakis' background, and the role he plays in Sakkari's career.
Meet Konstantinos Mitsotakis, Maria Sakkari
Konstantinos Mitsotakis hails from an illustrious and politically connected family. His father, Kyriakos Mitsotakis, is the current Prime Minister of Greece, following in the footsteps of his own father, Konstantinos Mitsotakis. The Mitsotakis family has a long history of political prominence, with relatives holding positions such as the mayor of Athens and the country's Foreign Minister. These deep political connections add a layer of intrigue to Mitsotakis' relationship with Sakkari.
In 2020, Konstantinos Mitsotakis fulfilled his mandatory military service in Greece's Artillery. His father, Kyriakos, expressed his pride on Instagram, sharing a photo of his son in uniform. Mitsotakis' commitment to serving his country further demonstrates his character and dedication. Sakkari's relationship with someone who holds a deep sense of duty and responsibility adds another layer of admiration to their bond.
Also Read: All About Baron Corbin's Wife And Net Worth!
The Beginning Of Sakkari And Mitsotakis' Relationship
While the exact details of their meeting remain private, Maria Sakkari revealed that she and Konstantinos Mitsotakis have been exclusively dating since 2020. In an interview, she expressed gratitude for his presence in her life, acknowledging the positive impact he has had on her both personally and professionally. Sakkari has chosen not to keep their relationship hidden, emphasizing the strength and happiness they share.
Sakkari And Mitsotakis: A Private Relationship
Sakkari and Mitsotakis prefer to keep their relationship out of the public eye, rarely discussing it in interviews or on social media. Despite the occasional speculation and scrutiny that comes with fame, Sakkari remains focused on her happiness and the positive influence Mitsotakis has on her life. She recognizes that there will always be critics, but she values the strong connection she shares with Mitsotakis and prioritizes their joy together.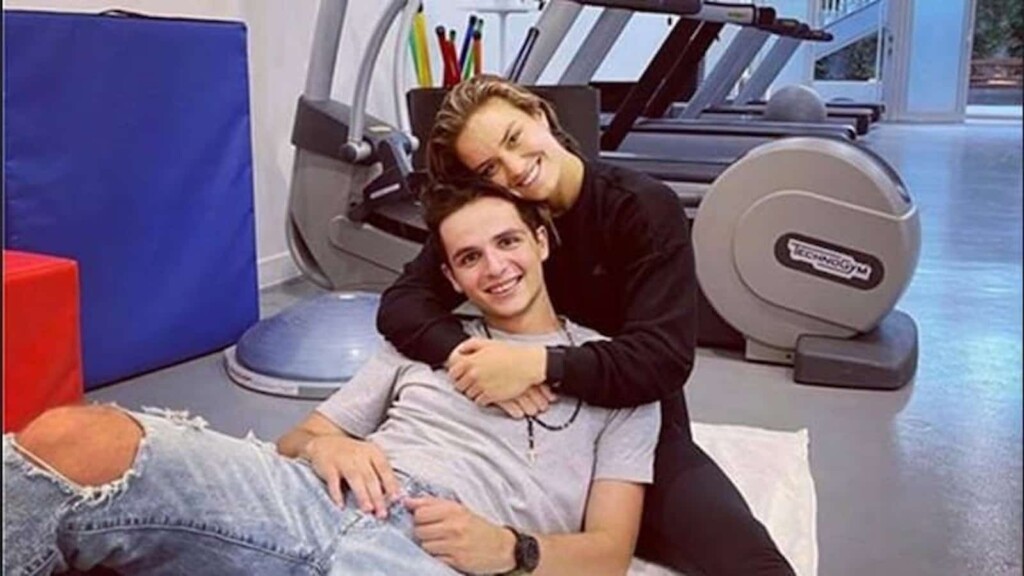 Konstantinos Mitsotakis plays a significant role in Maria Sakkari's career as a professional tennis player. In an interview, she credited him with helping her perform well at Roland Garros, highlighting his calming presence, supportive nature, and meaningful conversations. Mitsotakis' unwavering support provides Sakkari with the stability and encouragement she needs to excel in her sport. Their relationship serves as a source of inspiration and motivation for Sakkari, demonstrating the positive impact a supportive partner can have on an athlete's career.
Also Read: Know About Phoebe Tomlinson's Boyfriend As The Couple Expecting Their First Child
Know About Sakkari And Tsitsipas' Rumored Relationship
In 2019, rumors swirled that Maria Sakkari was dating fellow Greek tennis star Stefanos Tsitsipas. The two had known each other since childhood, with their mothers being tennis players who were acquainted since they were 15 years old.
However, Sakkari clarified that while she had known Tsitsipas for a long time, they were just friends. They played in different categories as children but grew closer as they started participating in the same tournaments. There were instances where they were seen together at events and even teamed up for mixed doubles matches. Nevertheless, they never confirmed their romantic involvement, and since 2020, Sakkari has been in a relationship with Konstantinos Mitsotakis.