After Sunday's loss, Lamar Jackson, quarterback for the Baltimore Ravens, did not take kindly to a post from a critical fan and responded with a vulgar tweet of his own. Jackson reconsidered after discussing it with his girlfriend.
Jackson stated today that his girlfriend advised him to remove the tweet, and that is why he did.
The 25-year-old standout quarterback for the Baltimore Ravens, Lamar Jackson, is still one of the most gifted players in the NFL despite the recent setback. Several notable football players and analysts, including Tom Brady, have praised him highly.
As much of an impact as he has made in the field, he prefers to remain in the background when not playing. Few people know anything at all about his private life. This post will focus on his girlfriend who, for the most part, avoids the spotlight.
Who Is Lamar Jackson's Girlfriend, Jaime Taylor?
Jackson's girlfriend's name is Jaime Taylor, and rumors have it that the two have been together ever since they met at the University of Louisville. The couple has demonstrated a strong connection throughout all of 2017 and into the present day.
This is because both Jackson and Taylor choose to keep their personal lives, including their relationship, out of the spotlight and the reason for the lack of information about her.
It's safe to say that she doesn't like to be in the spotlight. She did, however, give an interview on the official website of the Baltimore Ravens. In it, she talked about how Jackson taught her a lot. "He has helped me learn how to deal with criticism. I used to get angry when I read things. Then I would look at him and see that he was fine. He tells them, "Let them talk." There's nothing you need to say. "Just show them," said Taylor.
Also read: Who Is Antonio Brown's Girlfriend? Arrest Warrant Issued Against Brown
They have a one-year-old son together named Milan, but it hasn't been reported whether or not they are married. To protect her family's privacy, Taylor has been noticeably absent from social media and has avoided discussing the birth of her child in public.
Jackson's girlfriend is a huge fan of the Harry Potter series, so he decided to dress as the boy wizard for Halloween 2019. According to Jackson: "I thought that was fairly cool. I let my girl pick [and she picked Harry Potter]. With the small coat on, I was instantly transported back to the wizard's lair.
Jackson's girlfriend was recently in news as she presumably made him delete a vulgar tweet, read on to know more.
Lamar Jackson Apologizes For Vulgar Tweet As His Girlfriend Makes Him Delete It
After the heartbreaking 28-27 defeat to the Jaguars on Sunday, Lamar Jackson sent out a profane tweet, which he later apologised for, saying he was just "bitter" about the Loss.
Jackson stated to reporters, "I apologise if I hurt feelings out there," in his first public comments after sending the tweet.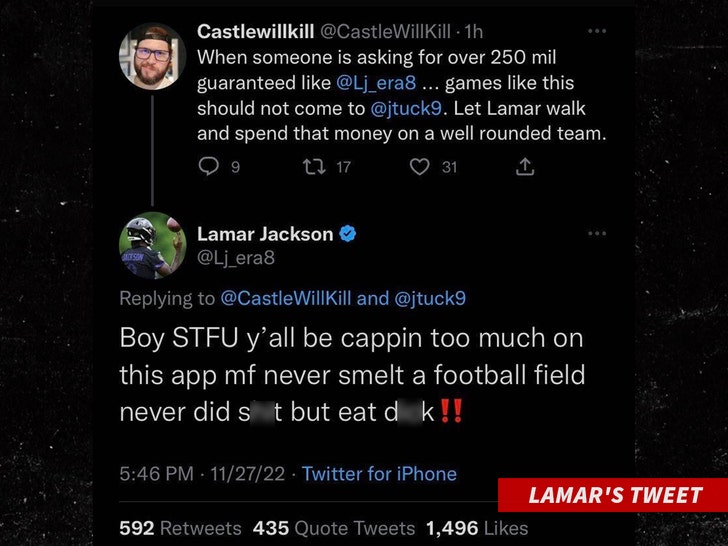 Minutes after Baltimore's loss, Jackson's initial vulgar response was posted on Twitter in response to a user's suggestion that the Ravens should not sign the quarterback to a long and lucrative new contract.
In one tweet, he remarked, "Boy STFU y'all be cappin too much on this app mf never smelt a football field," and concluded, "never did s* except eat a d*."
Also read: Who Is Ben White's girlfriend? England Footballer Leaves 2022 World Cup For "Personal Reasons"
Jackson claimed he removed the post from his timeline when his girlfriend urged him to do so; nevertheless, the tweet itself remained up for roughly three hours.
She "was like, I think you should delete it," LJ said. "I'm like, 'All right 'cause I don't know if I hurt somebody's feelings,' so I did. That's just what it was. That's why I deleted it."
Jackson admitted he hasn't contacted the fan since the incident, but he stressed there is no animosity between them.