Michelle Marie Pfeiffer, an American actress, has had a successful career spanning more than 40 years in the film industry. She emerged as one of Hollywood's most reliable and popular stars during the 1980s and 1990s, also gaining recognition as a significant sex symbol of the time.
Every now and then, Michelle Pfeiffer provides a sneak peek into her personal life on social media. However, her most recent post caught her fans off guard. To celebrate valentines day, the actress shared pictures of herself and her husband, TV writer, and producer David Kelley, on Instagram. She captioned the post, "We go together. My Valentine 💌"
To commemorate their 29th wedding anniversary, Michelle and David also shared photos on social media. Despite David's aversion to social media, he was present in the images, albeit partially obscured by the camera angles. The couple looked relaxed and content, taking a sunny stroll through stunning natural scenery that included verdant fields and a meandering river.
With their love continuing to blossom, Michelle Pfeiffer and David Kelley make for a stunning couple. Read on to know everything in detail about Pfeiffer's husband and their relationship.
Who Is David E. Kelley, Michelle Pfeiffer's Husband?
Michelle Pfeiffer continues to be a prominent figure in the entertainment industry, but her husband David is also a well-known name in Hollywood. While Michelle has been recognized with an Emmy Award nomination for her on-screen performances, David has won accolades for his behind-the-scenes work.
Also read: Who Is Austin Rivers' Girlfriend? Meet His Fiance Audreyana Michelle
For over three decades, David has been involved in the writing, production, and creation of several highly regarded television series. Some of his noteworthy writing and production credits include L.A. Law, Chicago Hope, The Practice, Ally McBeal, Big Little Lies, and Nine Perfect Strangers.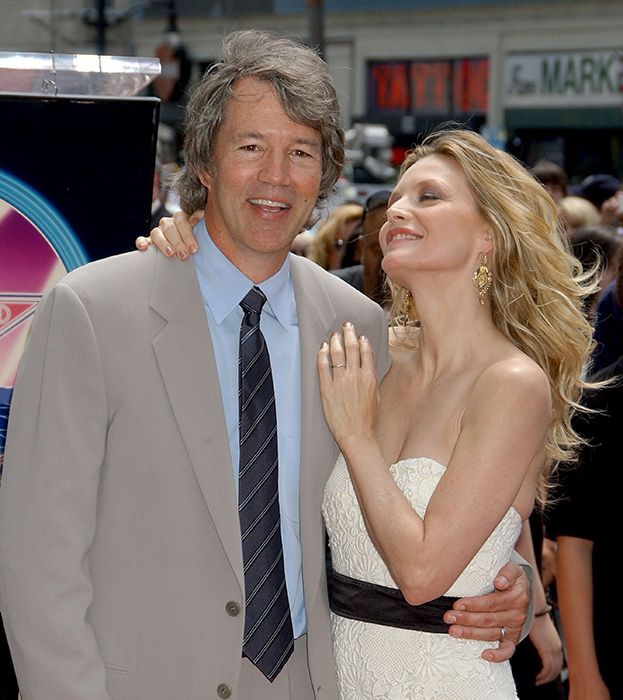 David is also the writer of the forthcoming HBO series Love and Death, featuring Elizabeth Olsen, Lily Rabe, and Jesse Plemons, which is based on the story of Candy Montgomery.
How Did Michelle And David's Relationship Begin And When They Got Married?
Michelle Pfeiffer and David E. Kelley started dating in January 1993 after being set up on a blind date. During an appearance on The Tonight Show, Michelle shared that she had been hesitant to go on the date after having a few bad experiences. Her best friend convinced her to give it a chance, and they all went to a dinner and bowling party. Michelle initially attempted to set David up with her sister but was stopped by their mutual friend who said that David was her future husband.
Also read: Who Is Jamal Murray's Girlfriend? Is He Still Dating Harper Hempel?
Michelle and David got married on November 13, 1993, proving their friend's prediction to be true. This was Michelle's second marriage, as she was previously married to Peter Horton for seven years, but David had not been married before.