Addison Mitchell McConnell III is an American politician and retired lawyer. He is the senior U.S. senator from Kentucky and has been the Senate minority leader since 2021.
Senate Minority Leader Mitch McConnell's support for the Electoral Count Act reopens the rift between him and former President Trump, setting up a vote that is likely to split the GOP caucus. People hope that McConnell's support will get a majority of the Senate GOP conference to back the bill, which was made in response to an attack on the Capitol on January 6, 2021, that many people blame on Trump.
In the dispute between Donald Trump and Mitch McConnell, which has been going on for a while, the former president posted what seemed to be a death threat against the Kentucky senator on Friday.
He also insulted McConnell's wife, Elaine Chao, calling her the "China-loving wife, Coco Chow."
Let's find out all about Mitch McConnell's Wife and what Donald Trump said about Mitch and his wife.
Trump Says Mitch McConnell Has A Death Wish And Insults Mitch's Wife, Elaine Chao
After criticizing McConnell for passing "Bills sponsored by Democrats worth Trillions of Dollars," Trump wrote on Social Media that he thinks the Senate Minority Leader is doing this to get back at him "because he hates Donald J. Trump" or because he "believes in the Fake and Highly Destructive Green New Deal."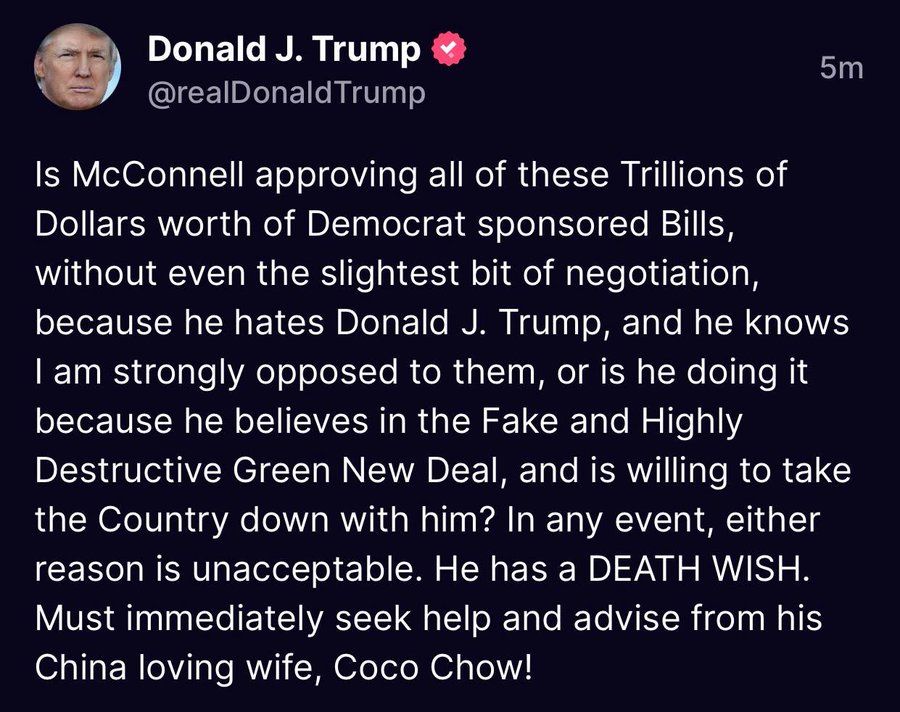 "In any event, either reason is unacceptable, He has a DEATH WISH," Trump wrote.
Also read: Apple Executive Tony Blevins Net Worth – Why Did He Get Fired From Apple?
The former president then insulted McConnell's wife, former Transportation Secretary Elaine Chao: "Must immediately seek help and advice from his China-loving wife, Coco Chow!"
Trump didn't say which bill McConnell approved that he didn't like, and it's not clear why he said the senator supports the Green New Deal even though it died in 2019 when McConnell ran the Senate.
A representative for Trump or McConnell did not immediately respond to a request for comment.
Know About Mitch McConnell's Wife, Elaine Chao
Chao was born in Taipei, Taiwan. When she was eight years old, she moved to the United States.
Elaine Lan Chao is an American businesswoman and a former government official. She was the first woman to be chosen as a class officer and class marshal. She was a member of the Republican Party and served as the 18th United States Secretary of Transportation in the Trump administration from 2017 to 2021 and also the 24th United States Secretary of Labor in the George W. Bush administration from 2001 to 2009.
Also read: Who Is Kid Cudi Dating? Entergalactic Star Talks Dating And Relationship
Chao was also the first Asian-American woman to serve in the cabinet, and she was the only member of the Bush administration to work for the whole eight years.
In the early 1990s, Mitch McConnell and Elaine Chao, who was the Secretary of Transportation, met through a mutual friend. They got married soon after that, on Ronald Reagan's birthday.
Together, they are one of the most powerful political couples in the US.