Nick Bosa, a star player for the San Francisco 49ers, learned the hard way that breakups can be brutal. Bosa found out he had been dumped on social media. A video of his TikToker girlfriend Jennan Berman went viral, letting everyone know they were no longer together.
In the video, she gives the NFL player an ironic kiss on the cheek, and the caption says, "When he gives you the silent treatment but doesn't know you can play that game 10x better. Bye forever." Read on to know what happened between Nick and his girlfriend Jennan Berman.
Who Is Jennan Berman?
Jenna Alexa Berman is best known as a model and Tik Tok star. She has a huge number of people following her on social media sites. She was born on March 17, 1996, in South Florida and went to school at Florida Atlantic University. Jenna Berman's main job is as a social media influencer and model. She had been with Nick Bosa since 2021, and they had a great relationship. She makes money from her social media pages by promoting many brands. Jenna Berman and her sister Jordan Berman also run a cookie business. She is also studying to become a medical assistant.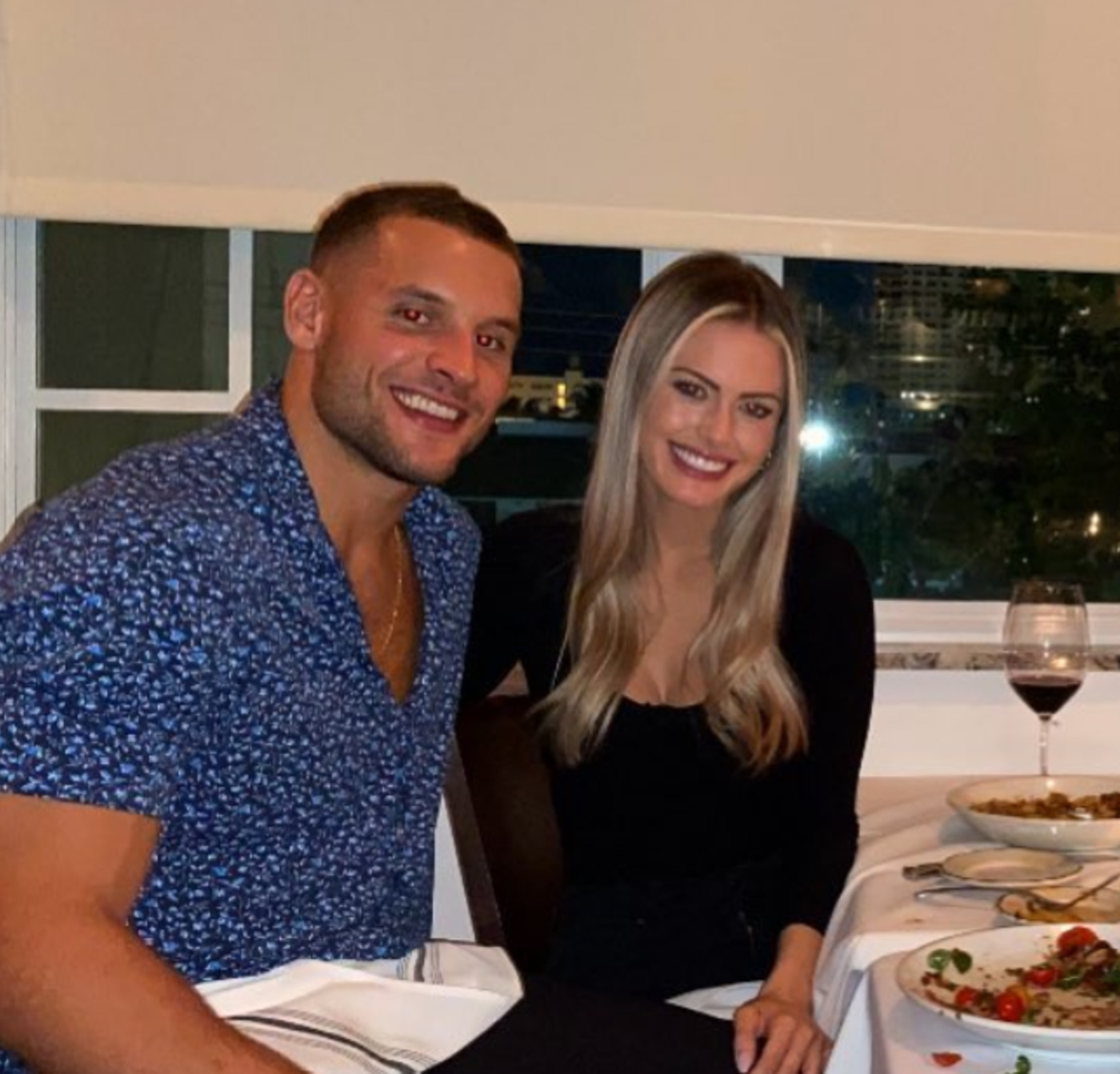 A few months ago she was in news WhenSome of Jenna Berman's old tweets caused a stir, which led to her deleting her Twitter account. She had used the insulting "N-word" in tweets before, which made a lot of people on Twitter upset. She also tweeted support for Donald Trump and messages against vaccinations, which made many NFL fans angry.
How long Nick And Jenna Been Together?
Since 2021, Nick Bosa and Jenna Berman were together. No one knows how they met, but they have been together for a long time and seems to be happy. The two people used to live together in Florida's Fort Lauderdale. When Jenna posted a picture of the two of them on vacation on a yacht, many people wished them luck and told them they were happy for them. Earlier, there were rumors that they want to have a baby and become parents, which would make their relationship stronger, more responsible and more fun. But recently one of her TikTok videos goes viral. Read on To Know about the Video.
Has Jenna Berman broken Up With Nick Bosa?
It looks like Nick Bosa and Jenna Berman are no longer together. Berman went on TikTok last week and posted a video with an interesting message. That message was clearly meant for the star player on the San Francisco 49ers. The message on the tattoo says, "When he gives you the silent treatment but doesn't know you can play that game 10 times better. Bye forever."
According to Outkick, when a fan commented on her TikTok video and said that the defensive end would end up marrying someone else, Berman replied with one word: "Good." While the 49ers star was a breakup, Brady's was a divorce from the woman he was with for 13 years. That's quite a bit different. Still, NFL stars haven't had the best two weeks off the field. Bosa will now focus on trying to get his team to the playoffs and, hopefully, to the Super Bowl.