Nikki Haley, also known as Nimrata Nikki Haley, is a former American politician and diplomat. She served as the Governor of South Carolina from 2011 to 2017 and as the United States Ambassador to the United Nations from 2017 to 2018. She was the first female governor of South Carolina.
Former UN Ambassador Nikki Haley denied the allegations made by former Secretary of State Mike Pompeo in his upcoming memoir that she plotted to replace Vice President Mike Pence with herself during her tenure in the Trump Administration.
Haley stated that these claims were "lies and gossip to sell a book" in an interview with Fox News. Pompeo claims that Haley had arranged a personal meeting with President Trump in the Oval Office without consulting with him.
Nikki Haley has a personal life filled with love and support from her husband, Michael Haley. A military veteran, Michael served in Afghanistan and is an integral part of Nikki's life. In this post, we delve deeper into the relationship details of the couple and take a closer look at Michael's professional background.
How Did Nikki And Michael Meet And When They Get Married?
Nikki Haley and Michael Haley have a strong connection to Clemson University. Both of them are alumni and it was the place where they first crossed paths. According to Herald Online, they met during Nikki's first weekend at Clemson in 1989.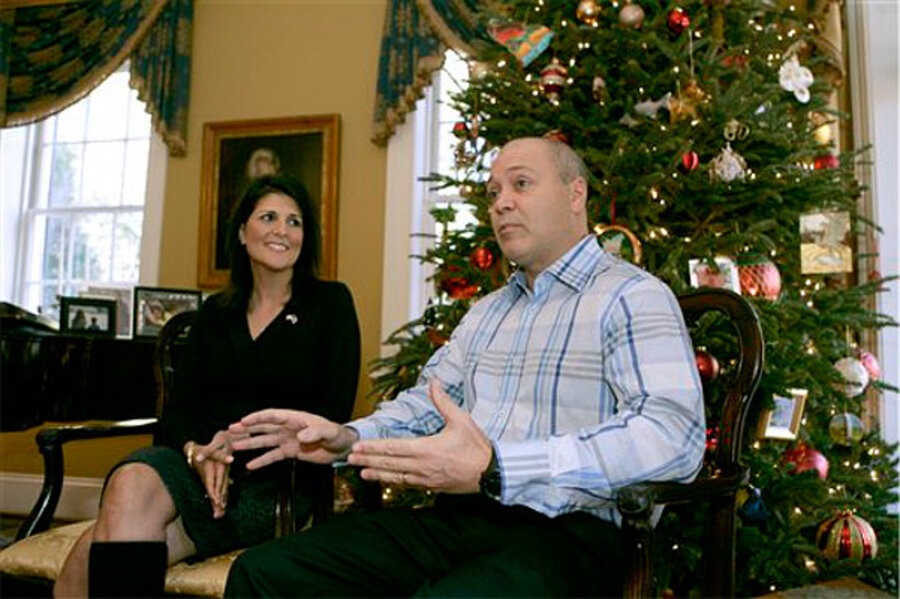 Also read: Know About Rita Wilson's Husband And Their Long-Lasting Romance
The two of them hit it off instantly and started dating. Michael proposed to Nikki at the school's botanical garden and they tied the knot in 1996. The couple is blessed with two children, a daughter named Rena and a son named Nalin. Rena was born on June 8th, 1998, and Nalin on September 6th, 2001.
All You Need To Know About Michael Haley, Nikki's husband
Michael Haley, an Ohio native, is a commissioned officer in the South Carolina Army National Guard. He was known as the First Gentleman of South Carolina from 2011 to 2017. In January 2012, while serving as the First Gentleman, Michael Haley was deployed to Afghanistan for a year-long tour of duty as a captain in the South Carolina Army National Guard.
During his tour of duty in Afghanistan, Michael Haley's unit was based in Helmand Province. Their mission was to assist Afghan farmers in developing better farming methods and cultivating alternative cash crops to opium poppies. They worked as an Agribusiness Development Team.
Also read: Know About Mila Kunis' Husband And Their Relationship
Being away from his family for a year-long tour of duty was a challenging experience for Michael Haley, as he described in 2016. Although he communicated with his wife almost daily through emails, he said that something was missing in the lack of emotions and humor that is conveyed through one-on-one communication on the telephone or being physically present.
He said that hearing about family activities after they happened felt like "looking back in the rearview mirror at your life over the past year."