Randall Emmett is an American filmmaker who also appears on TV shows. He is the head of the production company Emmett/Furla/Oasis Films and one of its founders. Emmett is best known for making the movies "2 Guns," "Silence," "Lone Survivor," and "The Irishman." He was on the Bravo reality show Vanderpump Rules in its eighth and ninth seasons.
Looking into his personal life, Emmett married actress Ambyr Childers in 2009. They have two children together. Emmett asked Childers for a divorce in April 2015. Emmett was engaged to Vanderpump Rules star Lauren "Lala Kent" Burningham. Their girl was born on March 15, 2021.
He has been seen in recent times with an unnamed woman, with whom he posted an Instagram photo before quickly deleting it. Find out who he is dating at the moment, as well as details about her former relationship, in this article.
Who Is Randall Emmett's New Girlfriend?
People are talking about Emmett's new girlfriend. It looks like Randall Emmett, who makes movies, has a new love interest in his life. This news comes just over a year after his messy breakup with Vanderpump Rules star Lala Kent, who accused him of cheating on her with several other women, even while she was pregnant with their daughter.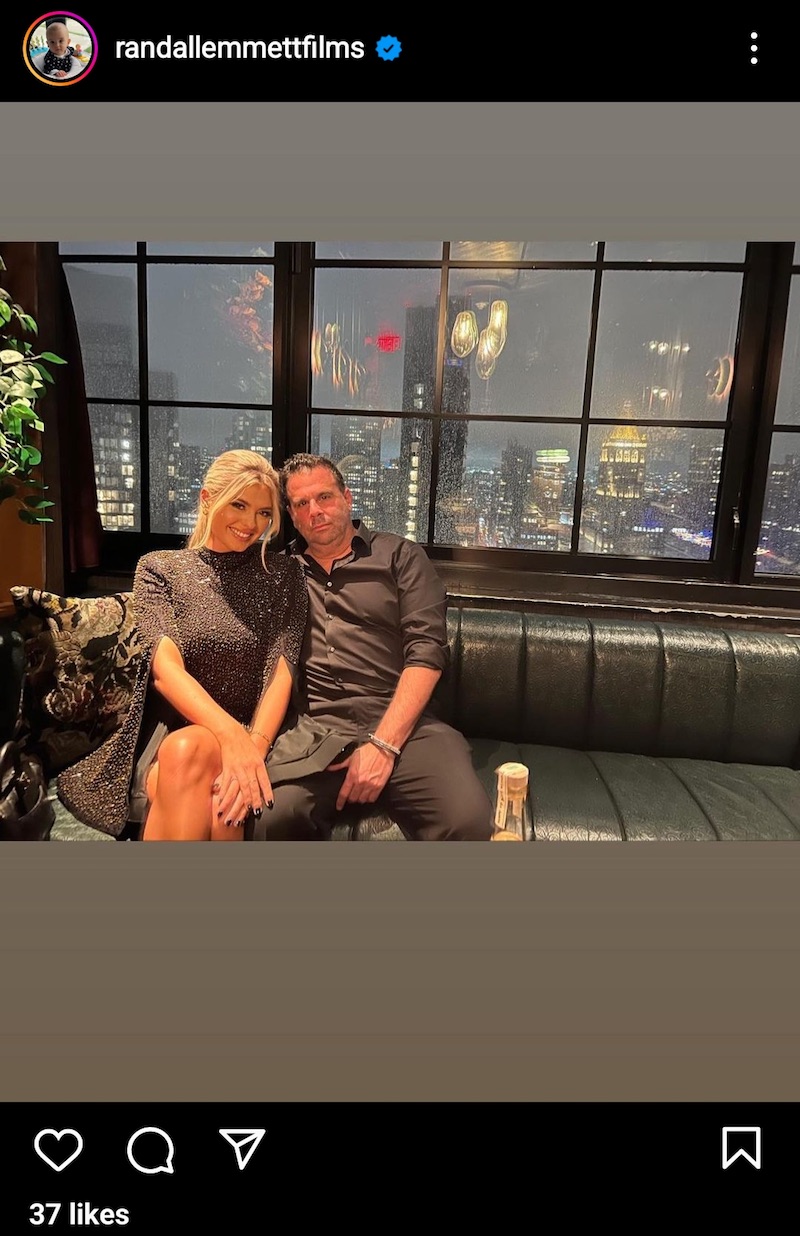 Randall recently posted a picture of himself on a date with an unknown woman on social media, but he later took the picture down. Still, a fan was able to take a picture of it and post it on Reddit. It's not clear if the woman in the picture is the same one who was seen with Randall at the Super Bowl earlier this year. But many fans of the Bravo show had thoughts about Randall's new relationship when they heard about it.
Some people were upset and wanted to know more about the woman in the picture. For example, one fan wondered if this was the same woman Randall was with when Lala was pregnant. Another fan doubted the relationship, pointing out that Lala had recently said in interviews that the diamonds and designer bags Randall had given her were fakes.
Also Read: Know About Brooks Koepka's Wife, Jena Sims, And Their Relationship
It is currently unclear who she is. We'll let you know as soon as he says something official about his new girlfriend. The details of his past relationship with her are detailed here.
Know About Randall Emmett's Previous Girlfriend
Lala Kent and Emmett's relationship was first confirmed in 2018 after his divorce from Ambyr Childers was finalized. Later that year, the couple announced that they were getting married, and Ocean was born in March 2021. When the singer deleted all mentions of her then-boyfriend from her social media in October 2021, people thought they were breaking up. Us confirmed a month later that Kent and Emmett had broken up.
Lala Kent has accused him of cheating on her with more than one woman. She says that he was dating a 23-year-old woman while she was pregnant with their daughter Ocean and that he even took the woman on trips while Lala stayed home with their baby.
Also Read: Know About Bryn Forbes' Girlfriend As He Is Arrested For Assault
Lala also says that Randall told her he would call the police if she didn't bring Ocean back to their house. So, she has gone to court to get custody of their daughter. Lala has said hurtful things about her ex-boyfriend in public. She says she wasn't allowed to leave their home without permission and that her boyfriend moved in with a new girlfriend just two days after she left. She says that this is just the tip of the iceberg when it comes to what she knows about Randall. They got a divorce in 2017.