Stacy Lewis, a professional golfer on the LPGA Tour in the United States, has achieved significant success in her career. She has claimed two major championships, namely the Kraft Nabisco Championship in 2011 and the Women's British Open in 2013.
Additionally, in 2013, she was ranked as the number-one female golfer in the world for four weeks. She regained this position in June 2014 after winning the ShopRite LPGA Classic, which allowed her to maintain the top spot for another 21 weeks. However, this article is not just about Stacy Lewis' professional achievements but also about her personal life and her husband, Gerrod Chadwell.
Meet Stacy Lewis' Husband, Gerrod Chadwell
Gerrod Chadwell is the husband of Stacy Lewis, and he is a renowned coach in the world of golf. He was born and raised in the United States, and his age has not been officially confirmed. However, based on his appearance, he seems to be in his mid-forties. Chadwell is a skilled coach who has an impressive resume. Before joining the Aggieland team, he served as the head coach of the women's golf team at the University of Houston for eight years.
All About Chadwell's Coaching Career
Gerrod Chadwell is the sixth head coach in program history, and he led the Cougars to six NCAA Regionals in a row and three individuals to the NCAA Championships. His success is evident in the way his players have performed under his tutelage. Chadwell is highly respected in the world of golf, and his knowledge and experience have proven invaluable to his players.
Also Read: Who Is Alex Borstein's Boyfriend? Is She Dating Anyone?
Inside Stacy Lewis And Gerrod Chadwell's Relationship
Stacy Lewis and Gerrod Chadwell tied the knot in August 2016, just before the Olympics in Rio de Janeiro. Their wedding ceremony was an intimate one, and only family and close friends were invited. The couple had been dating for some time before Chadwell proposed to her in November 2015.
In April 2018, Stacy Lewis and her husband announced that they were expecting their first child. The couple was ecstatic about the news, and Lewis emphasized that family was more important to her than any golf tournament she would ever play in. In October 2018, the couple became proud parents of their daughter, Chesnee Lynn Chadwell. The news of their daughter's birth was shared via Stacy's Twitter handle, where she posted a photo of Chesnee wrapped in a blanket and wearing a bow-tied baby head wrap.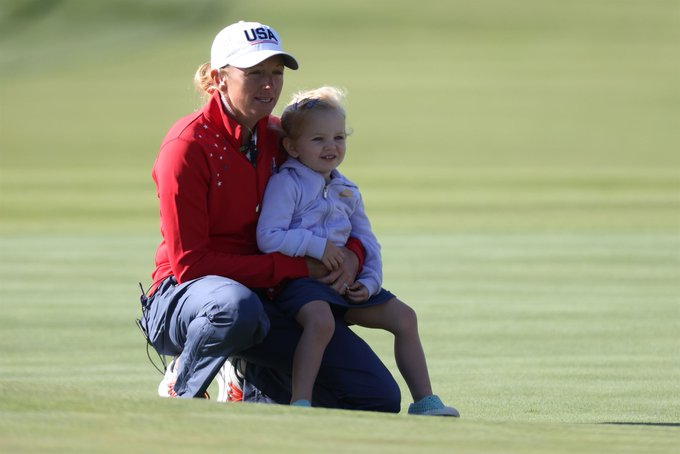 The family of three appears to be very close, and they often post pictures of themselves on social media. However, it is a rare occurrence for the family to upload pictures of one another as they prefer to keep their personal life low-key. Despite their desire for privacy, fans of Stacy Lewis and Gerrod Chadwell are happy for the couple and their new bundle of joy.
Also Read: Meet Neymar Jr's Girlfriend As The Couple Expecting Their First Child
What Is Stacy Lewis' Net Worth?
Stacy Lewis, the American professional golfer, has accumulated a net worth of $10 million throughout her career. Her successes in winning two major championships, including the Kraft Nabisco Championship in 2011 and the Women's British Open in 2013, and being ranked as the number one female golfer in the world have contributed to her wealth.
Lewis has also won numerous other tournaments, with a total of 13 professional wins, including 11 on the LPGA Tour and one on the LPGA of Japan Tour. Her achievements have earned her accolades such as LPGA Player of the Year in 2012 and 2014, as well as LPGA Tour Money Winner in 2014.