Terry Bradshaw is an iconic figure in the world of American football, leaving an indelible mark on the sport. As the quarterback for the Pittsburgh Steelers, Bradshaw led the team to an unprecedented four Super Bowl victories in the 1970s, cementing his status as one of the greatest quarterbacks in NFL history. Known for his exceptional arm strength and on-field leadership, Bradshaw was a tough competitor who thrived under pressure. Beyond his football career, Bradshaw has ventured into acting, music, and television, showcasing his versatility and charisma.
However, it is his enduring love story with his wife, Tammy Bradshaw, that has captured the hearts of many. Together, they have overcome challenges, celebrated milestones, and built a strong, resilient bond that continues to inspire others. In this article, we delve into their love story, the challenges they've faced, and their enduring bond.
A Peek Into Terry And Tammy Love Story
Terry Bradshaw and Tammy Bradshaw's love story is one of resilience and patience. The couple dated for an impressive 13 years before finally tying the knot in 2014. In an interview, Terry revealed that their decision to delay marriage was influenced by their previous experiences with divorce.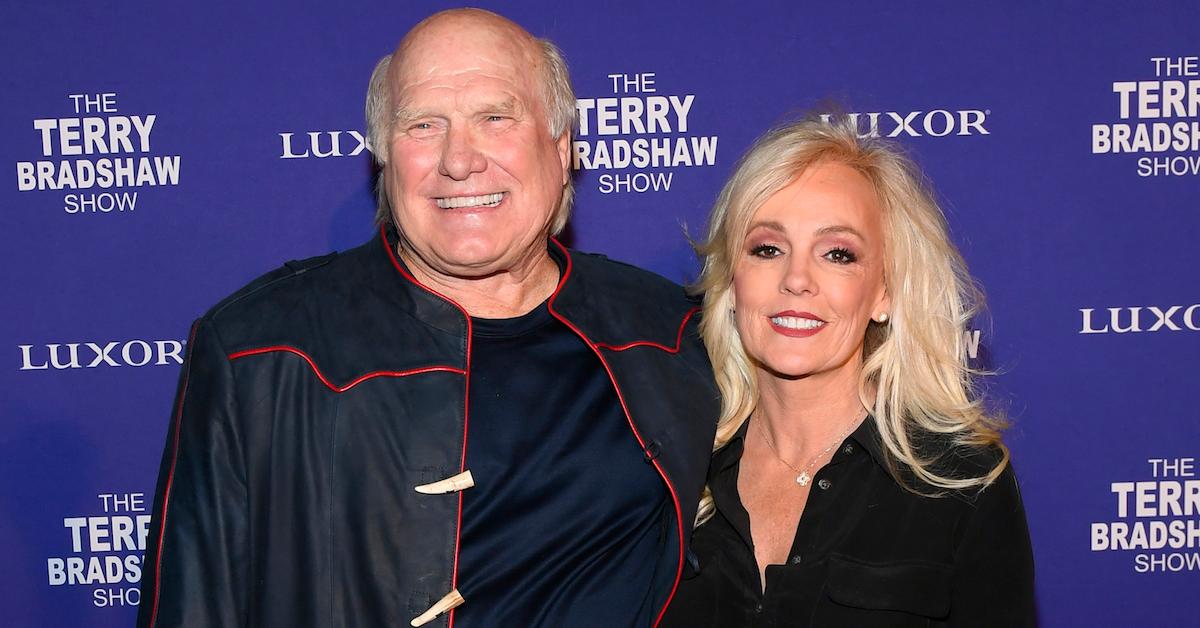 Coming out of failed marriages, both Terry and Tammy approached their relationship with caution. Terry confessed to initially running away from the idea of commitment, fearing that he would be hurt again. However, Tammy stood by his side throughout, never pressuring him to define their relationship or question its future.
Their love eventually triumphed, and in 2014, they exchanged vows in a romantic ceremony in Hawaii. The wedding was a spur-of-the-moment decision, organized so swiftly that even their children weren't invited. The couple's spontaneous nature and genuine affection for each other shone through their special day.
Also Read: Know About Vladimir Guerrero Jr Wife: He Is The Home Run King
All About Terry And Tammy's Blended Family
Terry and Tammy's blended family brings them even closer together. Tammy has two children from her previous marriage, Lacey and Cody. Tragically, Cody passed away in 2009 due to a drug overdose, an event that profoundly impacted their lives. In honor of Cody's memory, the family actively supports the 525 Foundation, which raises awareness about substance abuse.
Additionally, Terry has two daughters from his previous marriage, Erin and Rachel. Rachel, an accomplished country music artist, credits her father for introducing her to the genre and has achieved considerable success in the music industry. Erin found her passion in horse-riding and even won a world title in 2010.
Their shared adventures have been documented on their reality series, "The Bradshaw Bunch." The show portrayed their life on their Oklahoma ranch, showcasing the fun moments with their daughters and exploring their strong familial bond. From heartwarming scenes to humorous anecdotes, the show captured the essence of their relationship and offered viewers a glimpse into their lives.
Terry And Tammy Renewed Their Vows In 2021
In 2021, Terry and Tammy renewed their vows, commemorating their seven years of marriage. Their vow renewal ceremony took place in Hawaii, mirroring their initial wedding. This time, their daughters and grandchildren were in attendance, making the occasion all the more meaningful.
Their enduring love and commitment were evident during the ceremony. Lacey, Tammy's daughter, officiated the renewal, highlighting Terry and Tammy's unique qualities and the strength they bring to their family. The event served as a testament to their unwavering bond and their position as the leaders of their loving clan.
Also Read: Bray Wyatt's Illness: Know About His Net worth And Relationship Status
Meet Tammy Bradshaw: A Pillar Of Strength
Throughout their journey, Tammy Bradshaw has been a steadfast pillar of support for Terry. When Terry revealed his battle with cancer, Tammy stood by his side, offering unwavering love and care. She played a vital role in his recovery and remained a constant source of strength during his health struggles.
Terry's appreciation for Tammy's unwavering support is evident. He acknowledges her significant role in his life, emphasizing how her presence brings him solace and happiness. Their relationship is a beautiful example of love and companionship, demonstrating that together, they can overcome any obstacle that life throws their way.
Terry and Tammy Bradshaw's enduring love and profound connection exemplify the power of resilience, patience, and unconditional support. They have faced immense challenges throughout their lives but have emerged stronger together. As they celebrate their years of togetherness, it is evident that their love has stood the test of time.