The iconic reality television series, The Voice, returned for its twenty-fourth season on September 25, 2023, with some notable changes and fresh faces. This season promises a thrilling lineup of talent, a revamped coaching panel, and a significant absence—the departure of Blake Shelton, the last original coach from the show's inaugural season. As fans eagerly tune in to witness the evolution of The Voice, here's a closer look at what to expect from Season 24.
Know About "The Voice Season 24" New Coaches
One of the most striking aspects of The Voice Season 24 is the revamped coaching panel. The show has always been known for its star-studded lineup of coaches, and this season is no exception. The coaching panel consists of Niall Horan, John Legend, Gwen Stefani, and the debut of country music legend Reba McEntire.
Niall Horan, the former One Direction band member, returns for his second season as a coach, bringing his unique perspective and musical expertise to the competition. John Legend, known for his soulful vocals and impressive career, returns for his eighth season on the show. Gwen Stefani, with her distinct style and musical insights, is back for her seventh season, following a one-season hiatus. The newcomer, Reba McEntire, brings a wealth of experience and a legendary status to the coaching panel, promising to offer a fresh perspective to the contestants.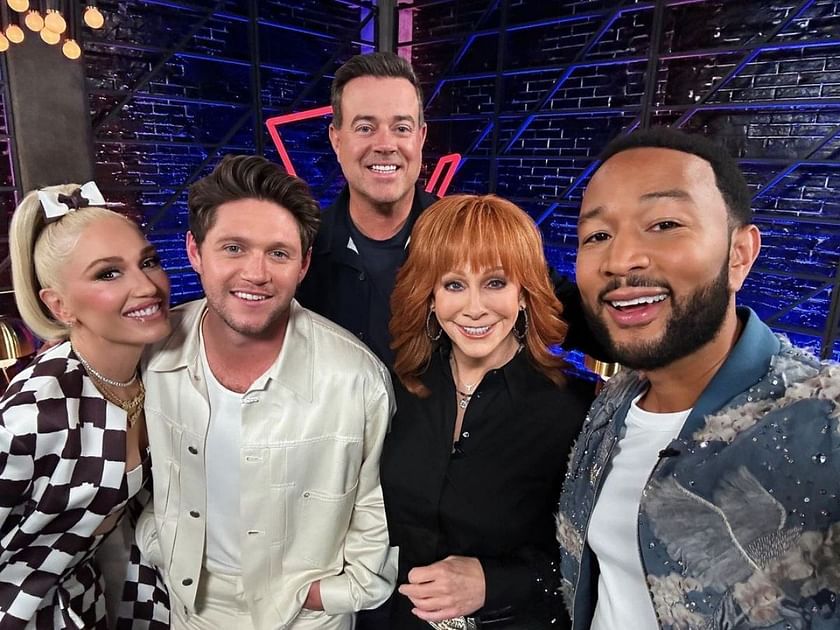 Also Read: Below Deck Med Season 8: News, Cast, And More!
The Absence Of Blake Shelton
Perhaps the most significant change in Season 24 is the absence of Blake Shelton, a beloved and iconic figure on The Voice. Shelton announced his departure from the show, citing the desire to spend more time with his family in Oklahoma. His decision marks the end of an era, as he was the last remaining original coach from the show's inaugural season in April 2011. Shelton's departure was met with mixed emotions from fans and contestants alike, as he had become a staple of The Voice over the years.
In a heartfelt statement, Shelton expressed his gratitude for the transformative experience The Voice provided him. He thanked everyone involved in the production, from NBC to the crew and catering staff, for making the show feel like home. Shelton's departure leaves a void that will be challenging to fill, and fans will undoubtedly miss his wit and charm.
The New Contestants: A Glimpse Into Team Dynamics
As always, The Voice Season 24 introduces a talented pool of contestants from diverse backgrounds and musical genres. The blind auditions have already showcased some promising talent, and the new coaching panel faces the exciting challenge of nurturing these voices to their full potential.
Here's a glimpse into some of the standout contestants and the teams they have joined:
Team Legend welcomes Deejay Young, whose falsetto and stage presence impressed all the coaches, earning him a spot on John Legend's team.
Team Gwen boasts two exciting additions. Joslynn Rose, with her Billie Eilish-style vocals, caught Gwen Stefani's attention. Kristen Brown, a country singer with a unique tone, surprised Gwen by choosing her over Reba McEntire.
Also Read: Who Is Jimmy Garoppolo's Wife? Know All About His Dating Life
Team Niall features Sophia Hoffman, who returned this season with a powerful belt that convinced both Reba and Niall to turn their chairs. Alexa Wildish's emotive storytelling and vocal choices earned her a four-chair turn, despite some pitch issues. Olivia Minogue, a fan wearing a Niall necklace, unsurprisingly joined his team.
Team Reba made a bold move as Jordan Rainer performed a song made famous by Reba McEntire during her first season as a coach. The risk paid off with a four-chair turn and a spot on the Queen of Country's team. Jackson Snelling, despite some pitch issues, captivated Reba with his "honest country singing."
As the contestants on Team Legend, Team Gwen, Team Niall, and Team Reba compete for the coveted title, viewers can expect thrilling performances, emotional moments, and unexpected twists. The talented lineup of contestants promises to bring a new level of competition and entertainment to The Voice stage.
The Voice Season 24 airs on NBC on Mondays and Tuesdays at 8 p.m. ET/PT. While the absence of Blake Shelton may be bittersweet for fans, the show's enduring appeal and the commitment of its new coaching panel guarantee that The Voice will continue to be a platform where raw talent is nurtured and celebrated.