Legendary golfer Tiger Woods and his former girlfriend Erica Herman have officially ended their relationship, as reported by recent reports in March 2023. Woods and Herman had made their first public appearance as a couple at the President's Cup in September 2017, which sparked interest among fans and media alike. The news of their split has surprised many, with details of the breakup still unfolding.
Recently, Tiger Woods has been facing a legal battle with his former girlfriend, Erica Herman, who has filed a lawsuit against him. The suit aims to invalidate a non-disclosure agreement that Herman claims Woods made her sign at the beginning of their relationship. The golfing icon has faced numerous personal and professional challenges over the years, but this latest legal battle could prove significant.
Keep reading to know everything in detail about Tiger Woods' girlfriend and the complaint she filed against him.
Tiger Woods' Girlfriend Erica Herman Filed Complaint To Nullify Nondisclosure Agreement
Erica Herman, Woods' ex-girlfriend, has filed a complaint seeking a declaratory judgment to nullify a nondisclosure agreement that she allegedly signed during their six-year relationship. The complaint was filed by Herman's attorneys in Martin County, Florida, circuit court, as per online court records.
The NDA was allegedly signed by Herman while she was in a personal and professional relationship with Woods, and is being enforced by a trust controlled by the golfer. The complaint argues that the NDA should be invalidated under a federal law that prohibits its enforcement when sexual assault or harassment is involved.
Also read: Know About Jim Boeheim's Wife As The Coach Is Out From Syracuse
Herman previously worked at Woods' Jupiter restaurant, but the complaint does not provide any details about the information she wants to disclose or make any specific allegations against Woods. The complaint alleges that due to the "aggressive use" of the NDA, Herman is uncertain about which information she can discuss and with whom.
The ex- golfer's manager, Mark Steinberg, has yet to respond to requests for comment from the Associated Press.
An Insight Into Tiger Woods' Relationship With Ex-Girlfriend Erica Herman
Erica Herman, Tiger Woods' former girlfriend, accompanied him to nearly all of his golf tournaments after their public debut at the President's Cup in 2017. However, the couple remained largely private throughout their relationship, a departure from Woods' previous high-profile romances. Unlike his previous relationship with Lindsey Vonn or his public marriage and divorce from Elin Nordegren, Woods, and Herman were rarely seen in public outside of golf events. Nevertheless, the couple did make an appearance at the 2022 US Open to support Serena Williams.
While Herman maintains a low profile with no social media presence, she did make a few appearances on Woods' Instagram account since October 2017. Woods spoke fondly of his life off the golf course with Herman and his two children, Charlie and Sam, in an interview before a car accident in February 2021 that left his golf career in question. Despite the accident, Woods was optimistic about his personal life with Herman and his family.
Also read: A Look Into Rick Ross' Impressive Net Worth And Career!
Know About Erica Herman
Erica Herman is a Florida native who has spent the majority of her life in the Sunshine State. Born and raised in Palm Beach County, Herman attended Santaluces High School in the early 2000s where she was a cheerleader.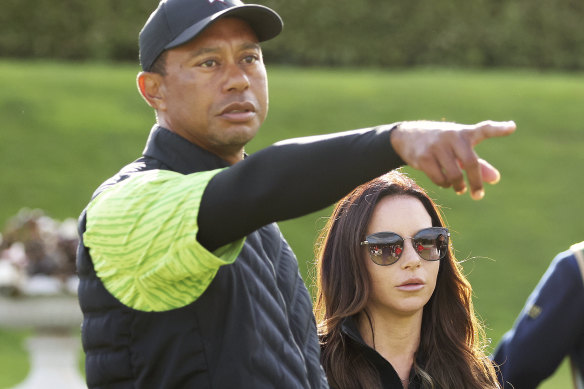 After high school, Herman pursued higher education in Florida, attending both Palm Beach State College and the University of Central Florida (UCF), where she graduated with a bachelor's degree in legal studies in May 2008. Despite her academic background, Herman's professional career was focused primarily on the restaurant industry. While attending UCF in Orlando, Herman worked as a bartender before being promoted to VIP manager at the Blue Martini lounge.