Richard Treat Williams, a renowned American actor, author, writer, and aviator, passed away at the age of 71 on June 12, 2023. With over 120 credits to his name, Williams made a significant impact in the world of film, stage, and television. His notable works include starring roles in films like "Hair" and Steven Spielberg's "1941," as well as appearances in "The Eagle Has Landed," "Prince of the City," "Once Upon a Time in America," "The Late Shift," and "127 Hours." Additionally, he portrayed the lead character in the television series "Everwood" from 2002 to 2006, earning two Screen Actors Guild Award nominations.
While his talent and achievements are well-documented, it is important to recognize the love and support he received from his wife, Pam Van Sant, and their two children, Gill and Ellie. In this article, we delve into the life of Treat Williams' wife and their cherished family bond.
Who Is Pam Van Sant?
Pam Van Sant, a talented actress, is best known for her role in the PBS documentary series American Masters. She made a notable appearance in the 1995 episode titled "Edgar Allan Poe: Terror of the Soul," where she portrayed a "Kind Lady." Additionally, Van Sant served as an assistant producer for the 1999 episode titled "Robert Rauschenberg: Inventive Genius." Born on February 10, 1955, she has contributed to the arts industry both in front of and behind the camera.
Also Read: Know About Christian Braun's Girlfriend As He Wins NBA Title
A Love Story: Treat Williams And Pam Van Sant
Treat Williams and Pam Van Sant's love story began when they first crossed paths at a New York restaurant, where Pam worked as a waitress. The connection between them was instant, and they embarked on a journey of love and companionship. After dating for a while, the couple exchanged vows in 1988, solidifying their commitment to each other.
Throughout their marriage, Pam Van Sant was a constant presence by Treat Williams' side, often accompanying him on the red carpet and supporting him in his career endeavors. Their enduring partnership was evident in the snapshots regularly shared on Treat's Instagram feed, capturing their shared moments of joy and togetherness.
Know About Treat And Pam's Children: Gill And Ellie
The union between Treat Williams and Pam Van Sant brought forth the blessing of two children: son Gill and daughter Ellie.
Gill Williams
Gill Williams, born in December 1992, experienced a childhood immersed in the limelight, attending red carpets and movie premieres alongside his famous father and mother. He followed in Treat's acting footsteps, making appearances in short films in 2015. Treat proudly shared a father-son project on Twitter, expressing his delight at acting alongside Gill.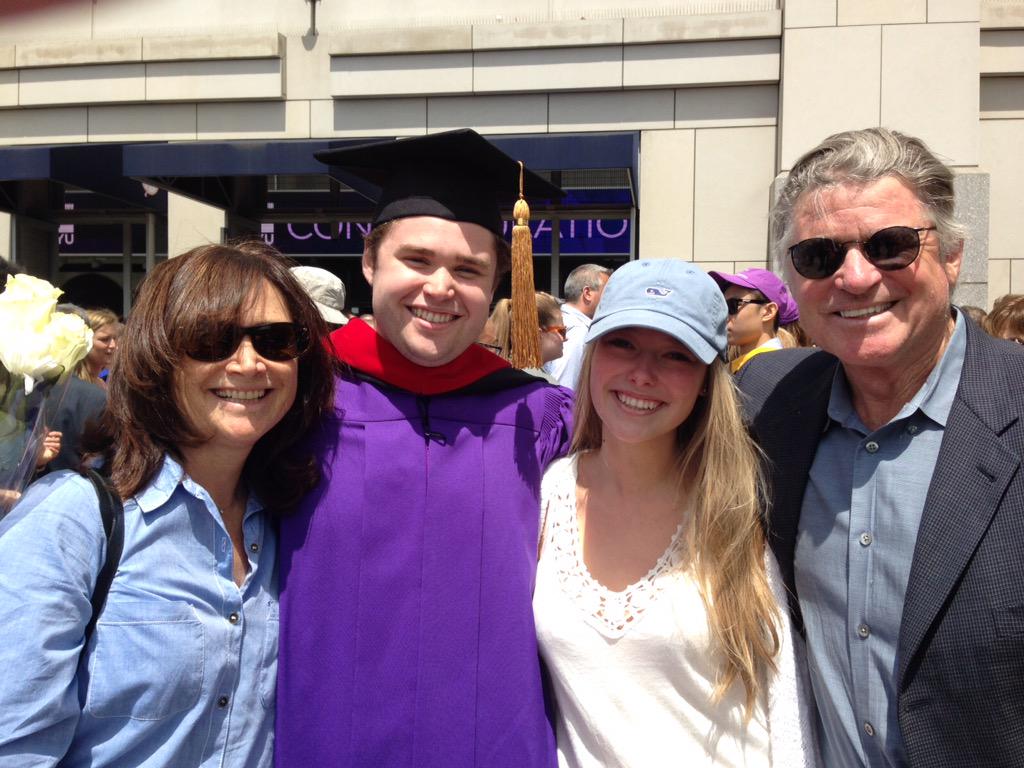 Gill's journey led him to graduate from New York University in August 2015, marking a significant milestone in his life. His father commemorated the occasion by posting a heartwarming family photo on Twitter, emphasizing his pride in Gill's achievement. Subsequently, Gill ventured into the music industry, sharing snippets of his songs and beatboxing on social media platforms. His talent as an artist became evident, and he used his platform to advocate for various social justice causes, speaking out against police brutality and advocating for justice and equality.
Ellie Williams
Ellie Williams, Treat and Pam's daughter, was born in September 1998. Growing up amidst film sets and red carpets, Ellie had the opportunity to witness her father's work firsthand. In October 2015, Treat tweeted a photo of Ellie on the set of Chicago Fire, radiating joy alongside Treat's costars. Celebrating her 18th birthday in September 2016, Treat took to Twitter to express his love for his beautiful daughter, showcasing a candid photo of Ellie from a school dance.
Following her studies at The University of Vermont, Ellie relocated to Los Angeles, where she pursued her dreams. Despite the physical distance, she cherished moments spent with her father during his visits. In April, Treat and Ellie enjoyed a memorable father-daughter day at Universal Studios Hollywood, capturing the joyful experience in a series of photos shared on Ellie's Instagram. Their close bond was evident as they explored the Wizarding World and created lasting memories together.
Also Read: Who Is Mimi Faust's Girlfriend? Know About Past Relationships
Know About Treat William's Death
Tragically, Williams was involved in a motorcycle accident in Dorset, VT, which claimed his life. The accident occurred around 5 p.m. ET and involved Williams' motorcycle and another car whose driver failed to see him. He was the only person injured in the crash and was airlifted to a hospital by helicopter.
The passing of Treat Williams has undoubtedly been a profound loss for his family. In their statement to Deadline, the family expressed their love for Treat and acknowledged his unwavering love for his family, his life, and his craft. The outpouring of support from fans has been a testament to Treat's impact on the lives of many.