Troy Kenneth Aikman was born on November 21, 1966. He used to play quarterback for the Dallas Cowboys in the National Football League for 12 seasons.
Troy Aikman was the MVP of Super Bowl XXVII in 1993. After announcing his retirement in 2001, he went on to have a very successful career as a color commentator and game analyst on shows like Fox and Friends, NFL Thursday Night Football, and NFL on Fox.
Even though he was once called the most eligible bachelor in Dallas, Troy Aikman has been married twice.
Troy Aikman, a former quarterback for the Dallas Cowboys and a sportscaster for Fox, separated with his wife of more than a decade in 2011.
Here's everything you need to know about Troy Aikman's personal life.
Troy Aikman Divorce From First Wife, Rhonda Worthey 
In 1998, Troy and Rhonda started dating. Less than two years later, they got married in an intimate ceremony at Troy's mansion in Plano, Texas. In 2001, they had their first daughter, Jordan. Alexa, the second daughter, was born in 2002.
In the spring of 2011, they finalized their divorce and split up.
"This was a hard decision for Rhonda and me to make, but after 10 years of marriage, we've decided to split up," the former football player said in a statement to The Dallas Morning News. "We will always love our children, and we ask that you respect our family's privacy during this time of change."
Also read: Who Is Demi Lovato Dating In 2022? Meet Her Boyfriend Jordan 'Jutes' Lutes
Even though the couple had been married for a long time, it looked like trouble was already brewing for a while.
After almost 10 years of marriage, the couple quietly split up in April 2011. Legal papers showed that Aikman paid his ex-wife almost $1.75 million to settle the property agreement between them.
He's supposed to have just paid this, but it's not clear if he owes any other money. The former quarterback for the Dallas Cowboys is said to be worth close to $25 million.
Who Is Troy Aikman Now Married To?
Troy is now a married man. In February 2016, he started dating Catherine Mooty, who was a successful businesswoman and co-founder of Luxeliner. In June 2017, Troy popped the question. On September 2, 2017, they got married, and they have been together ever since.
Before they met, both Troy and Catherine had kids from previous relationships.
Troy and his first wife, a publicist named Rhonda Worthey, have two daughters: Jordan Ashley, who is 21 years old, and Alexa Marie, who is 20 years old. In May of 2021, Alexa got her diploma from the Episcopal School of Dallas. According to LinkedIn, Jordan seems to have graduated from the same school in 2020.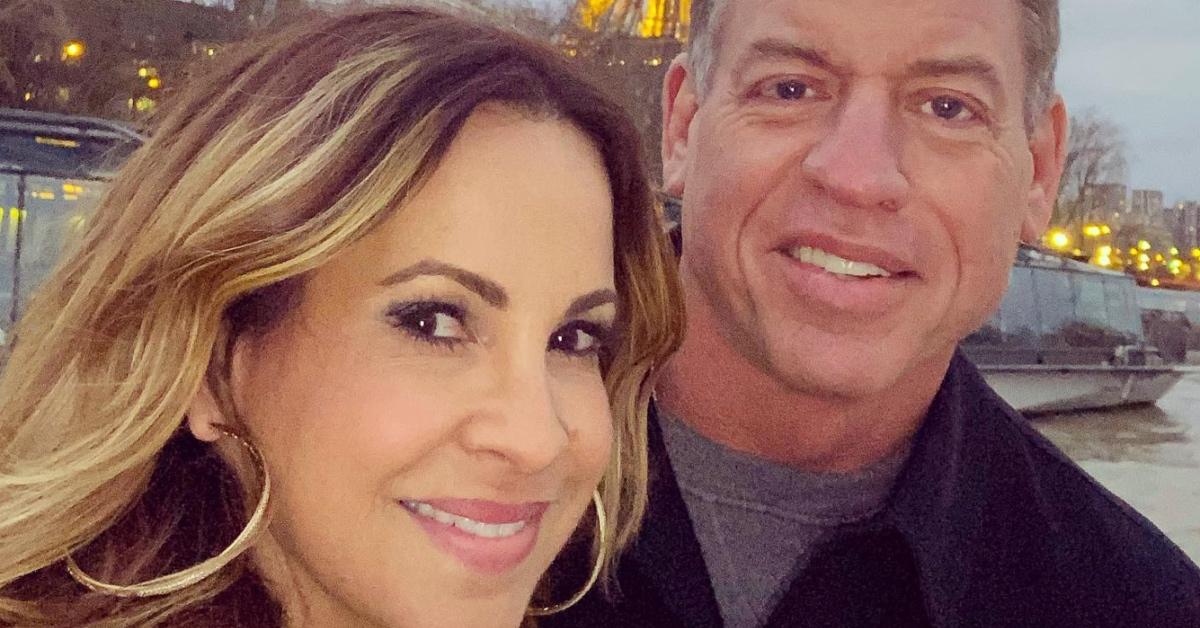 Also read: Who Is Ezekiel Elliott's Girlfriend? Meet Halle Woodard
Catherine is proud to be the mother of Luke and Val Mooty. Luke turned 18 in November 2021. In the summer of 2020, Val had finished at the Episcopal School of Dallas.
Troy and Catherine seem to value their privacy a lot. On Instagram, they rarely share photos of the whole family. They seem to enjoy going to football games and other events, though.