Victor Osimhen is a Nigerian professional footballer who has gained recognition as one of the best strikers in the world. Known for his elite finishing, pace, strength, and athleticism, Osimhen has made a significant impact in the footballing world. With successful stints at clubs like VfL Wolfsburg, Lille, and Napoli, he has showcased his talent and goal-scoring ability. Osimhen's achievements include winning the Golden Boot at the 2015 FIFA U-17 World Cup and being named the Serie A Best Young Player in the 2021-22 season. His contributions to Nigerian football have made him a beloved figure among fans.
Victor Osimhen has been making waves in the world of football, not only boasts an impressive career but also a beautiful love story with his girlfriend, Stefanie Kim Ladewig. In this article, we delve into the details of their relationship, their daughter, and their shared experiences. Let's take a closer look at the heartwarming story of Victor Osimhen and his girlfriend.
Inside Victor And Stefanie's Relationship
Victor Osimhen's love story began during his playing days at Bundesliga club VfL Wolfsburg, where he encountered Stefanie Kim Ladewig. Stefanie, a German lady, worked as a cheerleader for Wolfsburg at the time, and it was through their shared passion for football that they crossed paths. Although the exact timeline of their relationship remains unknown, Osimhen and Stefanie have been inseparable ever since.
There is a two-year age difference between Victor Osimhen and Stefanie. Born on December 29, 1998, Osimhen is currently 24 years old, while Stefanie, born on September 13, 2000, is 22. Despite the age gap, their bond has remained strong.
In 2022, the couple welcomed their daughter, Hailey. Osimhen expressed his joy and pride in an exclusive interview with Il Martino, describing the birth of his baby girl as the most fantastic thing that could have happened to him. Osimhen's deep love for his daughter is evident in the way he celebrates his goals, making the gesture of the initial of her name, H. He aspires to be a present and supportive father, just as his own father was for him. Though Hailey was born in Italy and holds Italian citizenship, Osimhen plans to take her to Nigeria, his birthplace, to show her their roots and the challenges he overcame in his life.
Also Read: Who Is Denny McCarthy's Wife? Meet His Fiancee Samantha Marzke
Know About Stefanie's Background And Privacy
Stefanie Kim Ladewig, Osimhen's girlfriend, is of German and Cameroonian descent. Her mother, Sarah, was Cameroonian, while her father is German. Unfortunately, Stefanie lost her mother in December 2018, and she paid tribute to her as a 'living angel.' Despite her mixed heritage, Stefanie tries to stay true to her African roots, as seen through her social media posts.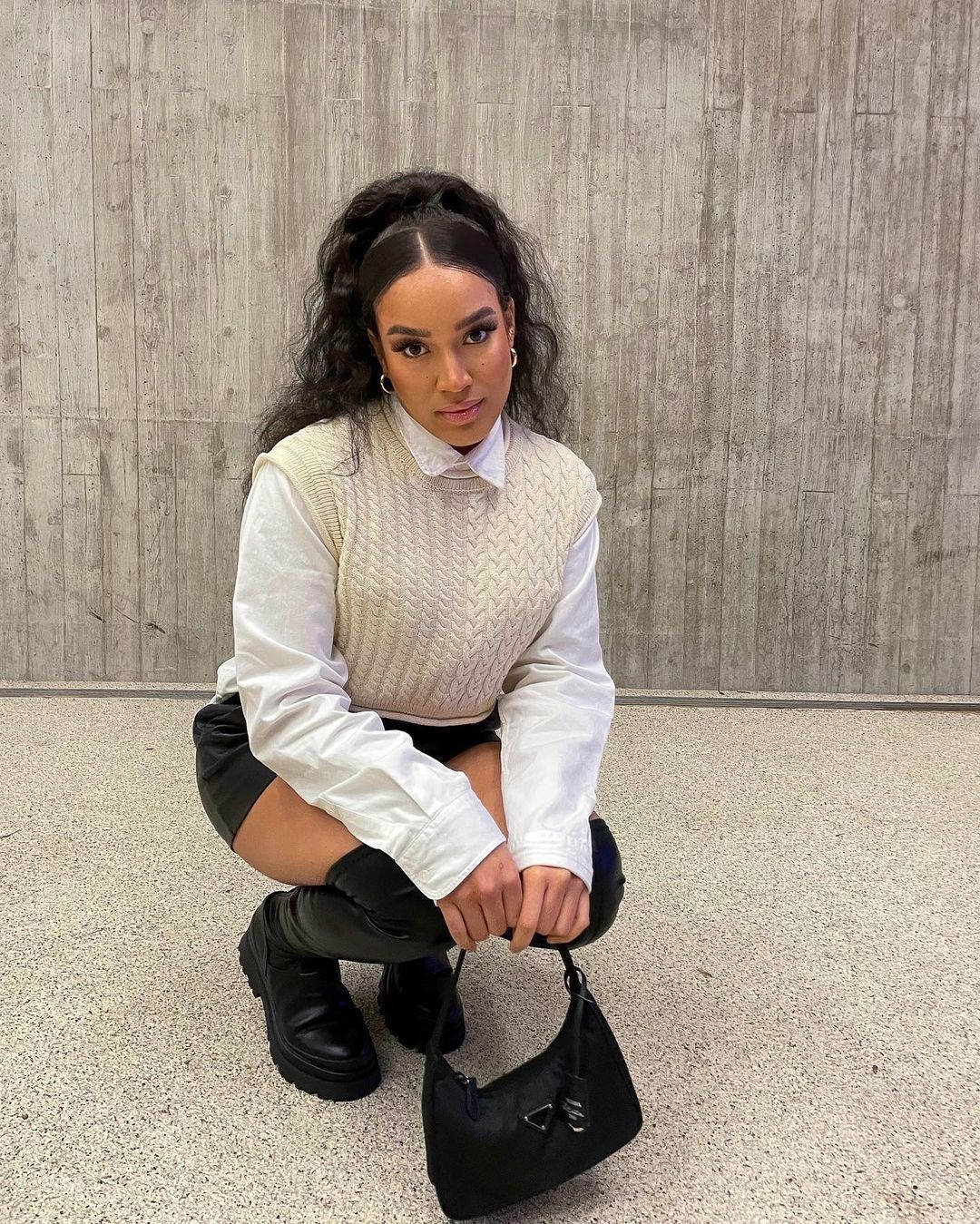 Maintaining privacy is important to both Osimhen and Stefanie. While the couple has been spotted together publicly, Stefanie refrains from sharing details of their relationship on her social media platforms. Their privacy extends to their daughter, as they have chosen not to reveal any photos of her. However, some rare photos of the beautiful family emerged last month in Italy, showcasing their happiness and togetherness.
Also Read: Know About Davidovich Fokina's Girlfriend And His Personal Life
Know About Stefanie Kim Ladewig's Support And Shared Interests With Victor Osimhen
Stefanie Kim Ladewig has been a pillar of support for Victor Osimhen throughout his career. She has demonstrated her unwavering support for him, both in person and on social media. Despite her private nature, Stefanie's social media presence reflects her love for Nigerian culture and music. She is a fan of Afrobeats and can often be seen vibing to songs by popular Nigerian artists such as Rema, Tems, Fireboy, Asake, and Singah.
Victor Osimhen's girlfriend, Stefanie Kim Ladewig, has played an important role in the football star's life. From their meeting in Germany to the birth of their daughter, their love story continues to flourish. While they value their privacy, the rare glimpses we have of their family life exhibit their joy and affection. As Osimhen's career progresses, it is clear that Stefanie will be by his side, providing the support and love that fuels his success on and off the field.