Gemma Chan is an English film, television, and theatre actress and also a former fashion model. In 2006, she was one of 12 models on the British reality TV show Project Catwalk who were competing for a fashion spread in Elle magazine. In episode 5, she was eliminated from the show.
She is the daughter of Chinese individuals who moved to London from Hong Kong, then Chan and here sister were born. Chan grew up in the leafy town of Bromley. At school, she was smart, athletic, and musical, and then she went on to study law at Oxford University.
Gemma is a well-known actress, who rose to fame through her role in Doctor Who, Sherlock, The Secret Diary of a Call Girl, Fresh Meat, Bedlam, and True Love.
Gemma Chan is quite personal regarding her love life. Now, she isn't shy about disclosing her boyfriend's name to the public, which includes her several year's relationships with boyfriend and co-star Dominic Cooper. In the earlier year of their relationship, the duo remains out of the spotlight. But they have been making more public appearances in recent years.
Read on to know everything regarding Gemma Chan and Dominic Cooper's relationship.
Also read: Who Is Zachary Gordon's Girlfriend? All You Need To Know!
Gemma Chan And Dominic Cooper Are Officially Dating
The Crazy Rich Asians star and Cooper initially sparked dating speculations when they were seen on vacation together in 2018. However almost four months later, they walked the red carpet together for the first time at the British Fashion Awards in London, and their relationship has continued to heat up since then. Chan told a British magazine that she and Cooper live together in a cozy home in Primrose Hill, England, with their rescue cat, Mr. Kitty.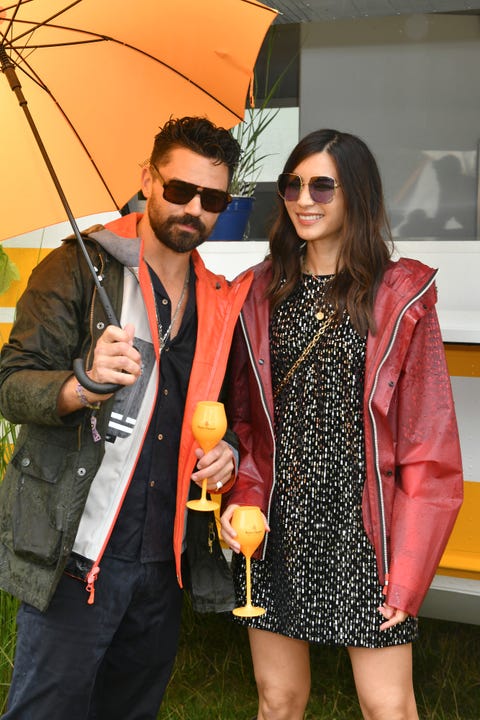 Since 2019, the cute couple has been "official" on Instagram, but they have been together for a little longer than that. The two Brits are well-known in English acting circles, which aren't very big once someone gets famous. They help each other, work together to help the community, and are still going strong even though the COVID-19 pandemic has been hard on them.
In an interview with Elle, Chan first talks about Cooper without naming him. She just calls him her "partner," which shows how private she likes to be. She said, "After 10 years, you learn how important privacy is and what you want to share and what you don't." "I feel most comfortable when I can tell what is for me and what I'm willing to talk about." She also said, "I know now that anything I say could become a clickbait headline—well, on a slow news day."
After being so busy in their own careers, they always make time for each other and are now living together as well. Besides this, they also do charity work together.
Also read: Who Is Mark Hyman's Wife? All You Need To Know!
Chan and Cooper Also Do Charitable Things together
Chan is known for raising her voice for good causes. She is an ambassador for Unicef and a key figure in the #StopESEAHate campaign to stop anti-Asian hate crimes. She has also worked with ActionAid to bring attention to young people who have been sexually abused. It doesn't come as much of a surprise that Chan's other half has similar values and also uses his star power for good. He has helped organizations like Save the Children, Oxfam, and Best Friends Animal Society.