James Edward Allen is an American country music singer and writer. He is signed to the Broken Bow Records label Stoney Creek, for which he has released the singles "Best Shot" and "Make Me Want To," as well as the 2018 album Mercury Lane.
In 2021, he won the Country Music Association Award for New Artist of the Year. He was the second black artist to do so since Darius Rucker in 2009. Allen said in February 2022 that he would be a guest judge on American Idol season 20.
As everyone knows, Jimmie Allen has a successful career, however, people are now more interested to know about his personal life. Jimmie, a country music star, married his girlfriend Alexis Gale in a private ceremony in June 2020. Keep reading this post o know everything in detail about his wife and more.
An Inside Look Into Jimmie And Alexis' Relationship
Although Jimmie and Alexis both grew up in Milton, Delaware, they didn't meet until the spring of 2019, when Jimmie's cousin's wife set them up. "Because Alexis is from my hometown, it's like always having a piece of home with me. We connected straight away," Jimmie told PEOPLE. "It was like we'd been friends for a long time."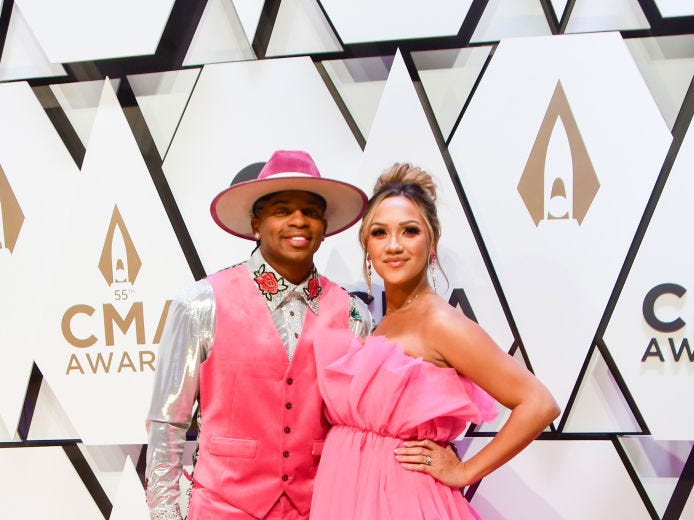 Jimmie asked Alexis to marry him on June 15, 2019, after they had been seeing each other for only a few months. The big celebration took place at Disney World in front of the Magic Kingdom's famous castle. Family and friends were present there.
Also read: Who Is Kel Mitchell's Wife? An Insight Into Their Relationship
Jimmie and Alexis posted photos of a picture-perfect wedding on May 27, 2021. Later, they said that they had actually gotten married in a private ceremony a year earlier. On June 18, 2020, Jimmy's birthday, the wedding took place in Delaware. Jimmie agreed that marriage was just not always on his mind. He told the People, "I wanted to be a father but never planned on getting married. Alexis changed this."
Meet Alex Gale, Jimmie Allen's Wife
Jimmie Allen's wife is Alexis Gale. She was born to Ellyne Gale and Tyrone Gale Jr, and she resided in Milton, Delaware, United States. She was brought up along with a sister named Ashley. Alex Gale works as a registered nurse. She got her training at the Margarate H. Rollins School of Nursing. Later, she went to the Delaware Technical Community College.
Gale had never previously been in the spotlight before her relationship with Jimmie Allen was made public. She handled the sudden attention well and continues to enjoy her husband's fame.
She can be found on Instagram under the handle @lexmarieallen.
Also read: Who Is T.I.'s Wife, Tiny? A Look Inside Their Relationship
Do Jimmie And Alex Have Children?
Jimmie and Alexis have had three children. They had a baby girl, Naomi Bettie Allen, on March 1, 2020. Even though Naomi is their first child together, the couple has also been raising Jimmie's 7-year-old son, Aadyn, from a previous relationship. Zara James Allen was introduced to the family on October 16, 2021.