Stephen Tyrone Colbert is an American multi-talented personality, renowned for his work as a comedian, writer, producer, political commentator, actor, and television host. He gained immense popularity as the host of the satirical Comedy Central show, The Colbert Report, which aired from 2005 to 2014. Since September 2015, he has been hosting his own talk show, The Late Show with Stephen Colbert, on CBS.
While he is an open book when it comes to his career, Stephen has been relatively private about his family life. Many may wonder who Stephen's wife is and if he has any children.
In this article, we will explore the personal life of Stephen Colbert and uncover the details about the woman who stole his heart, as well as his beloved family. So, keep reading to learn more about the personal life of this iconic entertainer.
Who Is Stephen Colbert Married To: An Inside Look
Stephen Colbert has been happily married to Evelyn "Evie" McGee Colbert for over two decades now. Evelyn was born on July 23, 1963, in Charleston, S.C. She graduated from the University of Virginia, where she earned a double major in English and drama, and later completed her education at New York City's Circle in the Square Theater School.
Stephen has shared the heartwarming story of how he and Evelyn met on live television, revealing that he was previously in a relationship with another woman who gave him an ultimatum. When Stephen returned home to Charleston, S.C. to clear his head, his mother asked him if he was ready to marry his then-girlfriend. Stephen wasn't sure, to which his mother responded, "'I don't know' isn't good enough."
So, Stephen made the decision she was right and went to a play opening with her that night to clear his head. He saw a woman in a black linen dress while he was there and thought, "Her. God knows, I thought, "There's your wife, you're going to marry her."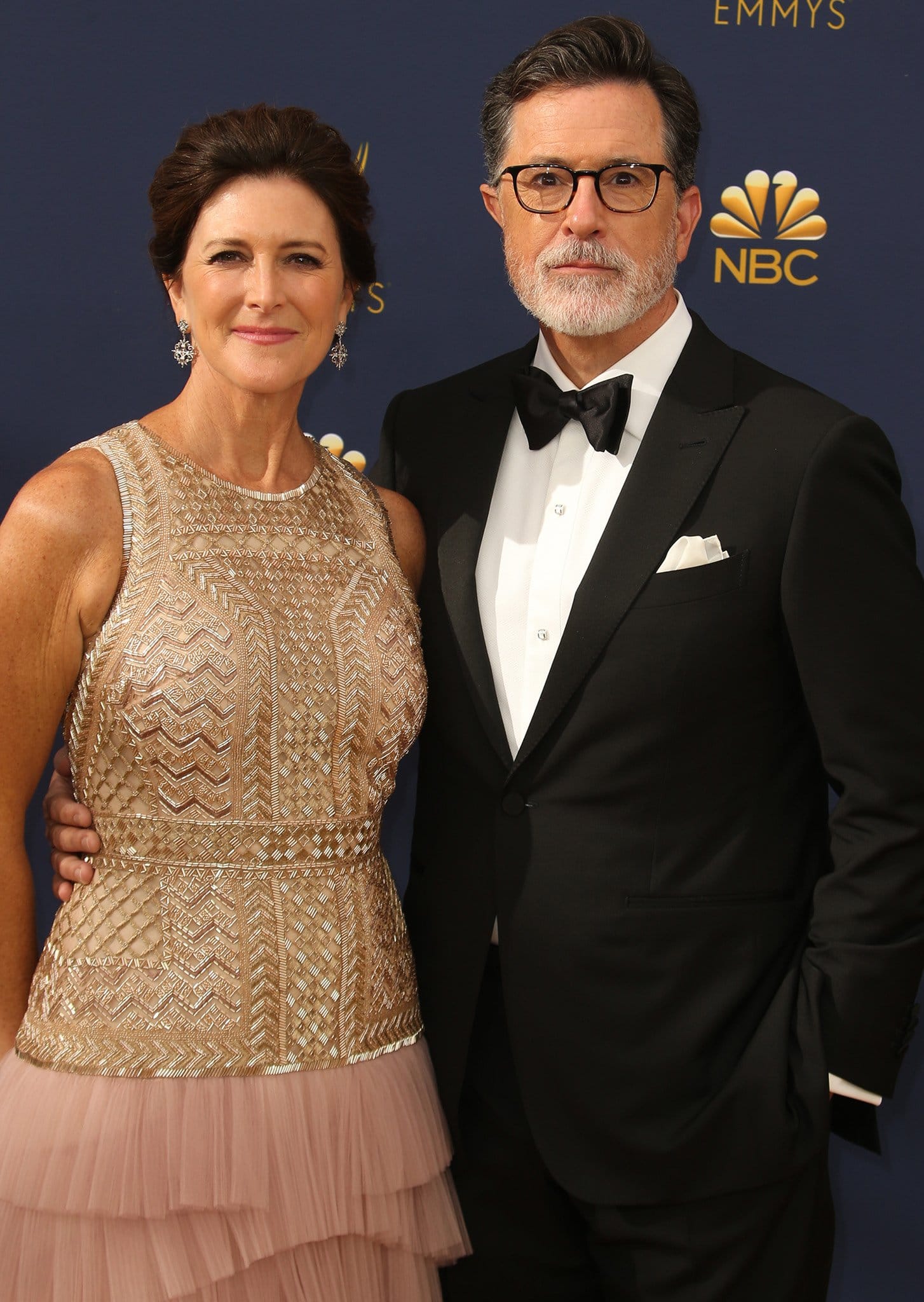 After the show, they finally met, and it turned out that they both grew up in the same area and went to different schools, but had friends in common. After that, they started dating, and the rest is history.
What Is Stephen Colbert's Net Worth?
According to Celebrity Net Worth, Stephen Colbert's net worth is estimated at $75 million. He gained widespread recognition for his hosting stints on "The Colbert Report," a Comedy Central program that aired between 2005 and 2014, as well as on "The Late Show with Stephen Colbert," a CBS talk show that began in 2015.
During the initial seasons of The Late Show, Stephen received an annual salary of $6 million. However, in October 2019, he agreed to a contract extension with CBS Corp that binds him to the network for a minimum of three more years. As per the new contract, his yearly compensation increased substantially and now stands at $15 million.
Stephen and Evelyn Have Three Children
Madeline, Peter, and John are the three children that Stephen and Evelyn have together. According to a source in their neighborhood who spoke to PEOPLE in 2015, the Colbert family was contentedly settled. The source also mentioned that Stephen is frequently seen with his family, as he values the importance of family and community.