Over the past few days, Kanye West has taken aim at a large portion of the fashion industry. Literally, everyone in the world has been the target of one of Kanye West's rants, from Anna Wintour and Tremaine Emory to Gabrielle Karefa-Johnson and Justin Bieber.
Yet another famous person has been thrown under Kanye West's bus. The 45-year-old rapper went on one of his infamous Instagram rants, in which he falsely accused A$AP Rocky of having an affair with fashion designer Yoon Ahn. However, the Ambush creative director quickly corrected the record on her Story.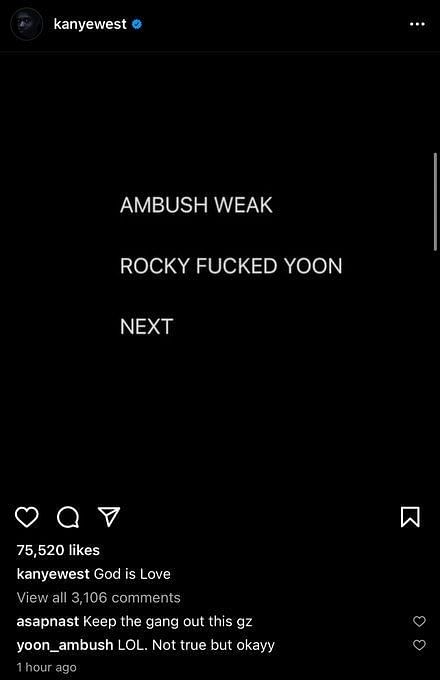 "Ambush weak. Rocky f—ked Yoon. Next," West wrote Thursday in an Instagram post that has since been deleted. Ahn, 45, replied, "LOL. "That's not true, but it's okay," she said, before telling her own story.
"Not only using false sex accusation, spreading that lie in the name of God to insult a woman is lowest of the lowest," Ahn — who is also a jewelry designer for Dior Men — wrote, adding a Bible verse at the bottom of her post stating, "Be aware of false prophets -Matthew 7:15."
Since West's recent post has left netizens curious about her, here is everything you need to know about AMBUSH designer, Yoon Ahn.
Who is AMBUSH designer, Yoon Ahn? All You Need To Know
Yoon Ahn is a South Korean-American fashion designer from Seattle. She was born on November 21, 1976.
She is best known as the creative director of her brand Ambush and as the jewelry design director for Dior Homme. Ahn lives in Tokyo, Japan, right now. In 2002, she started the creative design company Ambush Design Company with her husband, Verbal after she graduated from Boston University where she earned a bachelor's degree in graphic design in 1998. There, she made original album covers for Verbal and other musicians.
Ahn and her husband started the Antonio Murphy & Astro jewelry brand in 2004.
In the early days of Antonio Murphy & Astro, the two put out a collection of accessories called AMBUSH POW.
After stars like Pharrell, Beyonce, Kanye West, Jay-Z, Rihanna, and others were seen wearing jewelry from the above-mentioned collection, the pair's popularity went up.
In 2015, Ahn grew Ambush's brand because they were getting more attention from the public.
In addition to jewelry, AMBUSH began selling high-fashion streetwear for both men and women.
Ahn also worked with Louis Vuitton, Converse, Bulgari, and Off-White to make collections.
In 2018, Dior announced that she would be the jewelry designer for the Dior Homme line of menswear.
Also read: Who Is Kit Hoover's Husband? Kit Shares Her Scary Home Invasion Story
Yoon Ahn's Net Worth
Because AMBUSH is growing and Ahn is known in the fashion world, her net worth is often talked about.
Idol Net Worth says that Yoon Ahn's net worth is estimated at $14 million.
Ahn told CNN about how she comes up with ideas and why she chose to run AMBUSH in Tokyo: "In Japan, I often feel that fashion is a quiet form of expression, and the idea that the community should accept the most different forms of expression is deeply rooted in the culture."
Also read: Who Is Marquise Jackson? Know All About 50 Cent's Oldest Son And Their Beef
Kanye West Retracts His Claim That Yoon Ahn Slept with A$AP Rocky
Rocky didn't say anything about Kanye's claim that he slept with Yoon Ahn, but this morning, Kanye West posted a retraction that criticized Ahn's fashion brand and went on another rant (again) about his daughter Chicago's birthday party.
"New confirmation," he wrote. "Rocky didn't f—k Yoon. Ambush still trash. I known Yoon and verbal before Tremendez was ever around. Rule with Ye stay out of it unless you want to get into it. Cause all y'all was out of it when Chi was kidnapped on her birthday."
The Yeezy designer was talking about Chicago's 4th birthday party in January. He says that his ex-wife Kim Kardashian, at first wouldn't tell him where the party was. West later went to the party, but not before he made a video in which he criticized the Kardashians and said they "kidnapped" his daughter.