Adele Laurie Blue Adkins MBE, known simply as Adele, has captivated the world with her soulful voice and heartfelt songwriting. With her impressive musical career, the Grammy-winning artist has garnered millions of fans worldwide.
However, beyond the stage and spotlight, Adele has been happily in love since 2021, and her partner is none other than Rich Paul, one of the most influential sports agents in the NBA. Let's take a closer look at their love story and get to know more about Rich Paul's remarkable career and personal life.
How Did Adele And Rich Paul Start Dating?
Adele's journey to love with Rich Paul began in the midst of her musical success. After releasing her debut album "19" in 2008, Adele quickly rose to fame with her powerful mezzo-soprano vocals and touching lyrics. However, her personal life saw ups and downs, and in 2019, she went through a divorce with Simon Konecki, with whom she shares a son, Angelo. But fate had other plans for Adele, and soon, she found love once again.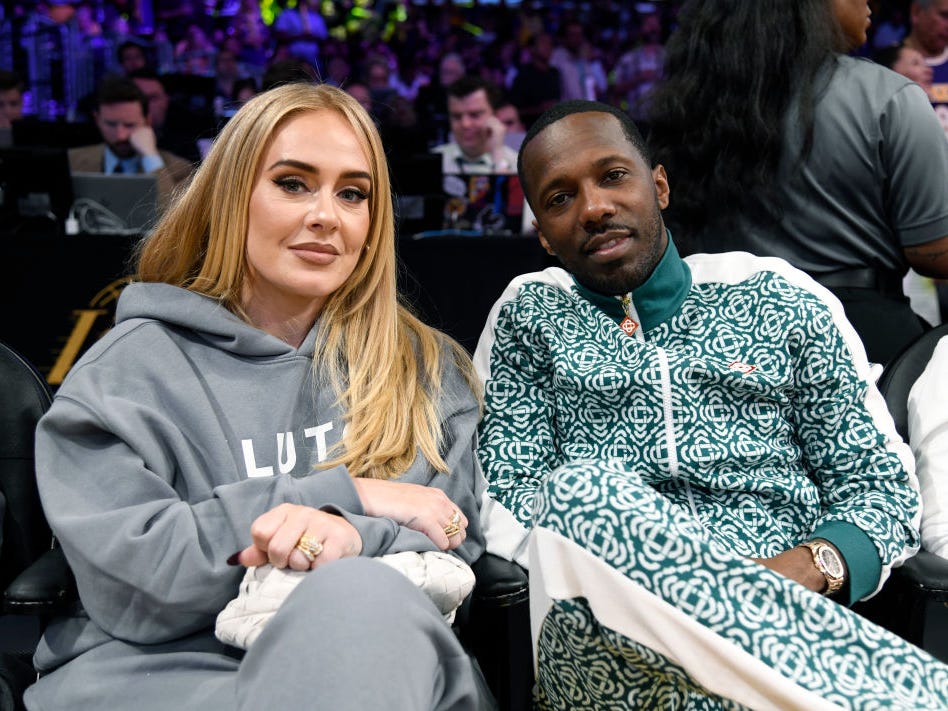 Adele and Rich Paul's love story began with a serendipitous meeting at a party years before they officially started dating. Their first encounter was marked by Adele's humorous attempt at getting a sports agent's attention: "I'm an athlete now," she jokingly said to Paul. The couple eventually reconnected over dinner, which Rich Paul humorously referred to as a "business meeting." It was the first time they spent time alone together, allowing their relationship to naturally blossom.
The couple first started making public appearances together in 2021, right after Adele returned to the music scene with her album "30," which was thought to reflect her experiences surrounding the divorce. Since then, Adele and Rich Paul have been inseparable, attending basketball games and even making joint appearances at Adele's Las Vegas residency.
Also Read: Kaitlin Olson's Plastic Surgery: Debunking Rumors And Celebrating Talent
Meet Rich Paul: The Pioneering Sports Agent
Rich Paul's rise to prominence in the sports world is nothing short of inspiring. Forbes recognized him as one of the most powerful sports agents in the industry. He founded the Klutch Sports Group, an agency that represents some of the NBA's biggest stars, including LeBron James, Anthony Davis, Lonzo Ball, and Zach LaVine, among others. The foundation of his career came from a chance encounter with LeBron James outside an airport in Akron, Ohio, back in 2002.
Apart from his achievements in sports representation, Rich Paul is also venturing into the literary world. He is currently working on a memoir titled "Lucky Me," which is set to be published in 2023 through Jay Z's Penguin Random House imprint, Roc Lit 101. The memoir will chronicle Paul's challenging childhood in Cleveland, where he overcame hardships to become one of the most influential figures in sports.
In today's digital age, social media often plays a significant role in showcasing relationships, and Adele and Rich Paul are no exception. The couple went "Instagram official" in 2021 when they attended an NBA finals game, and Adele posted a picture of them together at NBA star Anthony Davis' wedding. Adele has described Rich Paul as "hilarious" and "smart," and she expressed the joy of watching him in action in the sports industry.
Also Read: Know About Butterbean's Weight Loss As He Loses More Than 200 Ponds
Know About Adele And Rich Paul's Engagement Rumors and Family Plans
Speculation arose about a potential engagement when Adele was spotted wearing a diamond ring on her ring finger at the Brit Awards in 2022. However, when questioned about it, Adele kept things under wraps, stating that she wouldn't disclose such personal details. In a subsequent interview with Elle, she clarified that she was not engaged and simply adored high-end jewelry.
Both Adele and Rich Paul have children from previous relationships. Rich Paul has three children, and Adele has one son from her previous marriage. Although raising children while building a career comes with its challenges, Rich Paul has expressed his openness to having more children, looking forward to being a different kind of dad.