Vincent "Vinny" Guadagnino is an American actor and reality TV star who was born on November 11, 1987. He is on the MTV show Jersey Shore. Vinny was born and raised in Staten Island. He calls himself a "mama's boy" and a "born entertainer."
Vinny was the most innocent of the group, but he followed the others' lead when it came to the women on the beach, and he also managed to stay out of most of the fighting and arguing. But Vinny had a huge contribution of his own: the fist pump dance, which is now well known and copied all over the country.
During a commercial break in the series finale, it was announced that Vinny is getting his own show, The Show with Vinny.
On the other hand, Angelina Pivarnick is an American singer, model, professional wrestler, and TV personality who was born on June 26, 1986. She is best known for her roles in the first two seasons of the MTV reality show Jersey Shore.
She is married to Chris Larangeira. But the couple has filed for divorce. Read the article to know more about dating speculations.
Are Vinny And Angelina Dating In 2022?
After Angelina Pivarnick's divorce from Chris Larangeira, many fans were hoping she would finally end up with her Jersey Shore co-star Vinny Guadagnino. But Angelina recently said that she "sort of" has a new boyfriend, who is also named Vinny.
But it looks like OG Vinny isn't ready to let go just yet. He's even joking with Angelina's ex-husband about how passionate their relationship was.
Also Read: Who Is Michael Anthony Dating? Know About His Relationship With Shea!
Angelina Pivarnick said on September 8's episode of Jersey Shore: Family Vacation that she may be "more than friends" with the person who lives in her garage. The twist is that he also goes by the name Vinny.
They reportedly met on Instagram and liked each other right away. But it doesn't look like they are quite official yet.
Angelina said during the episode, "He's as ripped as f*ck, but I don't see a future with anyone right now." "I'm going to enjoy myself right now."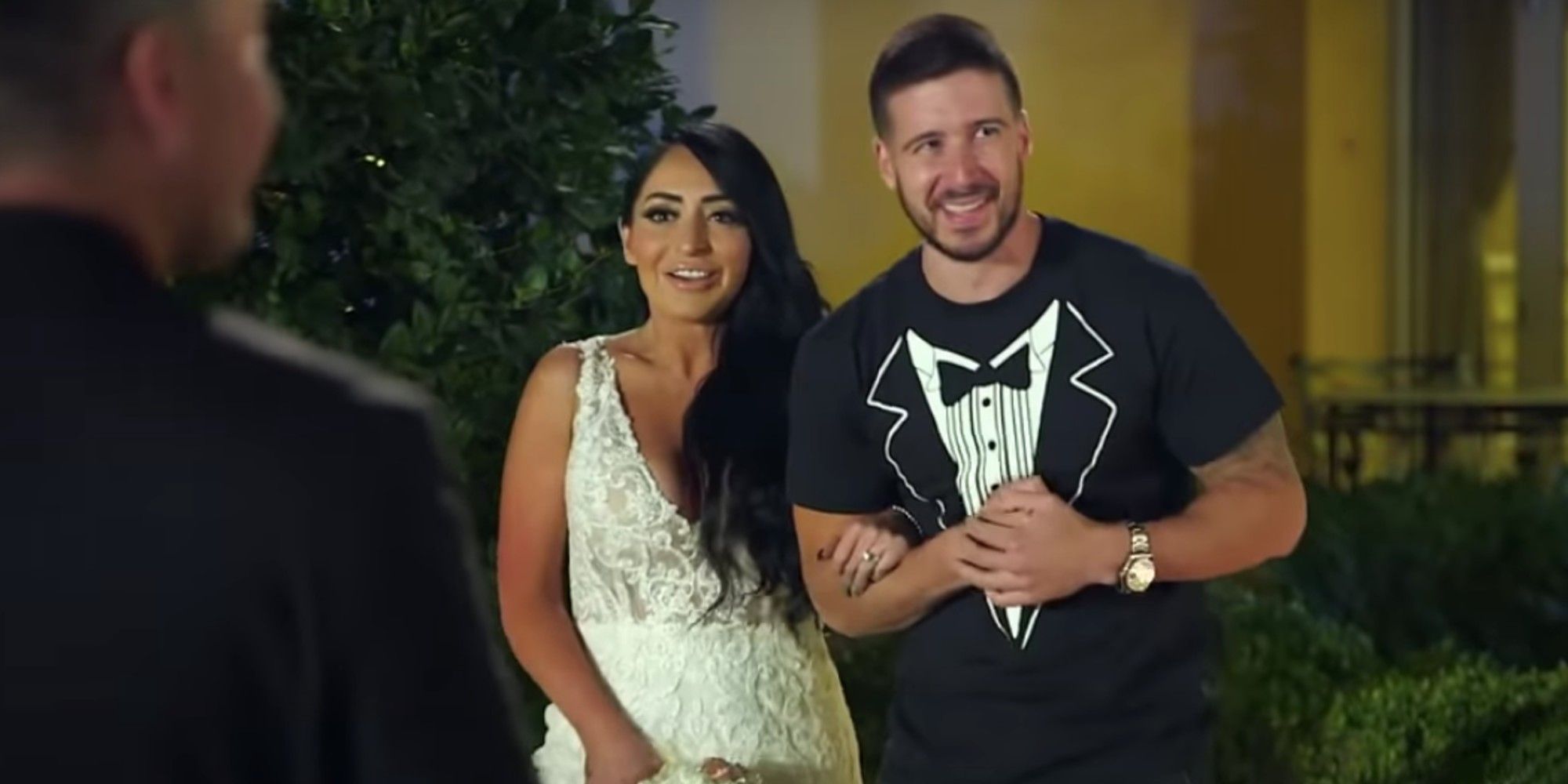 Many Jersey Shore fans are sure that Angelina and Vinny Guadagnino will end up together for good.
The two have always had a tense relationship and argue almost every time they are together. However, many people think that this is just tension caused by romantic feelings.
The 34-year-old joked that they would end up together and even joked with Angelina's ex-husband, Chris Larangeira, in a recent Instagram comment section.
None of the parties have confirmed or denied the claims.
Also Read: Know About Bridget Fonda's Personal Life And Net Worth!
An Insight Into Angelina And Vinny's Relationship
Angelina and Vinny, have been more than friends for a while, but not more than a few months. Even though he lives with her, they haven't put a label on their relationship and are just having fun right now.
As reported by EU App, Angelina said:
He's hot as ( blank), but right now I'm not at the point where I can see a future with anyone. Right now, I'm going to have fun.
Earlier in the episode, Angelina said, "Everyone wants me and Vinny [Guadagnino] to be together." Pauly D also says that both Vinny G and Angelina are single and that they have slept together before.