Bleta Rexha is an American pop singer and songwriter who goes by the stage name Bebe Rexha.
Rexha's first studio album, Expectations 2018, peaked at number 13 on the Billboard 200 chart in the United States. Its lead single, "I'm a Mess," was a hit, and the album earned Rexha two Grammy nominations for Best New Artist and Best Country Duo/Group Performance at the 61st Grammy Awards.
Talking about the "Baby, I'm Jealous" singer's personal life, she previously said, "When you're in a relationship and on social media, you start to think about other women and feel a little insecure. I just saw likes, messages, and comments and thought, "Ugh, why?" What don't I have that she does?' Like, this guy I'm dating, why is he flirting with her?"
As of now, Bebe Rexha is currently dating Keyan Safyari and is now quite open about it. Here's everything you need to know about Bebe and Keyan's romance and what her boyfriend does.
Bebe Rexha Is Going Strong With Her Boyfriend Keyan Safyari
The soloist and her boyfriend first made people think they were dating in March 2020 when they were seen holding hands during a night out in Los Angeles. Since then, they have kept quiet about their relationship.
But their desire to remain private didn't stop them from having lunch together on August 22 in Santa Monica, California, or from sharing a sweet kiss at sunset while celebrating their 4th of July in 2022.
Also read: Who Is Jesse Eisenberg's Wife, Anna Strout?
Of course, that's not the first time the singer and her boyfriend got close in public or on social media. In February, they were seen holding hands at Craig's in West Hollywood, and in September 2020, Bebe gave Keyan the sweetest birthday shout-out on Instagram after gifting him a new Ferrari.
On September 19, 2022, Bebe Rexha posted a series of photos on her Instagram account on the occasion of her boyfriend's birthday. She wrote the caption, "Happy birthday @keyanshoots I love you. ❤️"
Bebe revealed it, "We like this man. I think this is a good one. He is a very good one. This guy is very special. He's kind, he takes care of me, and he understands my work and what I do. My family likes him."
Also read: Who Is Carley Shimkus Husband? She's Married To Peter Buchignani
Meet Bebe Rexha's Boyfriend, Keyan Safyari
Keyan went to a college in California and got a degree in Film Production. He then went straight to Hollywood. He has worked on TV shows like "The Bachelorette" and "MasterChef." He has also done work behind the scenes for award shows.
Safyari is a producer, director, and cinematographer, according to his IMDb page. He has been in the business since at least 2006, and Marvel legend Stan Lee has worked with him on projects.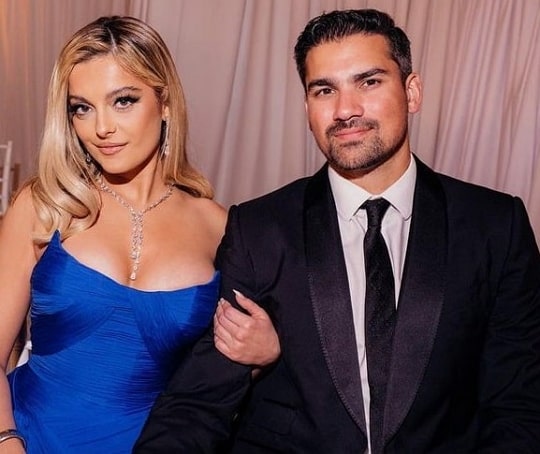 Keyan started Moving Images Entertainment Inc., a "global film, TV, and commercial production and production services company" with headquarters in Los Angeles. They offer equipment and rentals as well as producers, directors, cinematographers, editors, photographers, visual effects artists, and film and video crews.
Keyan Safyari has an Instagram account, which is private. He has amassed 14.8K followers as of now. His bio reads, "Owner @movingimagesent Filmmaker. Cinematographer. Director. Producer."