Federal prosecutors investigating U.S. Sen. Bob Menendez are looking into whether his wife received gifts or services from individuals seeking favors from the New Jersey politician.
In case anyone didn't know about him, Bob Menendez is an American lawyer and politician who has been the senior United States senator from New Jersey since 2006. He is a member of the Democratic Party and was first appointed to the U.S. Senate by Governor Jon Corzine. From 2013 to 2015, and again since 2021, he led the Senate Committee on Foreign Relations.
Talking about his personal life, Menendez became engaged to Nadine Arslanian, a Bergen County businesswoman, in October 2019. They tied the knot in the following October of 2020. Earlier, he was married to Jane Jacobsen. Later, the two of them got divorced in 2005.
Know About Bob Menendez's Wife
Bob met his wife, Nadine Arslanian, an international businesswoman from Bergen County, at an IHOP in Union City. A few years later, they met again during a political event and began dating.
Steven Sandberg, a spokesman for Menendez, said that the two got together because "they both liked to travel, loved their families, had been proud of their different backgrounds and ethnicities, and wanted to help the people of New Jersey get better health care and live better lives."
Also read: Meet AEW Star MJF's Girlfriend: He Is Engaged To Artist Naomi Rosenblum
Prosecutors Are Investigating Sen. Bob Menendez's Wife Over Gifts
The Wall Street Journal reported on Friday that federal prosecutors in Manhattan are looking into whether Nadine Arslanian, who is married to Democratic Sen. Bob Menendez, got gifts or services from people who wanted favors from her husband.
The US Attorney's Office for the Southern District of New York has sent subpoenas to Arslanian's friends as part of their investigation. They have been asked for information about both Arslanian and Menendez.
This investigation is not related to a 2015 investigation that led to charges of bribery and corruption against Menendez, 68, and a mistrial two years later.
According to the report, New Jersey lawyer Antranig Aslanian has also been asked to testify in the investigation. Aslanian is reportedly a longtime friend of Nadine Arslanian. Both of them are Armenian. Aslanian told the Journal that he had no idea what prosecutors were looking for.
In the 2015 case against Menendez, prosecutors said he accepted nearly $1 million in flights on a private jet, vacations, as well as other gifts from Florida ophthalmologist Dr. Salomon Melgen in exchange for getting visas for the doctor's foreign girlfriends.
Also read: Who Is Haley Kalil From The Billionaire Boyfriend TikTok Videos?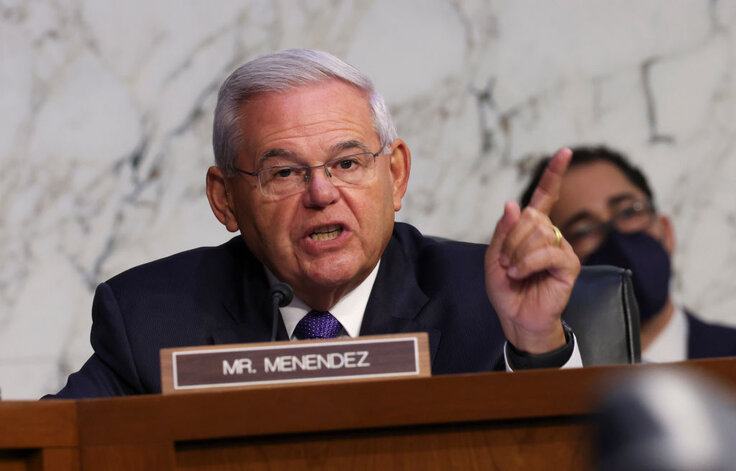 Investigators also said that Menendez helped Melgen get lucrative government contracts in exchange for large donations to his campaign.
"An investigation that was reported on today is known to Senator Menendez. But he doesn't know how big the investigation is, Menendez adviser Michael Soliman told Politico a few weeks ago. "As always, if there are any official queries, the Senator is ready to help in any way his office or he is asked to."