Carlos Austin Boozer Jr. is an American who used to play professional basketball. He was born on November 20, 1981. The two-time NBA All-Star played for the Cleveland Cavaliers, the Utah Jazz, the Chicago Bulls, and the Los Angeles Lakers. He then played overseas for the Guangdong Southern Tigers in his last season. Boozer won a bronze medal at the 2004 Summer Olympics with Team USA and a gold medal at the 2008 Summer Olympics with Team USA.
Carlos Boozer's son won Gatorade National Boys Player of the Year. This story was first published on NBC Sports Chicago. Cameron Boozer, the son of NBA player Carlos Boozer, is off to a terrific start if he wants to play basketball like his dad.
Many are curious about his private life now that his kid has won the National Boys Player of the Year title. They are curious about his familial status and marriages. You can find out everything you need to know about it here.
Who Is Carlos Boozer's Wife?
Boozer has been married twice in his life. His first marriage was to CeCe, whom he married in 2003. They have three children together, including Carmani, who was diagnosed with sickle-cell disease and underwent a bone marrow transplant. The couple filed for divorce in 2009, and their divorce was finalized after six years. Boozer's second marriage was to Aneshka Smith, whom he married in 2017. They have a daughter together named Bloom Boheme Boozer, who was born in 2019. However, Boozer filed for divorce in 2021, and the divorce was finalized in October 2022.
According to reports, the split between Boozer and Smith was amicable, and they will share custody of their daughter. Smith is a yogi and designer, and she founded Knature, a fashion label that produces jewelry and handbags. Boozer and Smith's relationship has been relatively private, and not much information is available about their marriage or its downfall.
Also Read: Who Is Caleb Pressley's Girlfriend? A Peek Into His Net Worth
Know About Carlos Boozer's Kids
Carlos Boozer has three kids with his first wife. Carmani, one of Boozer and CeCe's children, suffers from sickle cell disease and required a bone marrow donation in 2007 in order to receive treatment. The couple also has a set of twins named Cameron and Cayden. The 2025 recruiting class is led by Cameron Boozer, who is the top overall recruit in the class.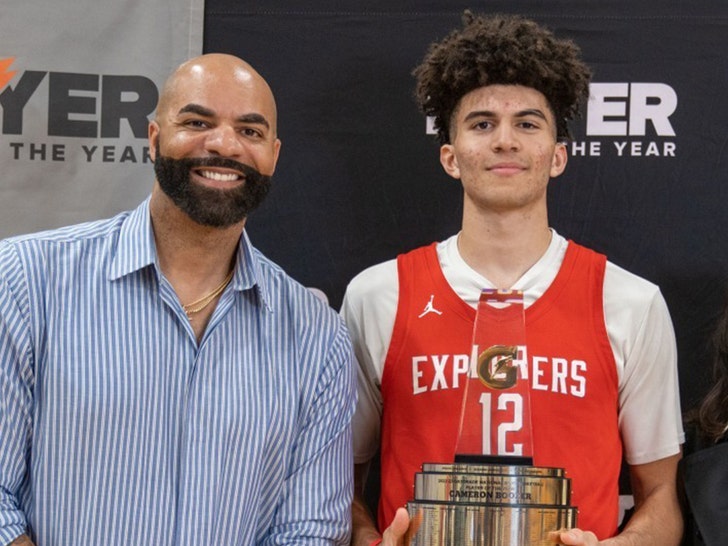 Relationship Rumors About Boozer
However, Boozer's personal life has not always been free from controversy. In 2010, Michelle Money, a hairstylist, and actress, alleged that she had an affair with Boozer while he was still married to CeCe. Money claimed that Boozer had told her that he and his wife were separated, which was not true. Boozer and his wife were still legally married, and they had three children together at the time. Money expressed regret for the affair and stated that she was sad when she found out the truth.
Also Read: Who Is Debby Ryan's Husband? Relationship Details
Know About Carlos Boozer's Career
Despite the controversy surrounding his personal life, Boozer had a successful career as a basketball player. He was a two-time NBA All-Star and played for several teams, including the Cleveland Cavaliers, Utah Jazz, Chicago Bulls, and Los Angeles Lakers. Boozer also played overseas with the Guangdong Southern Tigers in his last season. He was a member of the US national team and won a bronze medal at the 2004 Summer Olympics and a gold medal at the 2008 Summer Olympics.
Before his professional career, Boozer was a highly recruited high school basketball player and played college basketball for Duke University. He helped Duke win the NCAA championship in 2001 and declared for the NBA draft after his sophomore year.